This week's Top 10 Show with John Rocha and Matt Knost is honoring the release of Widows this weekend with Top 10 Bank Robbery Movies.   There are some interesting films on this list and a few that I have not included because I have not seen them.  Several of the films that made the Top 10 Show's list are not on mine for that reason.
#10.  Old Man and the Gun.  This was the new (and supposedly final) movie from Robert Redford.  While I did not completely love the film, it was fine and I thought Robert Redford was very charming in the lead role.  While charming, I found the character played by Redford to be very selfish and disingenuous.  Still the film was solid enough to make my top ten.
#9.  Now You See Me.  This one is not a overall favorite of a lot of people, but I found it to be decent.  I thought the magicians angle was fun and the creation of the group of magicians- brought a cool element to the film.  There is a great cast and the movie has an ending that twists your expectations.
#8.  Point Break.  I am not a huge fan of Point Break, but you can understand the appeal of the movie.  Certainly, Keanu Reeves and Patrick Swayze made a great team and the action was top notch.  While I do not love this as much as many people do, it certainly belongs on this list of bank robbery movies.
#7.  Butch Cassidy and the Sundance Kid.  Here is Robert Redford once again in one of the iconic roles of his long career.  This film brings a true story to life with such action and wildness and a great pairing between the two stars of the movie.  Redford and Newman would have a great career together for many years.
#6.  Inside Man.  Spike Lee's bank heist movie featuring Denzel Washington is one of Lee's great films.  In fact, it is in my top two or three Spike Lee movies.  You bring this standoff to the forefront of the movie and you throw in a mystery of exactly what is going on here.  Inside Man is all about the bank robbery and its execution.
#5.  Bonnie and Clyde.  This one turned out to be one of the most shocking endings of all time as our real life criminal couple Bonnie Parker and Clyde Barrow ran roughshod across the country, living by their wits and good luck… that is until that luck ran out.   Great performances from Warren Beatty and Faye Dunaway highlighted the movie.  We also got Gene Hackman, an Oscar winning performance from Estelle Parsons and a movie debut from Gene Wilder.  What more could you want?
#4.  Baby Driver.  Stylish and sexy, Baby Driver used movie music better than most musicals.  Ansel Elgort is tremendous as the lead character named baby, who uses his music to focus in on being the best getaway driver in the business.  Meanwhile, Baby is just trying to save up enough to get himself out of the life of crime he found himself stuck in.  A great cast is here, including a truly sinister performance from Jamie Foxx.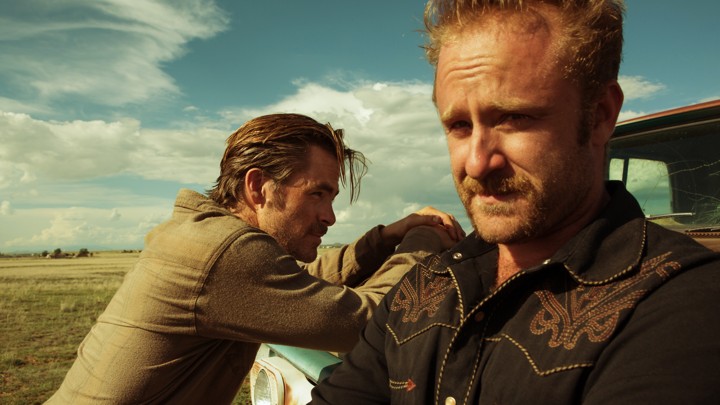 #3.  Hell or High Water.  This is one of those movies that a lot of people missed, but just about everyone who saw it loved.  There is so much tension in the film with the brothers Chris Pine and Ben Foster who were being pursued by lawman Jeff Bridges.  Another example of the heroic criminals who are robbing these banks just because they need to survive in desperate times.  There is great tragedy in this film as well that it makes it one of the best of that year.
#2.  Bandits.  I love this movie.  Bruce Willis and Billy Bob Thornton as a pair of bank robbers who go to the house of the bank manager the night before and stay over so they can go with him/her to the bank in the morning.  Dubbed the "Sleepover bandits" Willis and Thornton show their great charisma here but their little world gets rocked by the inclusion of the unwanted hostage Cate Blanchett.  The triangle that forms with these three really cause problems and a whole lot of humor.  I consider this to be an underappreciated gem.
#1.  Die Hard with a Vengeance.  This might be a bit of a cheat, but the plan of Simon Peter Gruber, the brother of Hans Gruber from Die Hard, was to rob the Federal Reserve Bank of New York so I think this counts.  And this is a great movie that shows of the easy chemistry between Bruce Willis and Samuel L. Jackson.  Sure the ending of the movie is all messed up, but getting to that point was excellent.
Honorable Mentions:  I liked the original version of The Ladykillers (1955) and I considered the Denzel Washington and Mark Wahlberg vehicle 2 Guns.  I have not seen films such as Heat, The Town, Dog Day Afternoon.  I was not a huge fan of The Place Behind the Pines.