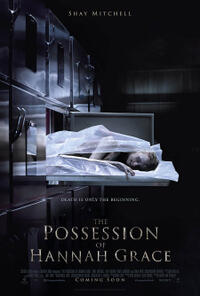 You know that the movie is in trouble when 15 minutes into the movie (in the empty theater that I was watching it) I think to myself, "I should really give this more of a chance than I am and not be ripping it so much already."
Unfortunately, even with that unambiguous personal comment, there was just so much to rip.  I felt as if this needed the RiffTrax or MST3K guys to make the ambiance complete.
The Possession of Hannah Grace was just a ridiculous film with laughable moments that wanted to be scary, but failed miserably.
The film started with the typical religious exorcism that we have seen plenty of other times before, but one that takes a sudden and weird turn, one that really did not make any sense at all.
Then, three months later, the body winds up at the morgue and former police officer, recovering addict and new morgue late shift worker Megan (Shay Mitchell) starts seeing some strange things happen.
There are some things dangled in the story that are never dealt with.  Plot holes I guess you could call them, but there really is not that much of a plot…can there be plot holes when there really isn't a plot?
Hannah Grace looked silly as she spider-crawled around the morgue and made it through doors and locks without any problems… and crackled and popped as she did it.  It was just humorous, and of course, unintentional.
In the opening credits, I spotted the name of Stana Katic, who played Beckett on ABC's Castle for years.  I loved her and I started looking for her, but her role was severely disappointing for me.
I don't know what else to say about this stinker.  I did laugh several times, though I wasn't suppose to.  It was not scary.  It lacked a story.  The characters were weak or non-existent.  It was just bad.
1 star