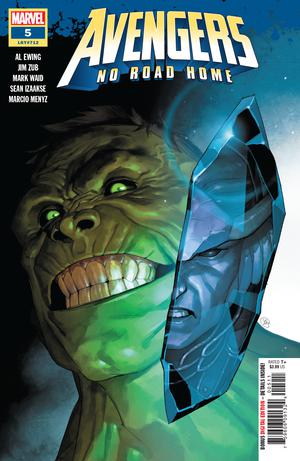 Avengers: No Road Home #5 (of 10)
Writers: Jim Zub, Mark Waid & Al Ewing
Artist:  Sean Izaakse
Cover Art:  Yasmine Putri
This continues to be one of the best series in comics.  Marvel has been doing the weekly series recently with the X-Men and now Spider-man, but none of those have been as consistently exciting, dramatic and full of outstanding action as the Avengers: No Road Home.
We continue with the battle on Mount Olympus with the Avengers gaining a bit of an upper hand by focusing on the children of Nyx, the Goddess of Night.  The Immortal Hulk's arrival tilts the scale even more, but Nyx showed that she was more than a typical threat.
A plan from Wanda, aka Scarlet Witch, leads to her escaping with the crystal shard that Nyx wanted so desperately.  And where Wanda winds up, thanks to Voyager is a huge spoiler for next issue.  So hide your eyes if you do not want to know.
SPOILER
Yes, Wanda winds up with the one and only Conan the Barbarian.
This series is just great and I cannot wait for the next issue to see where this goes from here. It is the highest level I can rate it here…