Another Re-list I am not a part of (*sob*)
So instead, I will be making my own list.  This week's Re-list (the re re re list…buzz buzz buzz) gives the Top 10 Helen Mirren movies.  The Top 10 Show  patrons Angela Dashner, Brandon Munroe, and Kristen Smith were the minds behind this week's choice and lists.
Now I love Helen Mirren.  I think she, and Dame Judi Dench, are a couple of the same kind of actresses.  I love them, they bring a certain gravitas to their roles, but there are a bunch of movies of theirs that I think are terrible.  The thing is… Helen Mirren is always the best part of these terrible movies.
So I did struggle to get to ten.  There are a couple films on this list that are not personal favorite films, but she is great in the film.  There are also a couple of her most well-known roles (including what became #1 on the Top 10 Re-List episode) that I have not seen.
#10.  Monsters University.  This is one of my least favorite Pixar movies, but, even a low Pixar movie is better than most other studios' animated fare.  I loved the original, but the sequel is, at best, okay.  Helen Mirren voiced the college dean, Dean Hardscrabble.   I am surprised that Helen does not do more voice-over work since she has a great voice.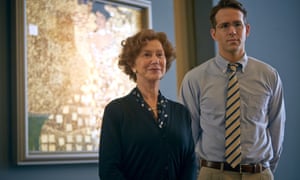 #9.  Woman in Gold.  This is not the greatest film, but, again, Mirren is great as the woman in search of her family's art stolen by the Nazis during World War II.  She enlists a lawyer, played by Ryan Reynolds, and the pair of them have a great chemistry.
#8.  Legend of the Guardians:  The Owls of Ga'hoole.  Hoot Hoot!  Hey there Owl Nation!  Here is that owl animated film that some people champions.  It was okay to me.  She voiced one of the antagonist of the film named Nyra.
#7.  The Debt.  Helen Mirren is a retired Mossad secret agent who has to return to the world when someone claiming to be the Surgeon of Birkenau (Jesper Christensen) shows up, alive.  There are flashbacks involved here with young Mirren being played by Jessica Chastain.  It is a great cast and a solid movie.
#6.  The Hundred Foot Journey.  I enjoyed this film where Mirren plays a restaurant owner who is suddenly threatened by the arrival of a wunderkind young chef opening a restaurant one hundred feet away.  Mirren starts a war with the young man but eventually realizes that the pair together is stronger than apart.
#5.  The Fast & Furious Presents: Hobbs & Shaw.  Making a small appearance in the spin off of the Fast & Furious franchise, Helen Mirren reprises her role as Queenie Shaw, Decker Shaw's mother.  Her role may have been small, but she always brings her best to her parts…plus, this has The Rock.
#4.  Hitchcock.  Helen Mirren plays the wife of Sir Anthony Hopkins' version of Alfred Hitchcock.  I was always wanting to see this movie, but I missed it in theaters.  I did eventually get to see it on DVD (if I recall) and I thought it was a good film.  Mirren and Hopkins are spitting images of the famous couple.  Helen brings some power to this role and shows how much the character loved Hitchcock and how tough it was to be his wife.
#3.  Red.  A comic based film, Red featured Bruce Willis, John Malkovich, Karl Urban, Morgan Freeman.  And yet, Helen Mirren is the biggest kick ass of the bunch.  As a former CIA agent, Victoria was always one step ahead of everyone and was not afraid to do what had to be done.
#2.  Trumbo.  Helen Mirren played the iconic gossip columnist Hedda Hopper and she searched for the scoop among the life of Dalton Trumbo, played brilliantly by Bryan Cranston.  This film looked at Hollywood at a time when people were being blackballed for connections to Communism, and the truth was never getting in the way.  I enjoyed Trumbo more than many other people and I think it gets a bad rap.
#1.  Eye in the Sky.  Yes, the film does feature Alan Rickman, guys.  And this movie is way better than the Top 10 guys gave it credit for.  This one caught me completely off guard and I loved this drone warfare film.  I found it tense and filled with anxiety, as these characters were faced with some desperately difficult decisions.  All the while anchored by tremendous performances from Mirren, Rickman and Aaron Paul, Eye in the Sky brought up so many human questions that it was, at times, unbearable.  This was actually the first film that came into my head when the topic was revealed.  I loved this movie and recommend it to all.