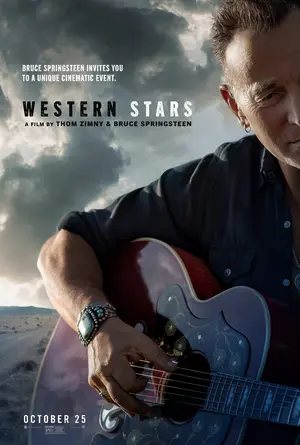 Western Stars is Bruce Springsteen's newest album, a series of beautifully composed, poetically written and soulfully performed songs, and now it has been put on screen with a lovely filmed movie where Springsteen performs these songs under the cathedral ceiling of his historic nearly 100-year-old barn.
The songs are really nice.  The images are well done.
I entered the film with one major issue… I had never heard any of these songs before.  Since I was unfamiliar with these Springsteen songs, they tended to blend together and sound alike to me.
That is not to say that they were not great songs because they clearly were well written and deeply moving, especially with the orchestral accompaniment.  However, these songs kind of mixed together for me and I had trouble distinguishing them apart.  There were a couple that stood out for me, especially the title track and the song called "Moonlight Motel."
If I had been more familiar with these songs, I am sure that I would not have had the same issues.
Yet, at the end of the film, he played a cover version of Glen Campbell's "Rhinestone Cowboy," which was a rocking great song and really brought some energy.  I would have liked something like that in the middle of the film to break up the songs that sounded so identical to my ears.
Still, the music was beautiful and the vision was clear.  Bruce Springsteen is one of the legends of our time and this film is excellent.
3.6 stars