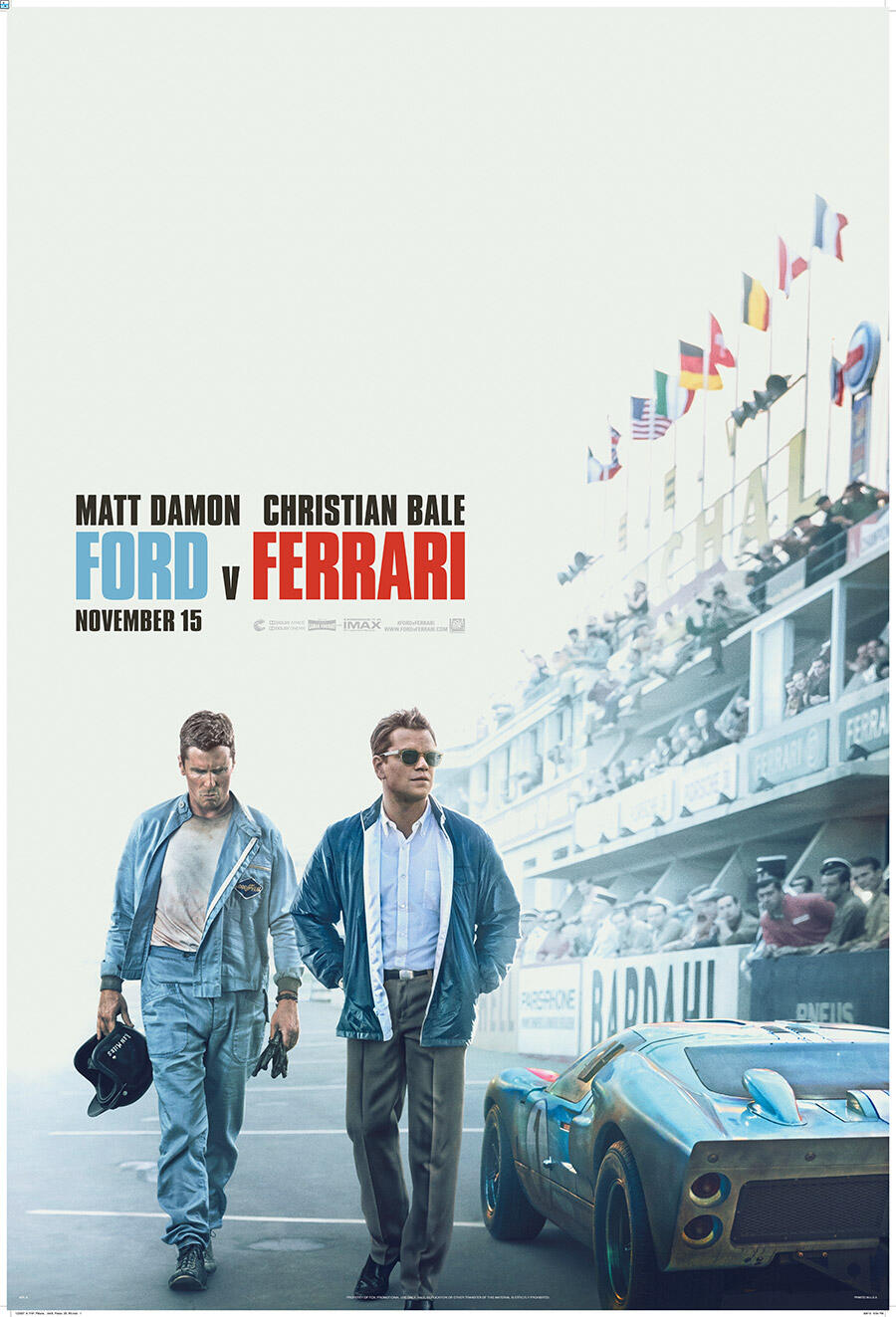 I am not a fan of auto racing, not even a little bit.  So when the critics say that you do not have to like auto racing to like the new movie, Ford v Ferrari, you can believe them because I loved this movie.
Ford v Ferrari is the true story of how the Ford Motor Company decided to compete and win the 24 Hours of Le Mans, a race in France that had been won by rival car company, Ferrari, for several years.
Ford Company, led by Henry Ford II (Tracy Letts), hired former race car driver Carroll Shelby (Matt Damon) to help design a car that could beat the cars from Ferrari.  Shelby brought in brilliant, but troublesome driver Ken Mills (Christian Bale) to help create and eventually drive the car.
Ford Motor Company had personal problems with Ken, especially weaselly Leo Beebe (Josh Lucas) who held a personal grudge against Ken.  Ford consistently threw roadblocks in the path of Ken, before the 24 Hours of Le Mans.
Honestly, the movie is not really Ford v Ferrari as much as it is Ford v Ken and Shelby.  The rivalry with Ferrari is in the film, but it is significantly in the background of the narrative.  It was vitally important for Henry Ford II to jump into Le Mans, but after that, it is an after thought.
Christian Bale is always great, and this is no exception.  He loses a lot of weight for this role once more and throws himself into Ken Miles.  We get a lot from Ken and his family, his wife Mollie (Caitriona Balfe) and son Peter (Noah Jupe).  Jupe has been a wonderful child actor and he has some really solid work here too.
Matt Damon is every bit as much of the star of this movie as Bale.  Shelby starts off with a heart problem that forces him out from behind the wheel of the race cars.  Damon and Bale have amazing chemistry with one another and you fully believe in their friendship.
The race scenes are very well done and, apparently, are combinations of practical effects and CGI.  I can honestly say that I could not tell what was practical and what was CGI.  I saw the film on the IMAX screen which showed this film in the best possible aspect.
The film is very long (over two and a half hours) but truly did not feel as if it were long.  The flow of the movie moved along tremendously well and kept everything working together.  There are some scenes of emotion that work as does the humor.
Ford v Ferrari is a very strong film with some top notch performances and a compelling story.  The third act race is about as well done as you are going to get.
4.4 stars