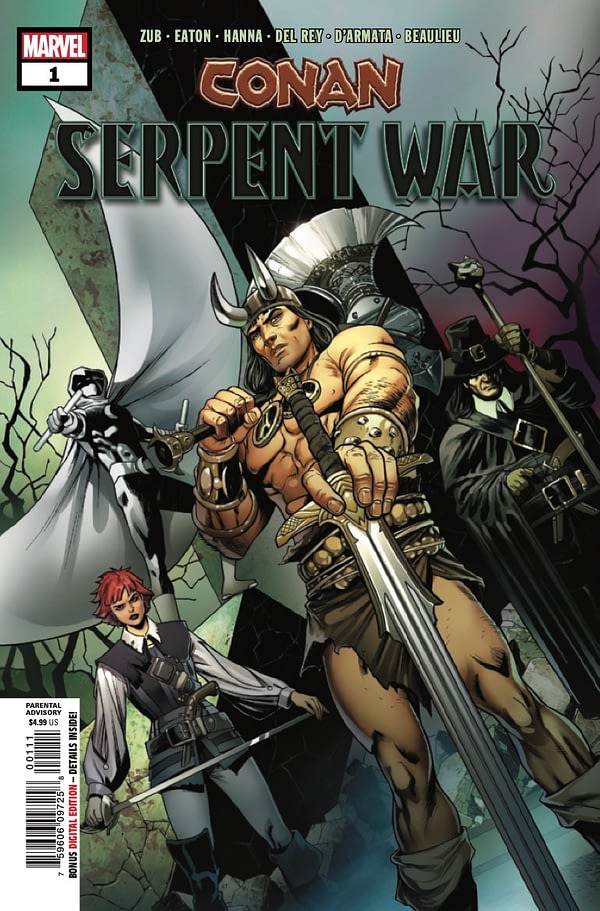 Conan: Serpent War #1
Writer: Jim Zub
Artist:  Scot Eaton
Cover Art:  Carlos Pacheco, Aneke & Frank D'Armata
I have to say that I just don't think Marvel Comics has had any missteps with the character of Conan the Barbarian since they got his publishing rights back.  Both of his own series are great, I truly have enjoyed him with the Savage Avengers, his guest appearance in the Avengers: No Road Home storyline was epic and now he teams up with some of the most intriguing characters around for Conan: Serpent War.
Moon Knight being brought in is a hook for me.  Moon Knight has been one of the most underrated characters in Marvel Comics.  Throw in the characters of Dark Agnes and Solomon Kane and you have quite the team up.
Then, I think the art was very special.  It was the perfect feel for the story that was being told and the first few pages of the dream involving Niord was beautiful.
This first issue does a great job of setting up what we are doing and introducing us to the characters that will be our feature during this series.  It also provides us some ideas about what is going on without giving us too much.
Well written and fascinating, I think this could be yet another Conan book worth reading.  Jim Zub has been on fire the last few years and he has quickly become on of the writers that excites me as a reader.