Getting into the top of the decade.  Interestingly enough, a few of the films from 2019 on this list may be in a slightly different order than they will be in the final Best of list of the year.  Don't @ me about it.
#30-16
#30.  Wonder Woman.  DC really needed this one and Diana delivered.  Sure I thought the CGI finale of the film was not as great as the rest of the movie, but there is no denying that the No Man's Land sequence was some of the best movie making in all of comic book movie history.
#29.  Doctor Sleep.  A sort of sequel to The Shining, Doctor Sleep was a great horror film with a great performance from Ewan McGregor as a grown up version of Danny Torrence.  There is a lot of great mythology in here too.
#28.  Captain America: First Avenger.  Cap's origin.  It is where we first realize that Chris Evans, a strange choice to play Steve Rogers, was the perfect choice to play Steve Rogers.  A WWII story with a cool appearance from the Red Skull.  This one is better than it gets credit for.
#27.  Warrior.  I had not seen this one until this very year and that was a travesty.  This film is emotional, powerful and thrilling.  You can't help but root for Joel Edgerton as he makes his unlikely way through the UFC tournament for an eventual showdown with his brother Tom Hardy.  Amazing stuff.
#26.  Captain Phillips.  Tom Hanks brings his powerhouse work to this true story of a man whose ship is taken over by Somali pirates.  The ending scenes with Tom Hanks is perhaps the greatest acting he has ever done in his storied career.
#25.  Edge of Tomorrow.  If you dismissed this as Tom Cruise in a Groundhog Day rip off, you are missing out on one of the most original, inventive and exciting movies of the decade.  Cruise, who starts off going against type which was a welcome change, and Emily Blunt are great together.  This is a film that suffered from poor promotion and a terrible trailer.
#24.  Deadpool.  Ryan Reynolds never let this one go and, after some footage leaked online and the fans went nuts, Deadpool became a thing.  And it was a massive hit.  Arguably, Deadpool contains the best love story of any super hero movie and it is hilarious.
#23.  Knives Out.  Rian Johnson created this murder mystery and it was so much fun.  The fantastic ensemble cast brought their best game.  Knives Out was creative and kept you on the edge of the seat, even when you thought you knew what had happened.
#22.  Avengers: Age of Ultron.  A movie that receives a lot of displeasure from fans because it was not up to the level of the original Avengers.  I maintain that Age of Ultron is still an amazing movie that deserves its place on this list.  There were tons of nitpicks on this one, but nothing there, to me, hurts the film.
#21.  Cabin in the Woods.  A brilliant horror movie that really messes with the horror tropes in a creative and original manner.  It is a movie that explains why characters in horror movies do so many stupid things.  And it is epic.  Great work from director/writer Drew Goddard and co-writer Joss Whedon.  Also brings us a pre-Thor Chris Hemsworth.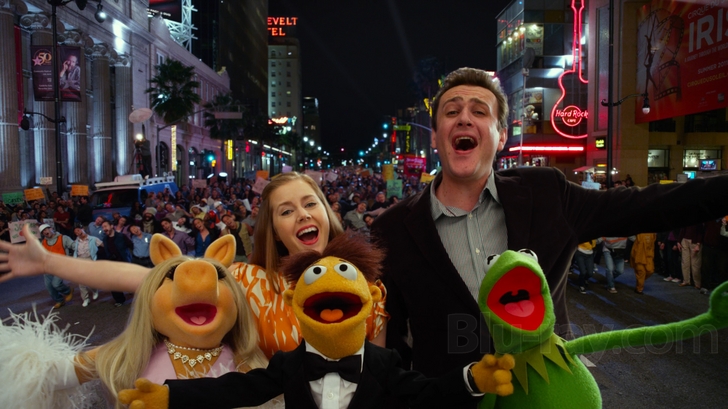 #20.  The Muppets.  A wonderful trip down the road of nostalgia with Muppet fan Jason Segel.  The Muppets return to form here with an attempt to save the Muppet Theater from the evil Tex Richman.  Man or a Muppet is one of the best songs in Muppet movies.
#19.  Jojo Rabbit.  Taika Waititi's wonderful comedy about a boy in Nazi Germany and his imaginary friend, Adolf Hitler.  The film features some of the best performances of the year and such humanity.  It is a spoof, until it isn't any more.  One of 2019's best movies.
#18.  Won't You Be My Neighbor?  The best documentary I have seen and the one that has affected me more than any other.  I sobbed in my car on the way home.  I'm still not sure why, but this doc on the life of Fred Rogers was something that hit my buttons.   It was absolutely robbed of an Oscar nomination.  One of the biggest travesties in Oscar history.
#17.  Black Panther.  The story of T'Challa, King of Wakanda, was a cultural significance and a massive hit.  It is socially relevant and provided countless children a role model on the screen that looked like them.  Plus, the movie was great.
#16.  Spider-Man: Homecoming.  One of the best Spider-Man movies ever done and finally we have a Spider-Man that everyone can get behind. Tom Holland is the perfect Spider-Man and the perfect Peter Parker.  Then, we get a totally intense and frightening Vulture in the person of Michael Keaton.  That scene in the car with Peter and Toomes was as tense as any scene that year.