For the first time ever, Wrestlemania was split into two nights of action.  Saturday night The WWE announcers continued to hype the reason that they divided the show into two parts was that it was "too big for just one night."  However, the real reason, of course, is that the COVID-19 virus has become a pandemic across the world and there are orders for people to stay at home and avoid large group of people.
WWE decided against postponing Wrestlemania 36 and decided to push ahead at their WWE Performance Center in Orlando.  They taped, edited and designed the show in the weeks prior to the event.
I was very excited about the event this year.  Not that I'm not excited every year for Wrestlemania, but this year had just a little bit more.  I don't know if it is because of the current state of the world and the quarantine surrounding it, but I was ready for the show.  Not having to watch 8-9 hours of consecutive wrestling on one night was appreciated as well.
Of course, I was on Twitter when the show started and I was amazed at the level of negativity crossing the site.  I guess I shouldn't have been as Twitter is a reputed hotbed for the trolls of the world, yet I enjoy spending time tweeting there.  However this was really a chore having to watch the vitriol coming across in 280 characters or less.
People immediately began ragging on the show for things that they could not prevent and I got real tired of the posts saying comments like "they should have postponed" or "this is awful."  Every time someone posted a tweet about "Being done with the show" or "I tried, but I can't watch this any more" I wanted to respond with a "BYE", but I decided not to engage with them.  That was probably a wise choice.  Heck, Twitter would be a better place if more people stopped and thought BEFORE they tweeted.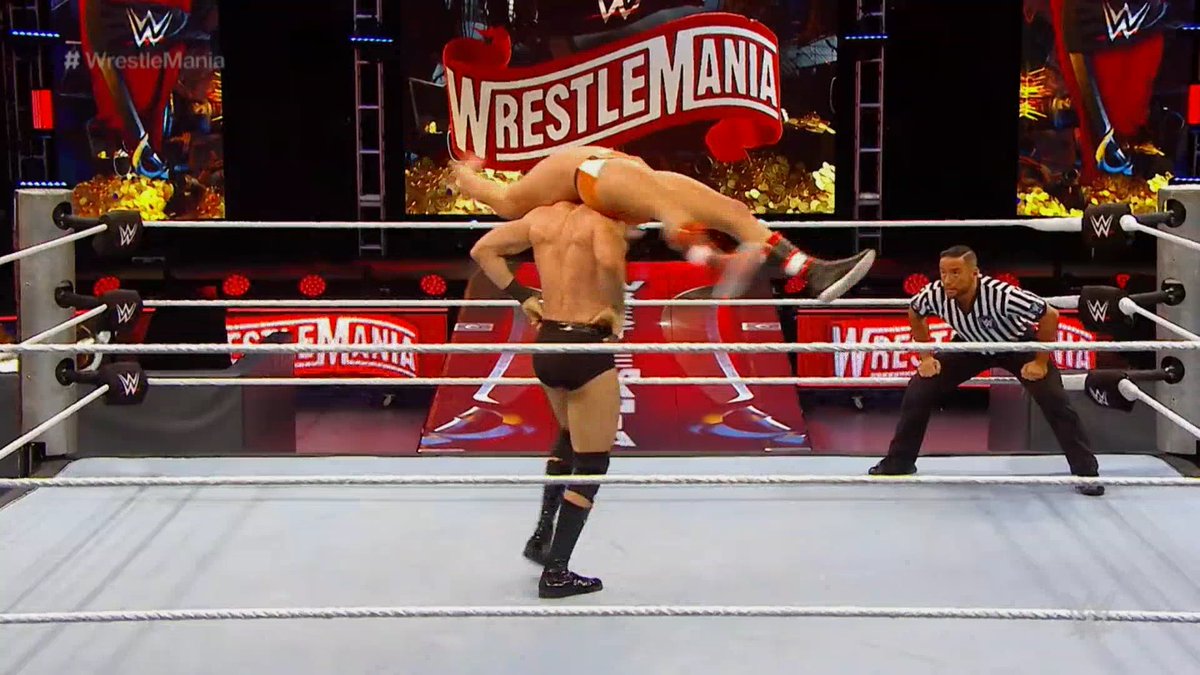 Moving on to the show itself, the pre-show kicked everything off as always.  They featured a match between Drew Gulak and Cesaro.  I was shocked by this because Cesaro never gets the win any more, but he pulled this one out.  I love Cesaro and I think he could be a huge main event player in WWE, but there always seemed to be something or someone holding him back.  He used a no-arm airplane spin to get the victory in a spot highlighting just how awesome Cesaro is.
The main show began with a video compilation of "America the Beautiful" from performances over the years at previous Wrestlemanias.  It featured such artists as Aretha Franklin, Little Richard, Boys 2 Men, Willie Nelson and Gladys Knight.  It was a really well done video and kicked off the event wonderfully.
The video at the beginning of the show was epic as well.  It featured some amazing animation and turning of WWE superstars into mythic heroes and pirates.  WWE does these kind of things so well.
The first match on the main card was the Kabuki Warriors vs. Alexa Bliss & Nikki Cross for the WWE Women's Tag Team Championship.  It was a decent match with four women who worked hard during it.  Again, I got tired of the negative respond on Twitter and I was very close several times in just dumping it.  In what I thought was the first upset of the night, Bliss & Cross won the match and became new tag team champions.
This was followed by King Corbin vs. Elias.  This match was not one I was looking forward to as I am not a huge fan of either performer, but it was fine.  It was a hard-hitting contest and both men did what they could.  Elias won with a roll up and a handful of tights.
Next, somewhat surprisingly, was the RAW Women's Championship match with champ Becky Lynch defending against Shayna Baszler.  Becky was in the main event last year at Wrestlemania 35, and now she is in match number three.  Even more shocking was that she won the match as most people believed that Baszler would come out on top.  Becky had a reversal into a pin after being dominated for most of the match so I believe that this is far from over between the two of them.
The Intercontinental Championship was next as champion Sami Zayn defended against Daniel Bryan.  Zayn pulled all kinds of whiny, cowardly heel moves during the match, making you want to see him just get his butt kicked by the "Yes" man.  However, Zayn hit Bryan with a Helluva kick after Bryan had been distracted by Cesaro and Shinsuke Nakamura at ringside.
After the first four matches, there had been a feel of rushing, which was weird considering they had split the event into two nights.  Everything was solid up unto this point, but nothing out of the world.
That would change.
Next we had a triple threat ladder match for the Smackdown Tag Team Championship.  This was a match that was affected by the COVID-19 situation.  It was supposed to be champs Miz & John Morrison defending against the New Day (Kofi Kingston & Big E) and Jimmy and Jey Uso.  However, Miz was sick and was not allowed to be involved in the match.  As far as I know, Miz has not been diagnosed with COVID-19, but you cannot take any chances so he was out.
Instead, the ladder match continued as a triple threat single match for the tag team titles, which was weird, but turned out amazing.  Morrison, Jimmy Uso and Kofi Kingston engaged in the ladder match and put their bodies on the line for the empty arena.  They did some breathtaking spots and told a fantastic story about these three men desperately seeking the titles for their teams.  There were some amazing spots, my personal favorite was John Morrison tight-rope walking across the top rope from one turnbuckle to the other.
In the end, John Morrison won the match with one of the most creative endings to a ladder match in many years.  All three men were on the top of several ladders struggling to gain control of the belts which hung above the ring.  All three men had their hands on the titles and Kofi and Jimmy delivered a head butt to John Morrison who fell backwards onto a set up ladder below.  However, Morrison had held onto the titles and both of them fell with him, leading to his victory.  It was a great ladder match and these three men put it all on the line for the fans.
This was followed by a one on one match with Set Rollins against Kevin Owens.  They had a heated rivalry on Monday Night RAW over the last several months and this match is meant as the blow-off match.  After some good in-ring action, Rollins gets himself disqualified by striking Owens with the ring bell.  Still, Owens gets on the microphone and challenges Rollins to keep going with the match and make it a no-DQ match.  Rollins accepts, but that would be a bad choice for the "Monday Night Messiah."  After some brutal chair shots, Kevin Owens lays Seth out on the announcer's table, climbs the Wrestlemania set and leaps off with an elbow in the spot of the night.  A Stunner later and Kevin Owens defeats Seth and wins the match.
The universal Championship match was next and this one was controversial heading into the show.  Roman Reigns, who was originally supposed to challenge Bill Goldberg for the Universal Championship, had pulled himself out of the event because of concerns over COVID-19.  Reigns, famously, had two battles with leukemia, one very recently, and his immune system would be compromised.  For concerns for his health and that of his family, Reigns announced a couple of weeks ago that he was out of Wrestlemania.
Oddly enough, the WWE continued to promote the match until this past Friday on Smackdown, where they basically stated that Braun Strowman was now in the match.  They did not explain it, nor did they even speak the name of Roman Reigns.  It was strange and seemed to miss an opportunity, but I do not know the circumstances so I will not criticize.
Braun Strowman faced off with Goldberg for the title.  Goldberg hit four spears on Strowman, who then kicked out.  This was followed by four power slams by Strowman, who pinned Goldberg for the Universal Title.  All in all, it was a weird match and went about 3 minutes.
The show ended with the Boneyard Match, pitting A.J. Styles against the Undertaker.  No one knew what a Boneyard Match was going to be and I am not sure anyone was prepared for what we got.  It was about a half hour in length and it was glorious.  It was more like a movie than it was a match.  Undertaker and Styles fought each other through a graveyard with special effects and big moments and a running commentary by the two men.  There was background music, including a Metallica song as the Undertaker arrived on a motorcycle.  This was much more of the American Bad-Ass version of the Undertaker than that of the Deadman, but this character seemed to have pieces of both of them.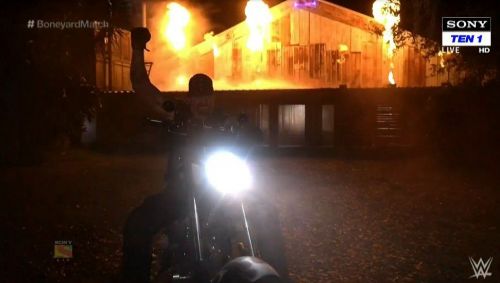 Reminding one of the Ultimate Deletion from the mind of Matt Hardy, the Boneyard Match was certainly a cinematic creation featuring two of the greatest performers in the WWE.  Styles and Undertaker are masterful storytellers and they brought every bit of that to this production.
To call it a match would be inaccurate, I would say.  It was more of a fight.  This is something that you need to go see.  It really makes me anticipate the Firefly Fun House Match scheduled for Sunday night with Bray Wyatt and John Cena.
I really have to say how appreciative I was for the performers of this card because they went all out to perform even though there was nobody in the stands cheering them on.  And while the lack of a crowd hurt certain parts of the show, WWE did the absolute best they could have done in the situation.  The Boneyard Match was astounding, the ladder match was brutal, Kevin Owens was insane and the show exceeded expectations.  So all of the negative Nancys out there can just head over to Twitter to complain.  I had a heck of a good time.
Bring on Night Two!