Surprise.
Prior to the start of the Backlash show, WWE announced that there would be a RAW Tag Team Championship match between the Street Profits and the Viking Raiders.  It was unexpected and felt last minute, but no one would expect what we wound up getting.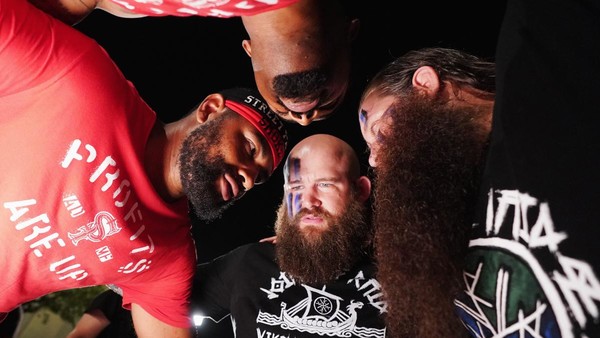 The two teams have been having filmed vignettes competing against one another in "Anything you can do, we can do better" challenges.  Bowling. Sword fighting. Axe throwing and the such.  They were tied at 2 each and split events at their "Decathlon" last week on RAW so it made sense that they would break the tie with a championship match.
We should have seen it coming.
The match never happened as the segment turned into another cinematic presentation where the two teams fought each other in the back.  They destroyed Braun Strowman's windshield again, attacked each other with the props from previous skits, speared each other through window glass and so on.
We had not seen anything yet.
As they were facing off, a group of motorcycles pulled up and WWE wrestler Akira Tozawa stepped up and pulled off his ninja mask.  It was ninjas on bikes.
The Street Profits and the Viking Raiders then decided to team up to take on the ninjas as the Viking Profits (there was a logo for the group too).  They battled the ninjas and knocked them all out (using the power of the turkey leg, which apparently, like Thor with Mjolnir, Ivar can summon by holding out his hand.
Then, Tozawa unleashed the giant ninja who had a sword.  Eric wanted to take him on but wiser heads came through and they ran away.
They wound up on the top of a truck and started fighting once again.  They all fell into a dumpster and were attacked by a monster with a long tentacle, which was an allusion to the dianoga from Star Wars: A New Hope.
Holy cow.
Yes, this was ridiculous, but I laughed many times.  It breaks up the show and it gives these four talented men a chance to show off their comedic timing.  I liked the shots, I liked the music.  Was it stupid?  Of course.  Was it a good stupid?  I think so.  I liked this more than the last cinematic match between Adam Cole and Velveteen Dream on NXT Takeover: In You House.
Will these kind of bits get old?  Maybe.  It depends on how they use it and what they do with it.  It made sense to do this after the series of vignettes that these teams had done.
But come on….
Ninjas.