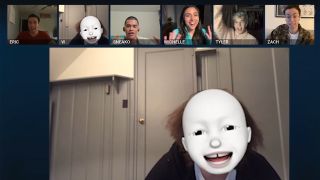 I saw a story online today about a video on Vimeo that became the number one movie of the day on June 10th according to Box Office Mojo and it is a fascinating story.
Apparently, in an effort to try an reach a lifelong dream, Christian Nilsson and Eric Tabach were able to create a horror movie using the Zoom platform and a group of YouTubers called Unsubscribe.  Then, they rented out a theater, the Westhampton Beach Performing Arts Center in Long Island, and purchased all of the tickets themselves.
With that strategy, their film reportedly made $25,000 in box office tallies, with a budget of $0.
Is it a technicality?  Of course.  Unsubscribe did not actually earn any money from that streaming, but the promotion certainly could lead to more.  It lead to me renting the video on Vimeo this morning, so they at least made themselves $3.99.
Here is the trailer:
I watched this video this morning and I thought they did a really good job.  The horror film focused in on the culture of today's world in how people are obsessed with followers on different social media accounts and how they would do practically anything to increase that number.
It is the troll called Whitey (Ozark's Charlie Tahan) who is looking to delete these accounts and, perhaps, the YouTubers as well.
As it is a short film (30 minutes), the specifics are not developed as much as it could be, but what is here is really strong.  The YouTubers do a decent job in their performances and are believable.
Along with Tabach, other YouTubers involved in the story included Tyler Brash, Sneako, Zach Kornfeld, Thomas Brag and the Yes, Theory guys and Lauren Brodauf.  Toss in actress  Michelle Khare, who has been cast in a new HBO Max series and there is quite a compilation of YouTube commenters.
The final scene of Unsubscribe adopted one of the worst of the horror tropes and brought the film down somewhat.  However, it was an interesting short that really had a comment on the YouTube and other social media culture.  The film had an "Unfriended" feel about it, but for what was brought in to this film, it is worth a watch.