It has been a couple of weeks since I have done one of these, mainly because the topics were ones that I would have struggled to fill out a list.
Then, here comes this week.
The Top 10 Show, featuring John Rocha and Matt Knost, had an episode this week with the top Top 10 MCU Action Scenes.  Of course, here comes a topic where I can easily find ten scenes… and actually way more than 10.
So I did keep to the same general rule that John and Matt followed:  No more than one scene from any one movie.  This was very tough because there were a bunch of films that had multiple possible choices (I had three from Winter Solder in consideration).
Starting off…
#10.  Bruce Banner chased around Rio de Janeiro (The Incredible Hulk).  I wanted to include this one because it is the forgotten MCU film and it is really decent.  While I think they hit the jackpot with Mark Ruffalo, Edward Norton was great here.  There was excitement as Thunderbolt Ross and the military pursued Banner on foot across the city.  This was a great deal as we see how Banner desperately tried to prevent himself from Hulking out.
#9.  Spidey embraces his "Peter Tingle" (Spider-Man: Far From Home).  Spider-man arrives in London and winds up facing off with Mysterio.  But what is he seeing?  What is real?  Finally, Spidey closes his eyes and trusts his Spider-Sense (aka Peter Tingle) to dodge his way through the army of drones.  It is a perfect example of Spider-Sense and is a thrilling sequence as we see Peter progress to become Spider-Man.
#8.  Dr. Strange fights as time is reversing (Doctor Strange).  I thought about the Dormammu moment of Dr. Strange, but this is visually such a brilliant moment in the third act of Dr. Strange that it had to make this list.  It is one of the most original scenes in any MCU film and you were never sure what was going to happen.  Plus, it really highlights the importance of the Time Infinity Stone and how important it would be as these films progressed.
#7.  Spider-Man saves his friends in the Washington Monument (Spider-Man: Homecoming).  Homecoming was another tough choice because of the number of great scenes, but this one really gives the example of who Spider-Man was.  The leap off of the Washington Monument, the hooking of the helicopter with his web-line and his crashing through the small window.  It highlighted how much of a hero Spider-Man is and it announced him to the world.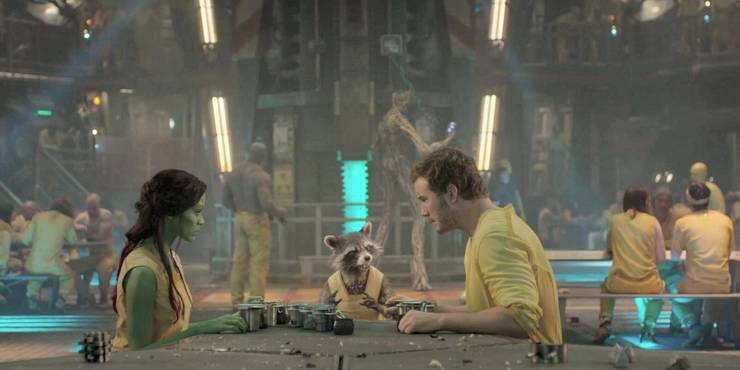 #6.  Guardians Jailbreak (Guardians of the Galaxy).  The whole team gets together for the first time in a space jail and their subsequent escape from the jail shows how quirky and intriguing these characters are.  There is great humor, exciting moments and top notch character examples found in the scene.
#5.  Battle of New York (Avengers).  This was such a fantastic scene, that allowed each member of the Avengers to have a spotlight on them.  We see the leadership and presence of Cap, the power and rage of Hulk, the precision of Hawkeye, the bravery of Black Widow, the wit of Iron Man, and the arrogance of Thor, even now hoping to change the mind of his brother Loki.  We also got this iconic moment with the six Avengers in a circle, looking at the chaos around them.  This worked so well that it brought this film to a new level and helped paved the way for the bigger, more widespread battles to come.
#4.  Thanos on Titan (Avengers: Infinity War).  This is another tough choice, but the group of heroes on Titan (Iron Man, Dr. Strange, Spidey, the Guardians of the Galaxy) almost had stopped him.  They nearly had the gauntlet off.  It was in Spider-Man's hands.  And then Peter Quill aka Star-Lord, who was overcome by his own rage over Thanos's murder of Gamora, messed the whole thing up.  Then Thanos threw a moon at them.
#3.  Elevator fight (Captain America: Winter Soldier).  This was the moment I chose from Winter Soldier.  That was a real tough choice, but this is so iconic that it was echoed in Endgame.  Cap showed his amazing skills in this great battle and he showed his humor as well.  The odds were stacked against Steve Rogers and he came through with flying colors as the SHIELD/Hydra agents fell around him.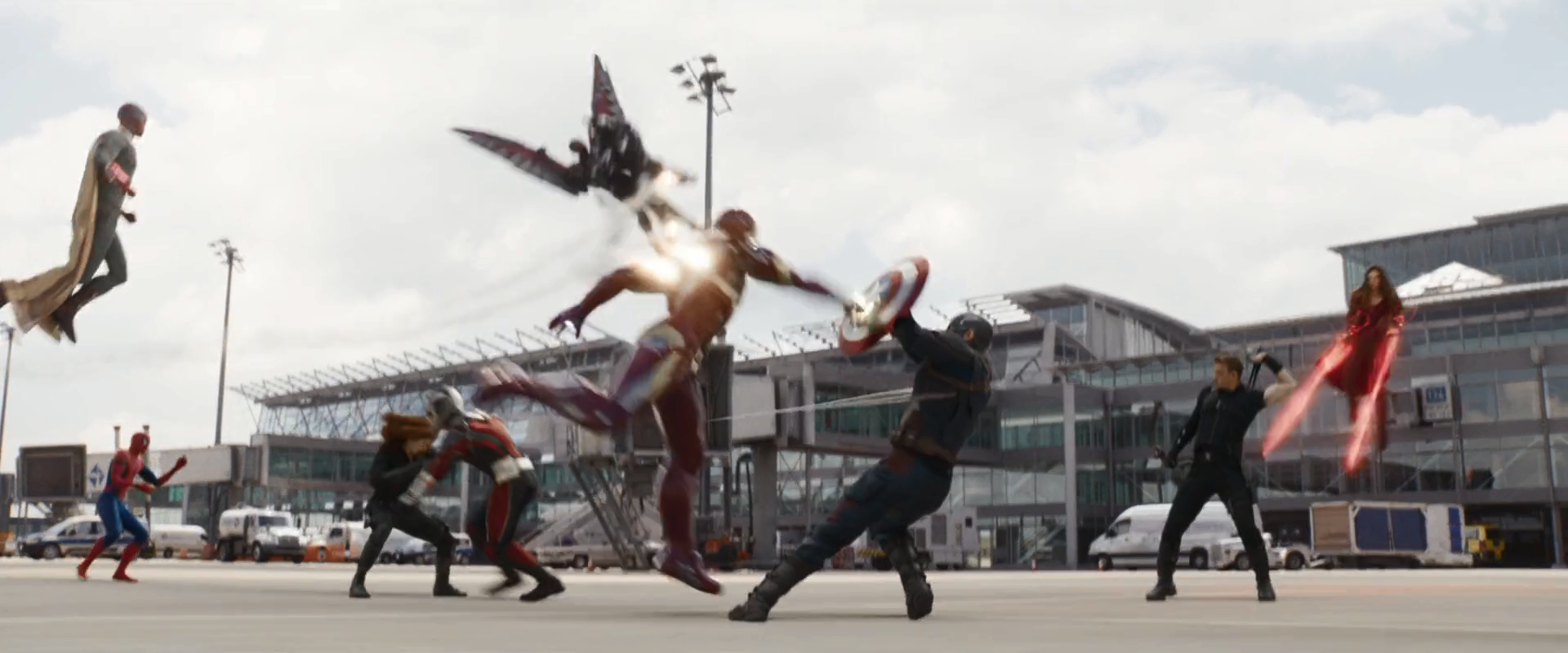 #2.  Airport scene (Captain America: Civil War).  This scene about halfway through Captain America: Civil War was breathtaking and set the standard for hero vs. hero battles.  The battle started slowly as these friends fought only to have it elevate to a high rate of stakes.  We get to see the first scenes of Spider-Man in battle, the arrival of Giant Man, Black Widow's betrayal, Vision's error, among many other moments.
#1.  Final Battle. (Avengers: Endgame).  Duh.  This was the easiest choice of any list I have written.  I do not think I have ever had more of an emotional reaction to any extended scene than I had in this movie.  I bounced in my chair as Cap caught the hammer, when Cap said "Avengers Assemble", Iron Man and Spidey hug, the bad assness of Thor, Captain Marvel's arrival, etc.  I had tears rolling down my face because I had never seen such a roller coaster of a scene.  When Cap stood up and tightened his broken shield to his wrist as Thanos's entire army came forward, I was amazed.  The Russo Brothers crushed this and the last hour of the film was brilliant.
Honorary Mentions:  In Civil War, I considered the final fight with Iron Man vs. Cap and Bucky.  This was smaller than the airport scene but had every bit of emotion you could want.  I was close to putting the whole "Dormammu, I have come to bargain" scene on here from Dr. Strange.  In Spider-Man: Homecoming, when Peter is trapped in the rubble was another one that was nearly my choice.  Ant Man's fight with Yellowjacket from Ant Man was on my list.  In Winter Soldier, I nearly chose the Cap on the ship at the beginning where he jumped out of the airplane.  There was also the battle on the highway where Bucky was revealed as Winter Soldier.  Thor: Ragnarok had several great moments too, like the opening with Surtur and the fight with the Hulk in the arena.  The car chase scene in Korea featured in Black Panther.