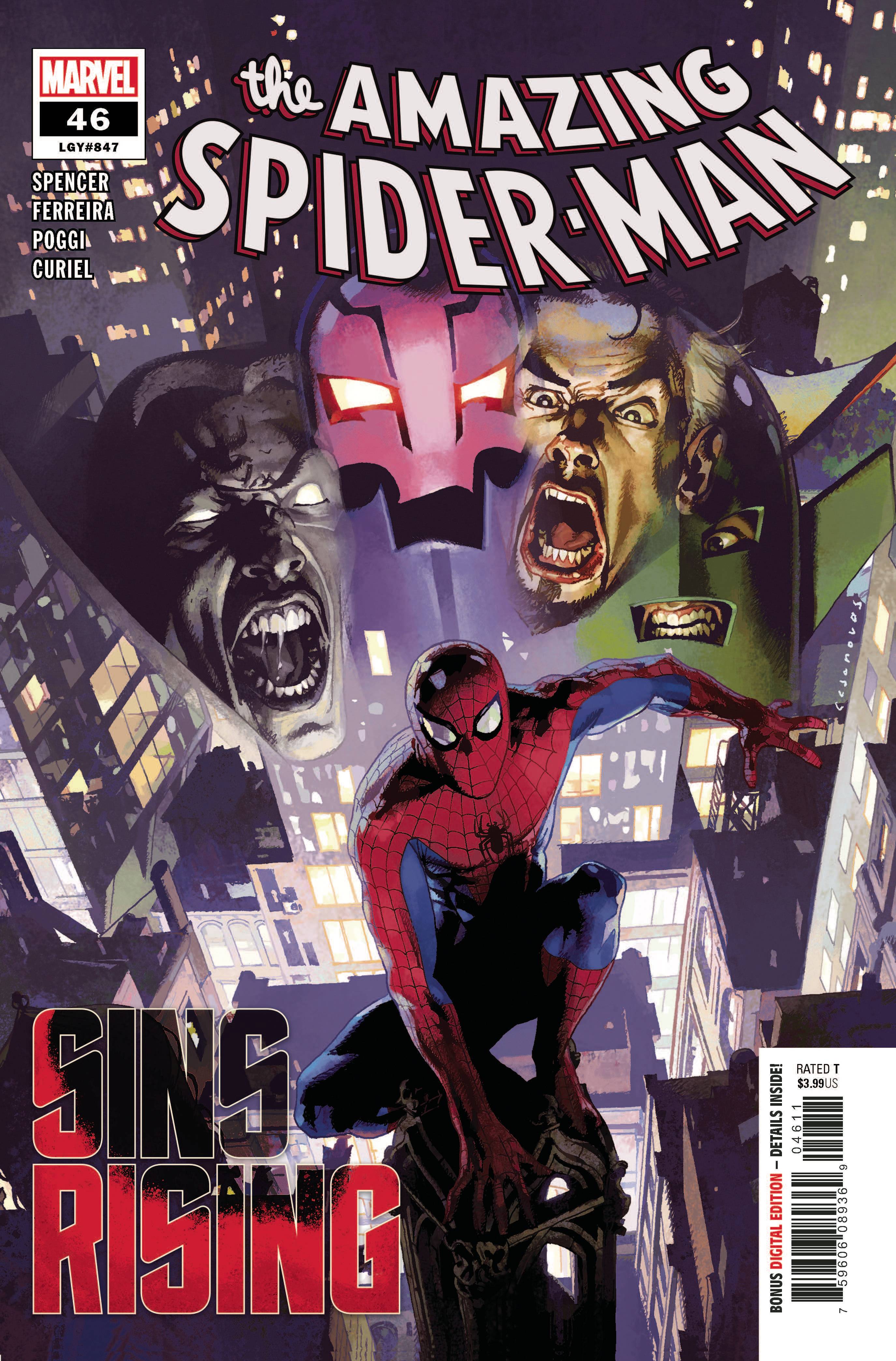 The Amazing Spider-Man #46
"Sins Rising Part Two"
Writer:  Nick Spencer
Artist:  Marcelo Ferreira
Cover Art:  Casanovas
This is the second part of a huge Spider-Man story that sees the return of the Sin-Eater!
The Sin-Eater was the murderous villain years ago in one of the greatest Spidey arcs, "The Death of Jean DeWolff?"by Peter David and Rich Buckler.  This story included Daredevil and pushed Spidey to the precipice of his emotional brink.
We have already seen Sin-Eater return from the dead in Amazing Spider-Man: Sins Rising Prelude #1, which dove deep into the character of Stan Carter, the disgraced cop who became Sin-Eater, but showed us that there was more to him than what we remembered.
This new storyline has been fire so far as we look closely at one of the darkest periods in the life of the Web-Head.  The Sin-Eater is a moment where Spidey almost lost himself to his anger and thirst for vengeance and this continues exploring that.
However, there is a mystery to this story as well as Sin-Eater's victims are not necessarily being killed.  Here, the Lethal Legion are used to show what happens after they are "cleansed" by the Sin-Eater.
Also, the comic is looking at the idea of mob mentality and the worship of someone who may not deserve your praise.  Sin-Eater is not being seen as a murderous vigilante by the public at large, with Spencer going as far as having bystanders applaud the apparent murders being committed by Sin-Eater.  There feels to be something deeper under the surface going down here as well.  The ending sequence brings some major doubt into the motives of Sin-Eater.
So far this has been a tremendous story with emotion and a true uncertainty about what is happening.  The art from Marcelo Ferreira creates a great darkness, a specific tone that works well with the tale being weaved.
As a huge Spider-Man fan, I am excited to see where this goes.