There are several shows that I watch regularly on YouTube and on Screen Junkies Plus.  I did not feel as if I wanted to include these in the streaming section, but to ignore them would do a huge disservice to some very entertaining shows.  So I bunched these together under the banner of "YouTube" and pushed forward.
Here is my list of favorite ten shows from YouTube/Screen Junkies Plus
#10.  Fatman on Batman.  Kevin Smith and LA Times writer Marc Bernardin give their opinions on multiple pop culture references, not just the Caped Crusader.
#9.  YouTube movie reviewers.  This includes my three favorite movie reviewers: Jeremy Jahns, The Schmoes, and Chris Stuckmann.  I watch all three of these channels when I am wondering about a movie, and I enjoy comparing my own thoughts to these four men.  I am usually pretty close in opinion to Jeremy Jahns (although our thoughts on Nocturnal Animals seems to be quite off-kilter).  I respect all of their opinions.  They are definitely awesometacular.
#8.  Collider Movie Talk.  Hosted by John Campea, there is a rotating list of commenters including Mark Ellis, Kristian Harloff, Jeremy Jahns, Jon Schnepp, Peri Nemiroff, John Rocha, Ken Napzok, Dennis Tzeng among many others talk movies.  They give opinions on movie news as well as buy or sell, Twitter Questions and Mail Bag.
#7.  Movie Games with Jeremy Jahns.  From Screen Junkies Plus, Jeremy Jahns hosts this movie trivia game bi-weekly.  Each episode is different, with other well-known movie talk personalities competing in a rotating set of movie trivia games.  Ends with a one on one movie question showdown.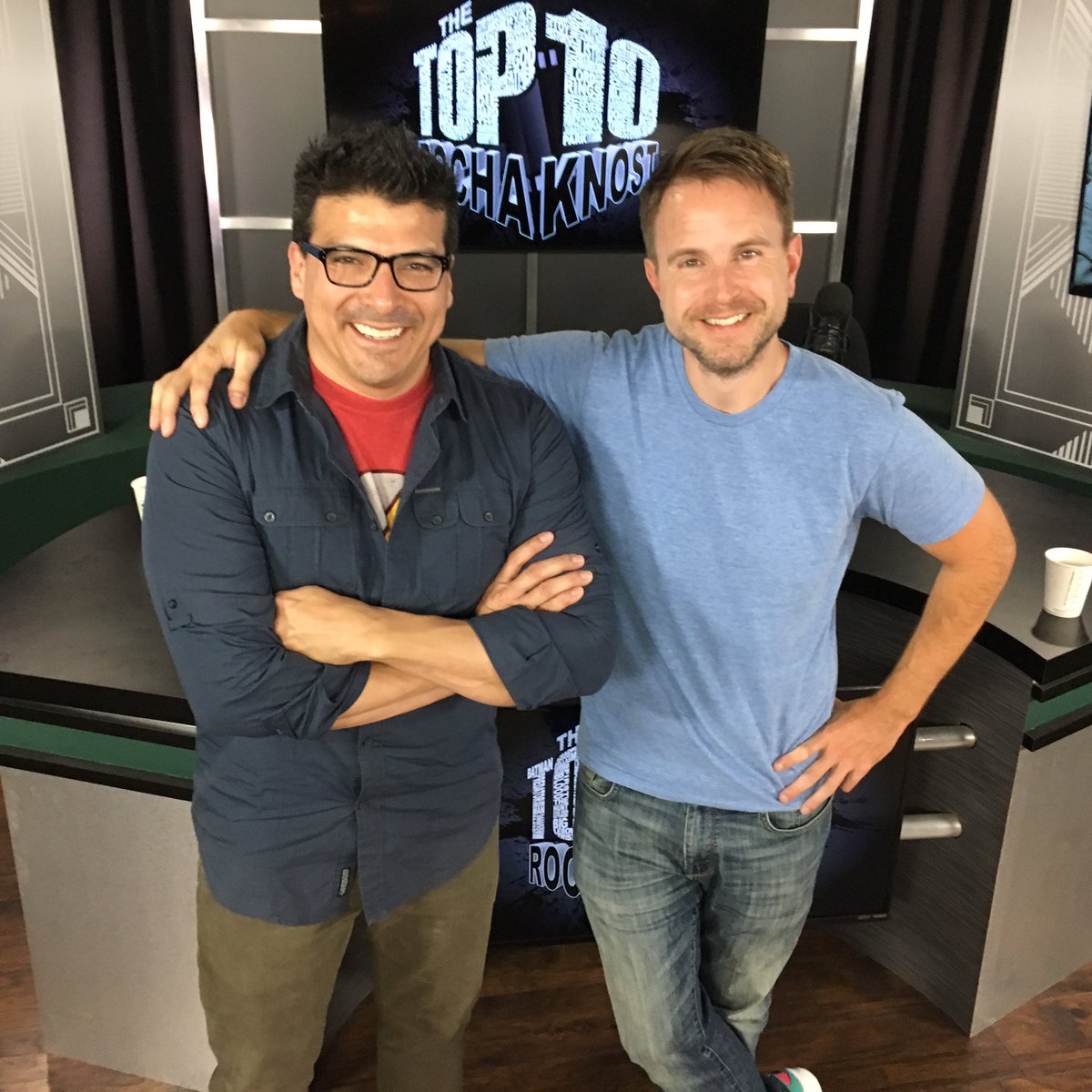 #6.  Top Ten.  John Rocha and Matt Knost brought this show from their podcast to Collider this year.  Rocha and Knost would each create their own top ten list of movies within a certain topic (example:  Top Ten Westerns) and they would go through each list and discuss it.  Then they would combine the lists into one list for the show.  This show was placed on hiatus earlier this year, but with both Rocha and Knost still at Collider, I have hope that the Top Ten Show will return.
#5.  Collider TV Talk.  Hosted by Josh Macuga, Sasha Perl-Raver, David Griffin and Sinead De Vries, this always opinionated crew discuss television shows from across all mediums.  They must always be watching tv shows.  The chemistry between these four are some of the best on Collider.
#4.  The Schmoes Knows Show.  Streaming live every Thursday night, the Schmoes talk about more than just movies.  Kristian Harloff and Mark Ellis lead a group of oddball characters and movie experts including JTE, Sasha Perl-Raver, Finnstock, Ken Napzok (and the Newwwwwwwwwwwwwwwws), Cobbster, Brett Sheridan, RV3, Tiffani Smith, among many other rotating stars.
#3.  Movie Trivia Schmoedown.  One of Collider's best shows, the Schmoedown pits two individuals (or teams) against one another in a trivia contest, but they play this up like they are in the WWE or the UFC.  Colorful nicknames are given and championship titles are won.  Current singles champ is "Dangerous" Dan Murrell and the team champs are "Team Top Ten"- "The Outlaw" John Rocha and Matt Knost.  They put out a weekly top ten contenders show and they continue to have an active league.  The Schmoedown is a lot of fun to watch and just as fun to try your own hand at answering questions.
#2.  Movie Fights.  One of the original shows that helped kick off the Screen Junkies Plus, Movie Fights is shown live every Thursday on Plus and then drops on Saturdays on YouTube.  Judge Andy Signore scores the argument between three movie experts on questions such as "What is the worst prequel?" and "What is the best movie alien?" The debate is often loud and always fun.  The show ends with the top two point getters competing in a Speed Round.  Dan Murrell is also the Movie Fights Champion as well as the normal fact checker.
#1.  TV Fights.  This one started as a second show to Movie Fights and, at some point, it surpassed it.  Roxy Striar hosts and judges the show, and she does a great job judging.  I may not always agree with her, but I always understand where she is coming from.  Originally Ken Napzok was the fact checker, but when he left to go to Collider, Billy A. Patterson stepped in without missing a beat.  The same format as the Movie Fights program, TV Fights has been consistently entertain every week, streaming live on Tuesdays.