Welcome back to another episode of The TV Week That Was.  Unfortunately, this Sunday has brought another mass shooting, this time in Texas.  As I am writing this, there are not very many details available outside of the shooting taking place at the First Baptist Church of Sutherland Springs just past noon.  According to an article at the New York Times website, officials believe there have been 27 deaths, with that total perhaps to rise.  There will be plenty of news coverage of this on the cable news, but I really think the time has long since passed that the US steps up and does something instead of allowing the gun lobby and the NRA to continually push these national tragedies aside in the name of the 2nd Amendment.  I see lots of Senators on Twitter sending out thoughts and prayers to the victims and their families.  How about doing something besides just praying, you sycophantic slugs?
Okay, got that off my chest.  Let's get on with something happier.
Well, at least, happier for some.  The Houston Astros won game 7 of the World Series this week to become World Series Champions.  The Astros defeated my Dodgers 5-1 in the final game of an excellent series.  Congrats to Houston, which brought some good news to a city that has not had a lot of good news this year.  Also this week, members of the Astros found their way to Saturday Night Live and onto the set of Weekend Update.  Jose Altuve, George Springer, and Alex Bregman walked out and Altuve ended up on Lesley Jones's lap.
I have to say, I have not been into The Walking Dead yet this year.  Last week's episode was difficult to get into.  They kept bouncing back and forth between people I did not know and other people I did not know firing guns at each other.  There was not enough interactions with the characters who I do know and love.  There was also another fake out on a character's death as it sure looked like Morgan had been gunned down.  Yet, he survived.  I'm not even sure exactly how he did this.  There was an interesting turn at the very end of the episode as Morales, a character from season one returned to stick a gun in Rick's face.  I assume Rick will be fine since we saw him as Old Man Rick last week.
The Inhumans brought both Triton and Gorgon back to life this week as the Royal Family returned to the moon, made a deal with Maximus, handed over Dr. Desmond from LOST to Maximus, and then acted surprised when Maximus did not keep his word.  The episode ended with Maximus being led into a trap and winding face to face with Black Bolt.  Only one episode left as I continue to count the days until Agents of SHIELD returns and fills this time slot with watchable Marvel TV once again.  Seriously, Marvel TV has been pretty average to poor lately with Iron Fist and Defenders both being "meh" and Inhumans being downright bad.  Hopefully Agents of SHIELD and Punisher in two weeks (as well as Runaways on Hulu) can start matching Marvel TV with the excellence that is happening in the Marvel Cinematic Universe at Marvel Studios.
I am also split on Riverdale season two.  I loved season one, but I am just torn with this Black Hood killer storyline.  I love serial killer storylines and I do like how they have woven the killer into Betty's story as well, but I am just not sure what to think about how this story is completely altering Archie Andrews as a character.  He has turned into a crazed and violent nutjob.  Archie bought a gun and got into an Outsiders style street fight with the Serpents.  I understand that the Black Hood started by shooting Archie's father, but he seems to be going way over the line.  I am interested in the character of the Black Hood and I do wonder whom this killer truly is, so I hope some of the characterization can get straightened out before it ruins Riverdale completely.
Dark Olivia Pope continues on Scandal as the White House CoS and "Command" of the B613 secret organization each week and even being outed as the head of B613 did not stop Olivia this week.  Show of hands if you expected something to happen to that airplane at the end of the episode?  Yeah, my hand is up too.  This final season has been very disappointing as Olivia has really gone over to the dark side and I am just about ready to say let her stay there.  I also hated how President Mellie Grant, the first female president, fell for the first handsome foreign leader she came across.  So much for female power.  That was terribly cliched and borderline offensive.  Why couldn't have Mellie just been a strong and powerful woman without having their be "sparks?"  Well, at least the leader was on that plane so there won't be any more sparks.
Gotham continues to be must see each week as the Professor Pyg storyline continued this week with Jim Getting a lot of kick back among GCPD for his NOT being targeted by Pyg (that's like Pygmalion, btw).  However, Jim's act of bravery to save a group of cops won them all over.  All of them, that is, except Harvey Bullock.  There are definite cracks appearing in the relationship between Jim and Harvey, and it all makes sense.  We also got a storyline with Bruce Gone Wild at a nightclub and getting heavy into it with a girl.  The Bruce Wayne part was the weakest part of Gotham this week, easily.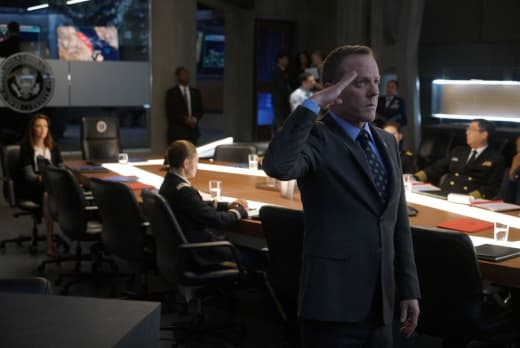 Designated Survivor has been consistently entertaining for the last several weeks.  I like how it has moved away from the deep seeded conspiracy to events that a president may have to deal with every day. This week, a US spy ship crashed with a junker in waters where it was not supposed to be.  We got some really good drama, especially between President Kirkman and the young captain Griffin, played by Gregory Smith, who had to step up as leader after the higher ranked officers died in the accident.  The conversations with these two were very emotional and took its toll on Kirkman when we learn that Griffin stayed behind to make sure that the ship's secrets did not fall into enemies hands.  It was a strong episode of a series that has been very reliable this year.
How to Get Away With Murder continues to amp up the situation and continues to drive Annalise toward what looks like some sort of bloody confrontation.  This episode showed us some demons in the mind of Annalise's therapist, Isaac Roa.  It looks like Jimmy Smits's character has lost a daughter in his own past and the fact that Annalise has confided in him that she lost a child in the hit and run seems to have sent him into his own emotional tailspin.  The flash-forwards of this show are getting closer each week and soon we will be able to put it all together.
The Movie Trivia Schmoedown is continuing its Ultimate Schmoedown singles tournament, which is turning out to be full of major upsets.  The number one seed, "The Outlaw" John Rocha fell this week to "The Inglorious One" Samm Levine in a close and dramatic match.  That means our final four consists of Levine, a 9 seed, taking on Rachel "The Crusher" Cushing, a number 12 seed, and Mike Kalinowski, a seven seed, taking on "Little Evil" JTE, a number 11 seed.  The winner will receive a shot at the Championship, currently held by "The Commish" Kristian Harloff, at the Schmoedown Spectacular.  The finals of the team tournament are scheduled next week as well with Team Action vs. Above the Line.  If you enjoy movie trivia and you are not watching the Movie Trivia Schmoedown, you need to get on it immediately.  There is fun every match.
Have a great week.  Smackdown Tuesday has a WWE Championship match with Jinder Mahal defending against A.J. Styles.  The Inhumans final episode airs.  GH is continuing its Tale of Two Jasons.  There are lots of great TV programs to watch.
Happy Viewing.
Oh, and by the way… Happy Guy Fawkes Day!
Remember, Remember the 5th of November
The Gunpowder treason and plot.
I can tell of no reason, why the Gunpowder Treason
Should ever be forgot.