This week's Top Ten Show with John Rocha and Matt Knost was another good listen.  This week's topic was Top Ten Ensemble movies.  This was a giant topic and I have some interesting choices that did not make either John or Matt's lists.  That, of course, is okay.
There are so many possible films here.  I wound up having some films on the list that I feel should be on the list, against some of my own personal favorites.  I went back and forth with which ones I should include.  I finally made some decisions.
#10.  The Breakfast Club.  The film that was like the representation of the Brat Pack in Hollywood, The Breakfast Club showed what happened when kids of all ages are forced to have detention on a Saturday morning.  The film depended on the charisma of the actors in detention and these characters were brilliantly portrayed.  They felt like real kids and they faced real problems.  Some of the best work that all of these actors ever had.
#9.  Galaxy Quest.  By Grabthar's Hammer, this parody of Star Trek became so much more.  The film itself had so much heart and humor that it became a classic all its own.  Featuring Tim Allan paying a fantastic homage to William Shatner and the ever amazing Alan Rickman stealing every scene he was in as Dr. Lazarus aka Alexander Dane.  There was serious emotion in the film, unexpectedly.  It was so much fun.
#8.  Stand By Me.  The story of four boys heading off to find the body of a dead kid is a tad dark.  You would expect that from a Stephen King short story, but Stand By Me is as wonderfully emotional and dramatic a movie than you will ever see.  The young cast truly brought the goods and they were able to create characters that you will never forget.
#7.  A League of Their Own.  I love this movie.  The cast is one of the best parts of this.  Not only do you get Tom Hanks and Geena Davis, but there is Rosie O'Donnell, Madonna, Lori Petty, Jon Lovitz, Bitty Schram, Bill Pullman, Anne Ramsey.   The story is one of the best of the baseball movies.  It also has some of the best quotes of all time.  Sure, everyone loves "There's no crying in baseball", but my personal favorite is "It's supposed to be hard.  If it wasn't hard, everyone would do it.  The hard is what makes it great."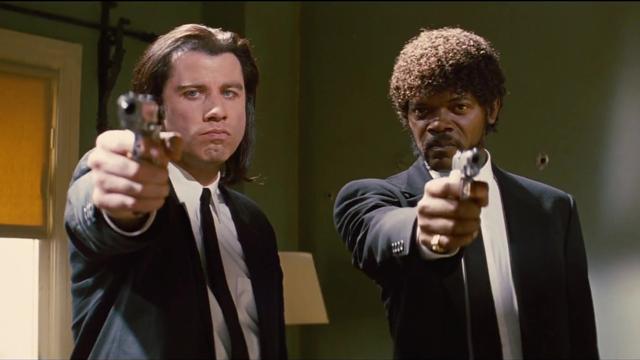 #6.  Pulp Fiction.  The fantastic film from Quentin Tarantino that was told out of order, which revitalized John Travolta's career, which made a big deal of Royale with cheese, and where you found out the answer to "what happened to Zed?"  I was completely floored by Pulp Fiction and I did not expect to love the film as much as I did.  I was a huge Bruce Willis fan at the time, but honestly, the whole Bruce Willis segment made me uneasy.  The easy chemistry between Travolta and Samuel L. Jackson is what made this a classic.
#5.  Lord of the Rings: Two Towers.  This is actually my favorite of the three movies.  I know the Return of the King gets all the accolades, but tome, there was just something perfect about the Two Towers.  I was completely enthralled the entire time I watched this film.  Every time they switched scenes and went to a different group, it felt like the exact right time.  Each switch made me more excited to see what was going to happen next.  And, of course, Treebeard!  The Battle of the Hornburg at Helm's Deep was one of the most expansive and magnificent battles ever put on film and I loved every second of it.  The film flew by and it only made me more excited for the end of the trilogy.
#4.  This is Spinal Tap.  This one is turned up to eleven.  This is Spinal Tap, the brilliant mockumentary by Rob Reiner featuring the out of touch heavy metal band Spinal Tap that became a real heavy metal band, putting out a couple of albums and going on tour.  Life imitating art?  With a great cast that included Christopher Guest, Michael McKeon, Harry Shearer, Rob Reiner, Billy Crystal, a bunch of drummers and Tony Hendra.  This film became a cult classic and it is one of the funniest films Rob Reiner ever did.
#3.  The Godfather.  I thought about putting it at number one, but honestly, I really think this is a great movie, but it is not one of my all-time favorites.  It is here on the list out of respect for the film and because it is one of the great ensemble films ever made.  I actually only saw it for the first time earlier this year at a Fathom event and I enjoyed it very much.  I know it is one of the greatest movies ever made, and that is really why it is on this list.  Great performances and an extremely influential film in Hollywood, the Godfather in the top five was an offer I just couldn't refuse.
#2.  The Avengers.  I thought about leaving this off the list, but honestly, it fit the category extremely well, so I had to include it.  I mean, this is Embrace Your Geekness.  Joss Whedon brilliantly gave his entire cast moments to shine, while never ignoring anyone (maybe Hawkeye).  The Avengers had magic about it.  Never before had we seen all of these characters of their own movies franchise come together to assemble.  The Avengers solidified the Marvel Cinematic Universe.  Some people never believed that The Avengers would work and it worked better than any film before it and it paved its way to a ton of movies in the MCU.
#1.  The Princess Bride.  This was another movie that I was not sure I should include on this list, but, it is my favorite movie of all time and it is an ensemble so I acquiesced.  I cannot say enough great things about The Princess Bride.  It is the most quotable movie.  It has amazing heart and emotion.  There is true love.  Miracles! What else could you want.  The film rests on the great chemistry between its cast, on both the heroes and villains side.  It introduced the movie going public to Robin Wright.  We had Andre the Giant.  Cary Elwes.  Mandy Patinkin.  The amazing Wallace Shawn.  Billy Crystal.  Carol Kane.  Fred Savage.  Peter Falk.  Chris Sarandon.  Christopher Guest.  I almost left this off the list, but that would truly be inconceivable.
Honorable mention:  Moonrise Kingdom, Airplane!, Monty Python and the Holy Grail, Sin City, Super 8, Parenthood (1989), Boogie Nights.