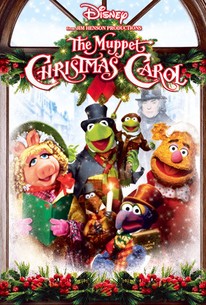 Every Christmas season I pull out my favorite Christmas movie of all time. The Muppet Christmas Carol.  This came out in 1992 during a stretch when the Muppets were doing films based on classic literature stories such as this and Muppet Treasure Island.
A week or so ago, I made the list of Top 10 Christmas movies and this one came in at #1.
The story follows Ebenezer Scrooge (Michael Caine) who is an old miser who hates Christmas.  Scrooge is haunted by three ghosts who show him the past, present and future in an attempt to save his soul from an eternity of lugging chains like his old business partners Jacob and Robert Marley.
Though the Muppets take certain liberties with the story, there is actually quite a few similarities between this and the Charles Dickens classic.  Many of the lines are used here, just as they are in other versions.  The classic Christmas Carol line  "if they are going to die, then they best get on with it and decrease the surplus population" is used to great effect.
Gonzo plays Charles Dickens as the omniscient narrator that follows along and adds the comments.  Rizzo the Rat tags along.  These characters are consistently breaking the fourth wall and each time it is funny.
Kermit the Frog is Bob Cratchit and Miss Piggy is his wife.  Robin the Frog got to be Tiny Tim. Honestly, every time Tiny Tim dies in this film, I cry.  I don't know why.  Maybe it is hearing Kermit and Piggy so sad.  It is extremely well done.
Another thing that is well done is Michael Caine as Scrooge.  I know some people think that George C. Scott is the perfect Scrooge.  Others might say Alastair Sim or Jim Carrey.  However, I say do not sleep on Michael Caine.  Yes, he is acting with Muppets, but he carries this role beautifully.  You can see how Scrooge slowly changes from the wicked old brute he was into the caring, loving man of after.  Caine goes through every range of emotion possible and he so relatable.
I also love the Muppet designs of the ghosts, especially the Ghost of Christmas Present.  There are great songs as well.  "Wherever You Find Love, It Feels Like Christmas" is wonderful as is the "Scrooge" song at the beginning.
I think there are three Muppet movies that have to be considered the best ever made.  This is one of them.  I love this movie and I watch it every Christmas.