Welcome back as we here at EYG follow along with the Top 10 Show, starring John Rocha and Matt Knost, by doing the same Top 10 list from their most recent podcast.  If you are a movie fan and you are not listening to the Top 10 Show, you are missing out on some really entertaining and intelligent conversation on movies.
This week, in honor of the upcoming movie Adrift, the boys are doing the category of Top 10 Movies on an Ocean.  Now, as I was thinking of this list, there were nearly as many films that I disliked or hadn't seen as one that I did see.  For example, I do not like Titanic at all.  The Perfect Storm.  Waterworld.  And probably the most disappointing was Ron Howard's In the Heart of the Sea.  I was really looking forward to that one and it was not good.
Then, I have never seen films like Master and Commander, Poseidon Adventure, Das Boot, among others.
Anyway, here is the EYG Top 10 Movies on an Ocean.  Honestly, films #2-6 really could be moved around completely as I had trouble deciding on the actual order of these films.
#10.  Open Water.  Tense and nerve wracking.  The biggest problem is that you hope beyond hope that someone is going to come find them and they will be safe, but you have that sinking feeling that you know that isn't going to happen.  The film builds that fear about the unknown that completely engulfs these two people and it brings the audience right along with it.
#9.  Pirates of the Caribbean: Curse of the Black Pearl.   This film might have been higher on the list, but the list of weak sequels have driven this film down.  Johnny Depp was amazing as Captain Jack Sparrow and he was so much fun.  It is a film that never should have worked since it was just an amusement park ride, but the film was really enjoyable romp.  Unfortunately, there are just too many films that have drained the fun from the series and that just cannot help but affect the original.  It is still a good film.
#8.  Finding Nemo.  This is an amazing Pixar film filled with emotion and adventure.  The father and son dynamic with Nemo and Marlin is touching as can be and they introduce the great character of Dory, who is able to carry her own spin-off film.  The animation is beautiful and the character design of the under seas world is tremendous.
#7. Moana.  I wasn't sure about this one, but it does have the Rock, so it has one major point in its favor.  Moana tells the story of a Princess who feels the call of the ocean because her ancestors were ocean travelers.  She went on an adventure to find Maui (The Rock) to bring him back and return a mystic relic to her people to save them from death.  By the way…you're welcome.
#6.  Crimson Tide.  I loved this film.  Denzel Washington and Gene Hackman on a submarine arguing and fighting one another.  Hackman is the sub's captain and Washington is the XO and a nuclear launch order comes across.  Hackman is gung ho, but Washington wants confirmation.  And this results in a power struggle among the two alphas with the crew picking sides.  There is so much anxiety in the film and Washington and Hackman are just awesome in these roles.
#5.  The Hunt for Red October.  If you ask me tomorrow, this might be behind Crimson Tide.  Both of these film are wonderful.  This one is a Jack Ryan film (here played by Alec Baldwin) and starring Sean Connery as the Russian captain of the submarine that was looking to defect to the USA.  Taking place in the middle of the Cold War, there is a definite feeling of tension and anxiety that you cannot help but feel.  This is a great thriller. Maybe I need to watch Red October and Crimson Tide back to back to determine exactly which one I like better.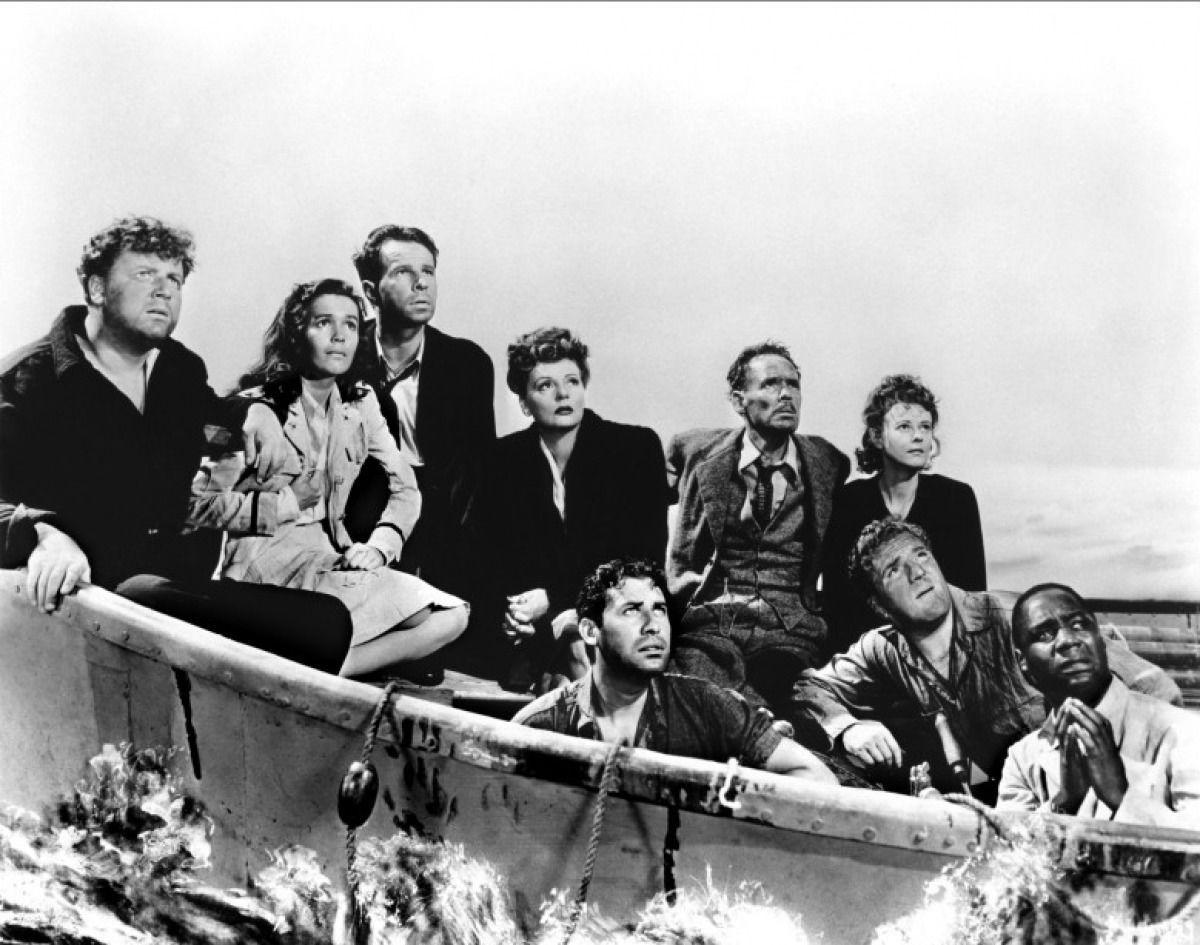 #4. Lifeboat.  I had never heard of this film until John Rocha brought it up and mentioned that it was done by Alfred Hitchcock.  I love Hitchcock, but, honestly, I have not seen near as many films by him than you would think.  So I pulled it up on YouTube to watch it and I loved it.  It was enthralling.  A German u-boat sinks an American ship and a handful of survivors wind up on a lifeboat together, including one of the Nazi soldiers from the u-boat.  The characters here were great and they fought and argued with one another, changing allegiances depending on the situation.  There are some great moments here. Thank you John for putting this gem on your list because I never would have found it had you not.
#3.  Life of Pi.  This is a marvel of animation and CGI.  The movie is beautifully shot by director Ang Lee.  Piscine Molitor "Pi" Patel was in a ship with his family's zoo animals and the ship went down.  Pi wound up alone on a boat with a Bengal tiger.  The film starts with Pi telling his story to a news reporter.  The question about exactly what happened kept the viewers guessing and the CGI was spectacular.  This was a tremendous surprising film for me.  Loved Life of Pi.
#2.  Captain Phillips.  Tom Hanks has one of his best performances in the true story of a ship's captain whose vessel is hijacked by Somali pirates.  I had no idea that I would love this movie as much as I did, but it was the number one movie of 2013 on my list.  Hanks performance, especially at the very end of the film, was unbelievably heart wrenching.  Muse (Barkhad Abdi), the leader of the pirates, also gave a great performance.  When Captain Phillips is taken hostage individually, the film becomes even more tense and anxious.  Hanks deserved the Oscar nomination (though he lost).  Great film.
#1.  Jaws.  "We're gonna need a bigger boat."  Jaws is as close to a perfect movie as one might find.  Steven Spielberg knocked it out of the park with this first summer blockbuster.  The way he filmed the mechanical shark (which did not always work) created such a mysterious feel among the audience and it literally scared people out of the water.  The story is simple yet so tense.  The actors are fantastic.  Roy Schneider, Richard Dreyfuss and Robert Shaw are unbelievable.  One of my favorite scenes of the movie is the USS Indianapolis scene.  Jaws is still one of the best films ever made.