This week's topic was Top 10 Basketball Movies, in honor of Uncle Drew that is coming out this weekend.  I am not necessarily looking forward to this one, but the Top 10 hosts are big fans of the sport.  And they added Mark Ellis from Schmoes Knows as a special guest.
Best part of the show this week was when Rocha went to fix the AC and Mark Ellis said that he could guarantee that Rocha would have the movie "The Fish that Saved Pittsburgh" on his list and then Rocha came back and it was his #10.  LOL
There were a lot more movies that were bad in this category than there were that I liked.  I worried that there would not be ten movies that I could get on this list.  However, in the end, I was able to find enough to fill it out.
I do have a couple of cheats though, starting at #10.
#10.  The Harlem Globetrotters on Gilligan's Island.  Yeah, this is not a theatrical release and it is not a good movie.  But it is fun and it has Gilligan and the rest of the Gilligan's Island crew.  I know this is just a stupid TV movie, but I really wanted to put it on the list.
#9.  Hoop Dreams.  This is one that I do not remember much, but I am certain that I saw it.  The film followed Arthur Agee and William Gates, two young African American who grew up in poor neighborhoods in Chicago.  It was considered one of the best documentaries of its time.
#8. Space Jam.  This one is up and down for me, but I love the Looney Tunes and Bill Murray so this movie was fun.  I was never a huge Michael Jordan fan, but it balanced out for me.  Marvin the Martian is one of my favorite Looney Tunes character and he makes it in this film too.
#7.  Forget Paris.  Listening to the Top 10 Show, they mentioned this Billy Crystal film as one of their lists and I thought to myself that I had seen this movie.  So I looked into it and I had seen it.  I really enjoyed it.  Billy Crystal was an NBA referee and loved his job.  The scene where he ejects Kareem Abdul-Jabbar in his farewell game is excellent.  We also see Charles Barkley among other basketball stars in the film.  It may not be that much of a basketball movie as it is more of a rom com, but the film does look through the POV of a referee.
#6.  Trainwreck.  Here is the next cheat.  Trainwreck is another rom com, this one starring Amy Schumer and Bill Hader.  Lebron James has a role in the film, and he is actually quite good.  Bill Hader plays Dr. Aaron Conners, a sports doctor.  Schumer joins up with the NBA cheerleaders to make up with him.  Sure it is a bit of  a cheat, but it was close enough for me.
#5.  White Men Can't Jump.  Woody Harrelson and Westley Snipes star in this film as two streetball hustlers who set up cons to make money on unsuspecting players.  The film depends on the charisma between Harrelson and Snipes.  White Men Can't Jump deals with many of the racial stereotypes that are involved in the sport of basketball.
#4. Coach Carter.  Samuel L Jackson played the real life Coach Carter, who demanded a lot from his group of players.  The film highlighted the time when Carter suspended his undefeated high school basketball team for low academic performance.  The film looks at the lives of many of the players, including one portrayed by Channing Tatum.
#3.  Teen Wolf.  Michael J Fox and his charisma made this movie way better than it ever had a chance to be.  When Scott Howard (Fox) realized that he came from a family of werewolves, he suddenly becomes much more popular and successful as a basketball player.  Yes, much of the basketball scenes are not very realistic, but I enjoyed them tremendously as a young person.  And the film has a good lesson about being who you are and not get lost in the fame or the popularity.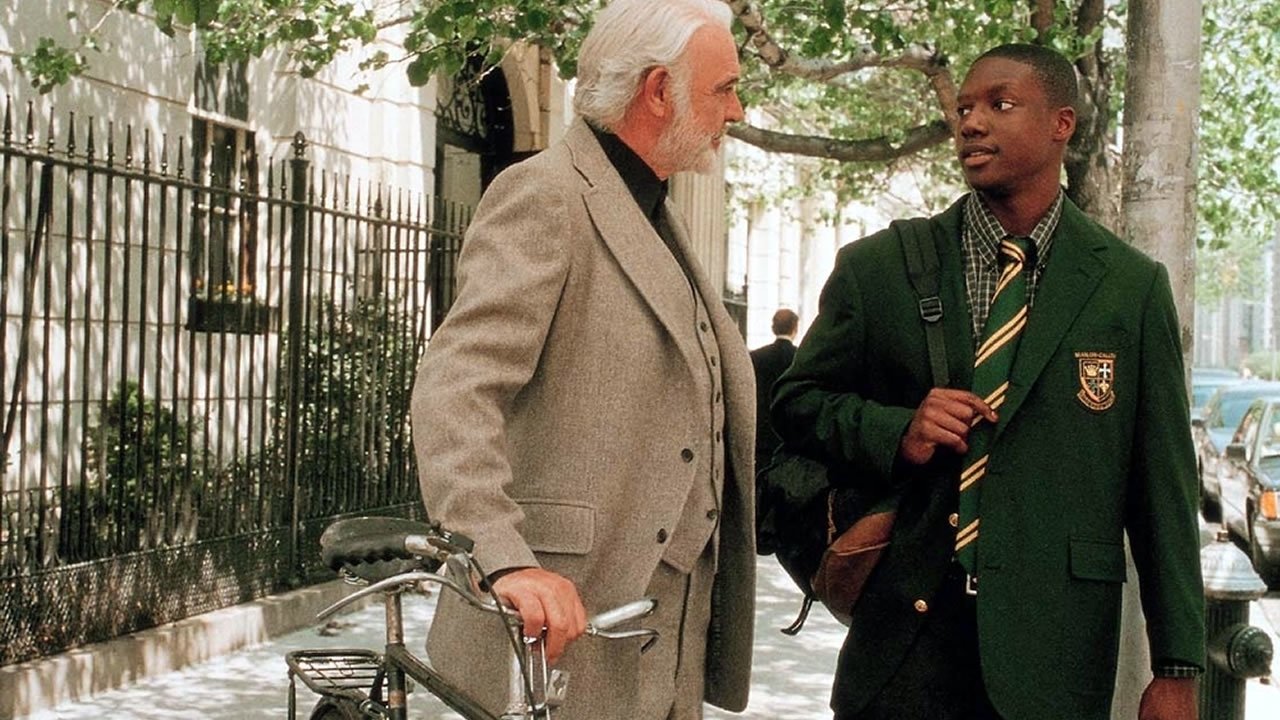 #2.  Finding Forrester.  This was a second film that the Top 10 guys brought up this morning when I was listening to the program and I thought, I knew this movie.  I did not remember the title, but once they started talking about it, I remembered that I really loved this film.  Sean Connery is a reclusive author who takes Jamal Wallace under his wing, helping him with his writing so he could get a scholarship to a good school.  Connery is excellent here.
#1.  Hoosiers.  Gene Hackman is Norman Dale, the new coach of the high school team from Hickory, Indiana, but he has a questionable past.  Based on a true story, the Hickory team was a very small team and Norman was a very strict and explosive type of coach (much like Bobby Knight) whose temper gets away from him on a regular basis and he gets ejected many times.  The team struggled with plenty of issues as Norman tried to establish his control over the players.  As they continued to improve, they wound up on quite a winning streak.  Hickory went to the state and, despite being undersized and the underdog, Hickory won the 1952 Indiana State Championship.  There are some tremendous on court basketball scenes in Hoosiers.  It has the great moment where Norman measures the hoop to prove that the height of the rim was the same in the little gym as it was in this huge venue.
Honorable mention:  Air Bud, Like Mike, Eddie