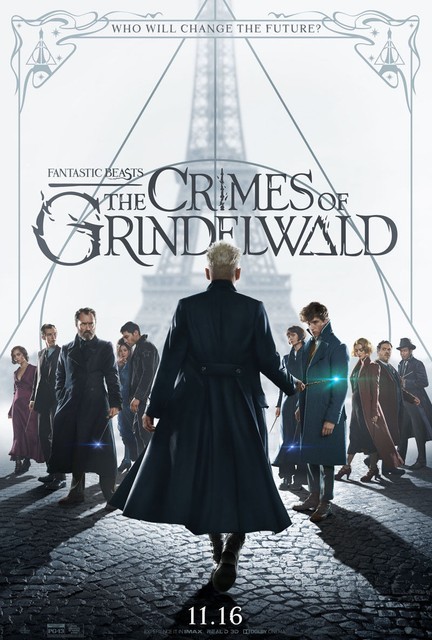 I was not a fan of the first Fantastic Beasts film so I was not looking forward to the sequel.  Still, the creative forces behind Harry Potter usually meant that their films were reasonably entertaining so I hoped that I would find the sequel an improvement.
Nope.
I found much of Fantastic Beasts: The Crimes of Grindelwald to be boring and confusing.  Honestly, there were many moments where I had no idea what was going on and I even took an extended break to go to the concession stand during the middle of the film.  I did not find it engaging at all.
I will say that the opening scene had some cool visuals and grabbed my attention.  Unfortunately, it failed to maintain such an interest.
After his misadventures in New York in the first film, Newt (Eddie Redmayne) found himself grounded, unable to travel internationally.  Still, when Dumbledore (Jude Law) needs Newt to go to France, he finds a nearby bucket and off they go.
Fortunately, Jacob Kalowski (Dan Fogler) arrived with Newt just in time to go with him.  His love Queenie (Alison Sudol) left him when he expressed a reasonable concern over them getting married.  And then Newt had googly eyes over Tina (Katherine Waterston) without ever really looking at her, and trying to avoid his brother Theseus (Callum Turner).
The plot of this movie is all over the place and is desperately confusing.  Despite there being way too many plot threads, I honestly cannot think of anything.  They clearly did not stand out.
Johnny Depp appears as Grindelwald and he is one of the worst parts of this movie.  Grindelwald is very lacking in any real intrigue or interest.  Outside of Depp's typical weird hair/eyes, there is little to make this guy sinister or scary or intimidating.
Jud Law makes a good Dumbledore in the few scenes that we see him in.  Law is criminally underused.  There are also a criminal misuse of fantastic beasts, which is ironic in a film named Fantastic Beasts.
There are some decent moments, but the bad truly outweighs the good here.  The finale is downright dumb and lacks any true tension.
It was a long movie with the plot making it f3el even longer.  The best part of the original Fantastic Beasts film was the interactions with the four stars, but this film breaks them apart and keeps them away from one another for much of the film.  Redmayne was fine as Newt.  Jude Law was good as Dumbledore and I would like to see an extended role in future installments.  Depp's character was lacking any pizazz.
I did not feel connected to any character here and so it did not bother me when things happened to them.  This series could really use some characters like Harry, Ron and Hermione.
2 stars