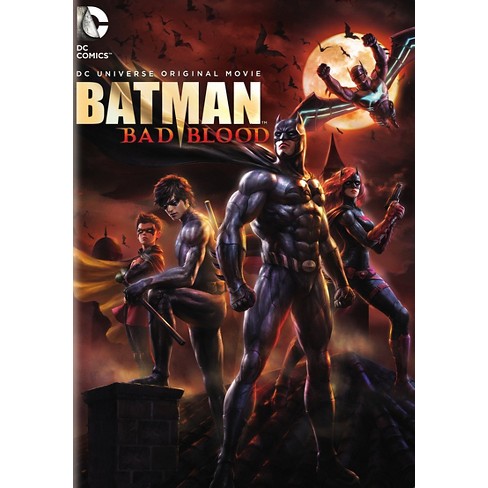 The next movie in the 2018/19 New Year's Eve/Day Binge-a-Thon is a direct to video DC Animation that is currently available on Netflix.  Batman: Bad Blood brings a group of the "Bat-Family" into the world of animation for the first time.
These character receiving their debut here include Batwoman (Yvonne Strzechowski) and Batwing (Gaius Charles). joining Batman (Jason O'Mara), Nightwing (Sean Maher) and Damien Wayne's version of Robin (Stuart Allan).
This story takes several story arcs from the Batman series of comic and kind of crams them together into a story where Batman disappears and is presumed dead and Nightwing steps into the cowl as a replacement.  Meanwhile, Talia al Ghul (Morena Baccarin) has assembled a group of B-list Bat-villains behind a character named The Heretic (Travis Willingham).
The DC Universe animated movies are always fairly entertaining and this one is no exception.  However, there are a lot of story beats here that are underdeveloped, cast aside, or just not worth the screen time.  It feels as if they tried to cram too much into this 72 minutes and the whole film suffered for it.
With the success of Into the Spider-verse, Warner Brothers should really consider taking some money and investing it into some of these DC animations because if this had better animation and a tighter story, there is no reason why they could not have the same kind of success Sony has found with Miles Morales.
However, I have seen much better DC Animation that Batman: Bad Blood.  It is an enjoyable watch, but fails to take anything to another level.  There are considerably more engaging and compelling Batman animated films out there (Sub Zero, Batman Beyond: Return of the Joker, Mask of the Phantasm, etc).
Batman: Bad Blood is fine, just not remarkable.