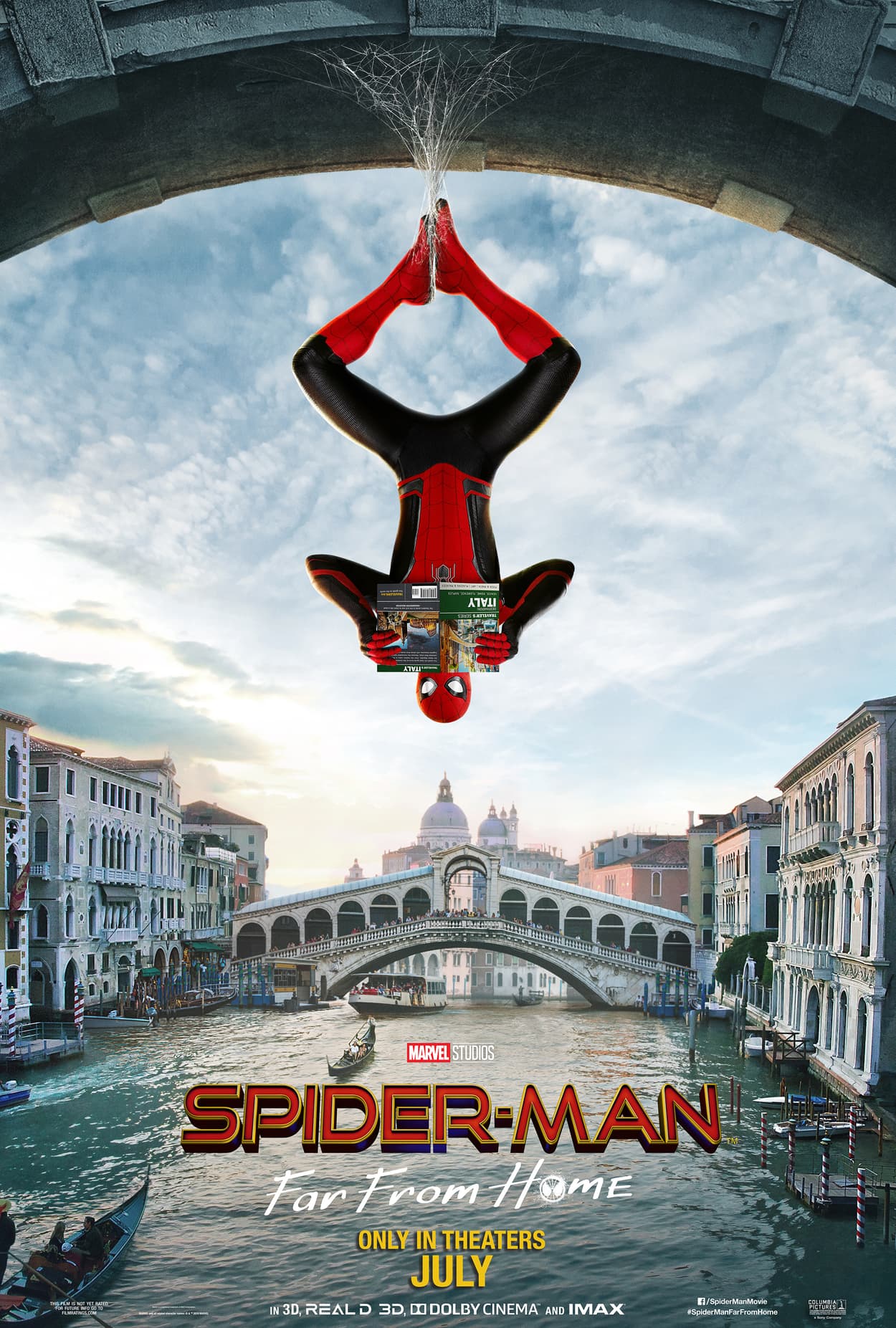 The Marvel Cinematic Universe Phase 3 has ended with the 23rd film in the franchise, Spider-Man: Far From Home, which not only has to be a sequel to Spider-Man: Homecoming, but it has to follow Avengers: Endgame and show what the world of the MCU was like moving forward.
I am happy to say that it was a tremendous success in both ways.
I loved this movie and I was laughing and thoroughly engrossed from the beginning, right through two MASSIVE post credit scenes.
Writing a review for this is going to be pretty challenging because I do not was to reveal any spoilers and the film is filled with them.  Do the best you can to go into the film as fresh as you can be.  Of course, you need to have seen Avengers: Endgame because this takes events directly from that movie.
Peter Parker (Tom Holland) fresh off the events of Endgame, is back as Spider-Man.  However, Peter and his classmates are taking a school science trip to Europe and Peter wants to go on vacation from his web head alter ego.  Ignoring a phone call from Nick Fury (Samuel L. Jackson), Peter wants to tell MJ (Zendaya) that he likes her and he is planning how he is going to do that.
Fury arrives in Europe to recruit Peter to help them fight these monsters from another multiverse called the Elementals.  Fury wants Spider-Man to join forces with a hero from that other multiverse, Quentin Beck (Jake Gyllenhaal), who gets dubbed Mysterio by the media.
That's about all I can give you without spoiling it.  This info was in the trailers but there is so much more here.
Tom Holland is the best Peter Parker/Spider-Man we have ever had.  He is so charismatic and funny that you connect with him easily.  You understand the internal struggle Peter is having between wanting to have a normal life and tell the girl he likes that he likes her and the responsibility of being Spider-Man, a hero seemingly handpicked by Tony Stark to be the next big hero.
Jake Gyllenhaal as Quentin Beck is perfect.  I absolutely love the characterization of Mysterio in this movie.  I don't want to go into any details for those who may not know much about Mysterio so that you may remain in the dark.  Gyllenhaal brings such a gravitas to the role and you believe the relationship that develops between Peter and Quentin.
Zendaya's MJ really takes a gigantic leap forward from the background/comedic character that she was in Homecoming.  MJ is someone who could now be a leading woman in this franchise.  She is so beautiful in every shot she is involved in and I loved the reasoning for her to develop.  She and Tom Holland have undeniable chemistry and the early awkwardness makes you believe this is a high school romance.
The rest of the cast is great too.  The running gag of the romance between Ned  (Jacob Batalon) and Betty (Angourie Rice) was cute and felt real.  We get some more subtle development for Flash Thompson (Tony Revolori).  Happy Hogan (Jon Favreau) and May (Marisa Tomei) have a relationship that makes Peter feel a bit uneasy.  The cast in fantastic.
The visuals are brilliant, especially in the action scenes.  The visuals at the end literally had me sitting in the theater with my mouth agape.  It was a Spider-man scene that I so loved and made me realize how important that aspect of the character was to me.  The originality of the film's action was truly a gutsy attempt.
Director Jon Watts deserves a ton of credit for his second Spider-Man movie.  I have seen many people comparing this to Homecoming.  To me, while I love Homecoming and I think that Michael Keaton's Vulture is brilliant, Far From Home exceeds Homecoming in many different manners.
Post credit scenes… there are two… and they are mind blowing, including a couple of shocking cameos.  No spoilers here, but they were both epic and changed the way the MCU will be moving forward.
The only criticism I have is a spoiler so I cannot reveal it here.  Let's just say it is something that happens in the third act and is a fairly disappointing trend.
Spider-Man is going to be a huge factor in the Phase four of the MCU, and this film does a lot to show that is the case.  The acting is spot on, the action is special and well designed, the CGI is exceptional, and the story does well in capturing the ideas of Spider-Man and Mysterio.  Stay through the credits.
Spider-Man: Far From Home is so much fun and filled with drama, humor and excitement.  This is the second coming of age story featuring Spider-Man and his ensemble and it is the best one yet.
5 stars
(Yes, I may not be as unbiased as I should be, but it is a great movie)