This week's Top 10 Show is Top 10 Father/Daughter Movies in honor of Crawl, coming out this weekend.  Strange that giant alligator monsters trying to eat the main characters inspires a list of fathers and daughters movies, but who knows.
I was surprised how many movies that could have been included in this list. The Honorable Mention section is large this week.
Actually most of my list is different than Matt and Jon's lists and that is always cool.  I have never fully seen Father of the Bride, which was the first film I thought about with this topic, so it is not on the list.
#10.  Gifted.  Okay, this is a bit of a cheat, but I really liked this little movie featuring Chris Evans.  Technically, Evans's character is the uncle of Mackenna Grace's character, but he is raising her like a father would be.  Grace's character Mary is a math prodigy but Evans does not want to send her to a special school because he did not want to isolate her and he went to court to protect her from his own formidable mother, Lindsay Duncan.  Octavia Spencer is great as the next door neighbor and friend too.  This is the film that shows that it does not have to be blood between fathers and daughters.
#9.  My Girl.  Anna Chlumsky is Vada and her father, Dan Aykroyd, is Harry Sultenfuss.  He is a funeral director who wife, Vada's mother, died in childbirth and Vada has been having a difficult time with the ideas of death and a feeling of blame for her mother's death.  Especially since there happens to be death all around her.  Harry does not understand his daughter and he spends his time ignoring her.  The scene with Macaulay Culkin's character, Thomas Sennett is heart breaking and helps lead to the reconnection between Vada and her father.
#8.  Live Free & Die Hard.  Yes, I know there are a lot of haters for this Die Hard movie, but I enjoyed it a great deal.  Sure, it is missing the R rating and suffers for it, but I thought the inclusion of the John McClane daughter worked very well.  You see how much John loves his daughter, but has struggled to be in her life.  She is angry with him, but she knows that when she is in trouble, her father will be there for her.  Mary Elizabeth Winstead is McClane's daughter.  There is actually an awesome cast here and the film has some really great moments, including Kevin Smith himself.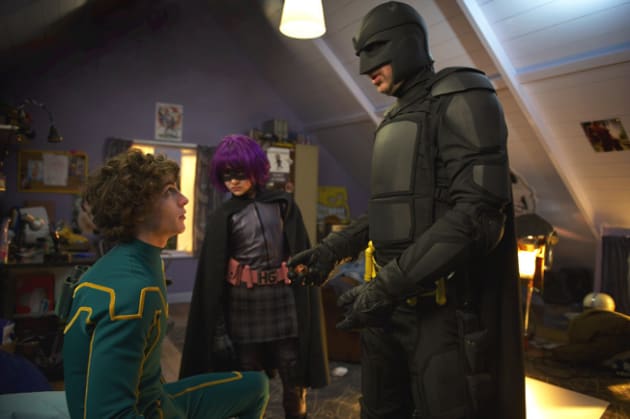 #7.  Kick Ass.  Hit Girl and Big Daddy stole this movie and are an insane father/daughter pairing.  Nic Cage brings his whole Nic Cage-ness to this movie and is just tremendous.  An argument could be made that Big Daddy is not a very good father, considering he has turned his daughter into a vigilante murderer.  But he loves her very much.  His final scene just before he dies, he tells Hitgirl that he was proud of her.  Big Daddy continued to inspire the heroic path of his daughter.
#6.  Eighth Grade.  I found this movie remarkably realistic and I loved the relationship between Kayla (Elsie Fischer) and her father Mark (Josh Hamilton).   Mark is just an awesome father and I love how he is patient and listens and allows his daughter to have whatever feelings she has, but he is there when she needs him.  This film has one of the most tension filled scenes of any movies on this list, in the back seat of the car.  Mark's reaction to this is so wonderful that it could be a bit too perfect.
#5.  Train to Busan.  I just watched this the other day and it was unbelievable and I loved it.  Sure, the father is a jerk for much of the movie and it happens to take the dead rising to pay attention to his daughter, but I am alright with this story arc.  The little girl is just amazing with her performance.  She has to cycle through all kinds of emotions as she is afraid for her life, trying to get her father to help other people and still being worried about him.  I normally do not like reading the movies ( with the subtitles) but you truly do not even realize that you are reading after awhile because you are so engaged in the plot.
#4.  A Quiet Place.  I love this movie and the relationship between the hearing impaired Regan (Millicent Simmonds) and her father is at the heart of the film.  She believes he blames her for the death of her brother and her guilt causes a rift between them. However, he had never given up on her and had been researching how he could help her.  The film has some of the best, most suspenseful scenes.  And the result of the father and daughter relationship is heartbreaking.  Fantastic movie.
#3. Taken.  "I don't know who you are. I don't know what you want. If you are looking for ransom I can tell you I don't have money, but what I do have are a very particular set of skills. Skills I have acquired over a very long career. Skills that make me a nightmare for people like you. If you let my daughter go now that'll be the end of it. I will not look for you, I will not pursue you, but if you don't, I will look for you, I will find you and I will kill you."
This scene tells you just about everything you need to know about Bryan Mills and his feeling for his daughter, played by Maggie Grace.  The iconic quote starts off a top of the line revenge movie for many years.  He will do anything for his daughter and he is really brutal.
#2.  Ant Man.  This has two sets of father/daughters that the Marvel Studios film examines.  Scott Lang, just getting out of prison, is trying to turn his life around so he can be involved once again with his daughter Cassie.  The second of the pairings was Hank Pym, genius inventor and the original Ant Man, and his daughter Hope Van Dyne and they have been estranged because Hank will not be straight with Hope about her mother's "death" and will not allow her to use the shrinking technology he had invented.  These two relationships are fully center of the heist film, as Hope shows how capable she is and Scott winds up fighting Yellowjacket in his daughter's room.  Ant Man was a fantastic smaller film from Marvel Studios.  Michael Douglas appears as Hank, Paul Rudd is Scott, Evangeline Lilly is Hope and Abby Ryder Fortson is Cassie.
#1.  Searching.    This was one of the big surprises of the year because this felt like another movie that had come out.  How wrong I was.  This was wholly original and filled with tension.  This is the story of a father, John Cho, whose daughter has disappeared and is believed to have stole money and ran off.  He knew this was not the case and went about investigating her disappearance.  It used shots from the computer and the different online social media accounts to tell the story and build the tension as you wonder if the father is just fooling himself or if something dangerous has happened to his daughter.  There may not be much interaction between characters on screen but you can certainly feel the connection between the characters.
Honorable mentions.  Okay, here we go.  There is also Ant Man and the Wasp, which was another film I considered, but that has more of a connection to Janet, Hope's mom.  There were two Dwayne "The Rock" Johnson movies I considered, Skyscraper and San Andreas.  Both were fine and just weren't enjoyable enough for the top 10.  Southpaw features a great performance from Jake Gyllenhaal, but not the best film.  The Nice Guys has a fun father daughter with Ryan Gosling and Angourie Rice.  The American President is a fun movie with Michael Douglas that I have tried to get on one of these lists, but, in this one, the father-daughter relationship was not as big as the romantic relationship.  Arnold Schwarzenegger's entry into zombie films was Maggie where his daughter was exposed and he fought to keep people from attacking her.  We Bought a Zoo has Matt Damon, Scarlett Johansson and animals.  What more could you need?  Parenthood is an old favorite, but there are too many family members involved.  Birdman is a great movie, but again I feel the father daughter relationship is not front and center.  Avengers: Infinity War has the big relationship with Thanos and Gamora.  Yeah, I know, but I wanted to include it in this section.