I am a life long professional wrestling fan so I am excited about this week's Top 10 topic: Top 10 Movies featuring a Professional Wrestling.  It is in honor of Fast & Furious Presents: Hobbs and Shaw, which of course features The Rock and Roman Reigns.  The Top 10 Show included a guest this week.  Ryan Satin works at Collider and runs a website about pro wrestling and his knowledge brought a great deal of depth to the discussion.
Interestingly enough, I had already made this list and I almost put it on the website one week because it was a slow week.  It was the week when Dave Bautista was in Stuber that I thought this list would work.  However, I'm glad that I did not do it then, because now we can have it at the same time.
For list rules, I was specifically trying to limit the list to no more than one movie from any one wrestler.  Otherwise there would be a list full of The Rock and Dave Bautista.  I also tried to keep the part reasonably larger and not some bit part.  Some of the bit parts will be included in the Honorable Mentions.
#10.  Rocky III (Hulk Hogan).  Thunderlips, The Ultimate Male!  Hulk Hogan has not been in a lot of great movies.  Certainly No Holds Barred, Suburban Commando and Mr. Nanny were not making this list.  And I wanted to include Hogan, despite the fact that he has been shown to be not that nice of a person recently, because he was pro wrestling for a large part of the last 30 years.  Plus, he is in the ring here with Sylvester Stallone and looks great.
#9.  Man on the Moon (Jerry "The King" Lawler).  The biopic on the life of Andy Kaufman included a chunk about wrestling.  Kaufman saw wrestling as performance art and embraced the kayfabe aspect of the business.  So much so that you never were sure for decades whether or not the slap to Jerry Lawler on the Letterman Show was real or part of the feud.   The movie finally revealed the truth behind the Kaufman-Lawler feud.
#8.  Blockers (John Cena). I debated about what John Cena movie I wanted because I wanted to include him on this list.  Trainwreck was considered, but he is a secondary character here. His roles in the Daddy's Home films may have been the stand-out parts, but those movies were bad.  Bumblebee is a better movie, but Cena was not great in that film.  Blockers was able to show Cena's funny side and his comedic timing and he was one of the main leads of the film.  The movie was very tender and had a lot of heart as well.
#7.  Predator (Jesse Ventura).  "I ain't got time to bleed." Jesse "The Body" Ventura, future governor of Minnesota, was one of Arnold Schwarzenegger's crew heading into the jungle to try and find out what was happening and Jesse got a bunch of the coolest lines.  He's a "goddamn sexual tyrannosaurus!"  Ventura has been in a bunch of Schwarzenegger movies, but this was the one with the most substance to it.  And my friends and I LOVED that minigun.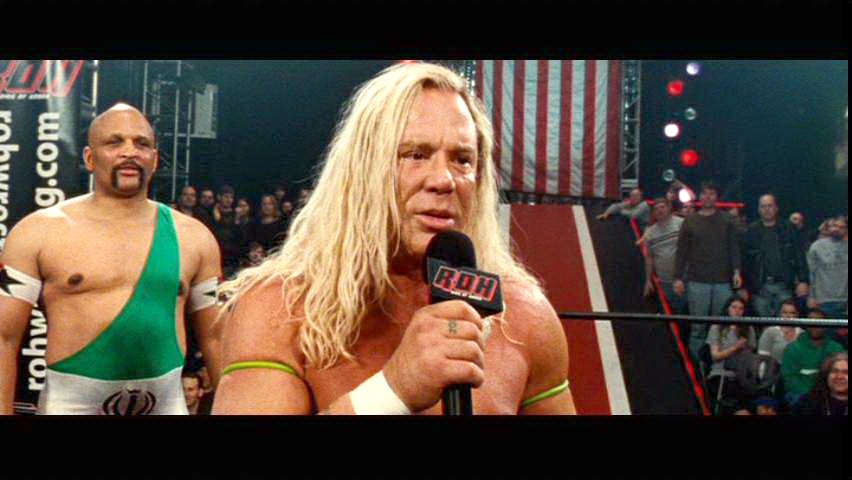 #6.  The Wrestler (Ernest "The Cat" Miller).  Randy "The Ram" Robinson can not get the spotlight of the ring out of his blood, despite the fact that his body is breaking down and revolting against him.  He has to have one more match and who better to have that match with than his old nemesis, The Ayatollah?  Mickey Rourke is brilliant in the lead role here and should have won the Academy Award.  To me, this was one of the biggest snubs in Oscar history and I believe it is because of the wrestling bias.
#5.  Ed Wood (George "The Animal" Steele).  Ed Wood is a fantastic movie, starring Johnny Depp as the infamous film director of such non-classics as Plan 9 from Outer Space.  George Steele perfectly played the actor Tor Johnson.  George Steele was one of several perfectly cast actors in Ed Wood.  Martin Landau as Bela Legosi led to an Oscar.  Depp was great as the titular character.  Bill Murray stole every scene he was in.  George Steele's role may not be as large of one, but the quality of movie really pulls this one up.  This is also an interesting one because Tor Johnson was also a professional wrestler.  So you have a wrestler playing an actor who was a wrestler.
#4.  Jumanji: Welcome to the Jungle. (Dwayne "The Rock" Johnson).  We have come to the movie that I chose as my favorite Rock movie.  There were several potential choices, which I will include in the Honorable Mentions, but this was the film that I enjoyed the most.  The Rock played the wimpy character to a tee.  I loved the "Don't cry, don't cry, don't cry" line in the film.  Johnson has great chemistry with his cast mates, Kevin Hart, Karen Gillan and Jack Black.  The quartet really makes this movie what it is. And The Rock was able to play off his WWE character when the video game gave him the skill of "smoldering intensity."
#3.  Guardians of the Galaxy (Dave Bautista).  Drax the Destroyer.  Bautista was a risky casting choice as he was coming from the world of wrestling and the movie was already seen as a huge risk by Marvel Studios.  However, Drax was one of the best parts of this movie and Dave Bautista started his path on the way to some great roles.  Bautista showed some great comedic timing with his deadpan lines throughout the film.  The character trait of not understanding metaphors was a wonderful bit that led to some funny moments.  Plus, Drax is a kick ass character.
#2.  They Live ("Rowdy" Roddy Piper).  John Carpenter's sci-fi classic included an amazing turn from Hot Rod himself.  Who would have guessed that Roddy Piper would be so perfect in this role of Nada?  Everything from one of the greatest fight scenes in all of movies with Keith David to "I've come here to chew bubble gum and kick ass, and I'm all out of bubble gum" is just awesome.  Everybody who knew Piper knew what a sweetheart he was and he is terribly missed.
#1. The Princess Bride (Andre the Giant).  This has long been my favorite movie of all-time and Andre the Giant was the reason I wanted to see it in the first place.  Andre was so important to this movie as Fezzik, he really held everything together.  To this day, "anybody want a peanut" cracks me up.  In the original novel, The Princess Bride by William Goldman, Goldman admits to basing the character o Fezzik on Andre the Giant.  Andre brought such a warmth and charm to Fezzik that he became one of the most beloved characters in the movie.  I love The Princess Bride and Andre the Giant is, quite literally, a huge reason why.
Honorable Mentions:  Okay, these are some of the films I thought about for The Rock: The Rundown, Fast Five, Rampage, Pain and Gain, Central Intelligence, Skyscraper, Moana, and Snitch.  I really would have like to include Fighting with my Family, the story of Paige, but, outside of a Rock cameo, I am not sure if there were any real life wrestlers in it.  I eliminated Avengers: Infinity War and Avengers: Endgame because of the size of Bautista's role in them, but I love them both.  Sherlock Holmes with Robert Downey Jr. actually included wrestler Kurrgen, but it was a small role.  Spider-man nearly made the list with Randy Savage's Bonesaw, but the role size hurt Savage here.  I already mentioned Bumblebee and Trainwreck when considering John Cena.  I did not include any films with Tommy Lister in them which could include The Fifth Element because he only played a wrestler, Zeus, for a bit.  He did have a couple of matches though.  The Running Man has Jesse Ventura in it too, but his role in Predator was much better.  Stone Cold Steve Austin's only possible films were The Condemned or The Expendables.  There were some documentaries like Beyond the Mat that could be considered.