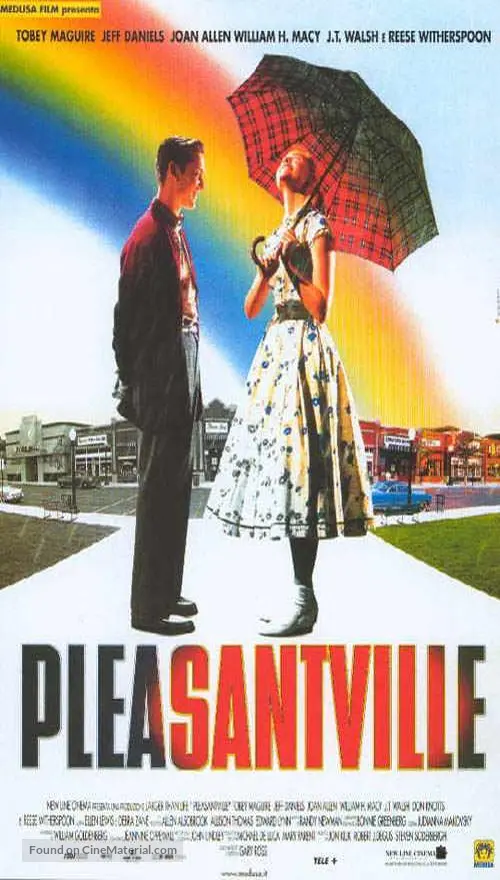 Moving along in the Back-to-School Binge, we come to a film starring Tobey Maguire, Reese Witherspoon, William H. Macy, Jeff Daniels, Don Knotts, and Joan Allen.  The film called Pleasantville.
Tobey Maguire is David, a huge fan of the TV show Pleasantville, a show filmed in black and white where everything moves along in the same, typical style of the old 1950s sitcoms.  When he was preparing to watch a marathon of the show, a mysterious TV repairman (Don Knotts) arrived at his house and, suddenly, David, along with his slutty sister Jennifer (Reese Witherspoon) found themselves in the TV show itself.  They embodied the characters of Bud and Mary Sue.  David was, at first, excited about the possibilities, but Jennifer found the world very black and white and she wanted shades of grey…along with other colors.
Pleasantville begins to awaken as people experience things that the TV show never had them address, such as teenage sex, rain, a world outside of the city, etc.  They are shown with their awakening by turning color.
It is such a clever idea that, visually, it is stunning.  It is also quite cool that, some of the first people to experience color, looked as if they had been colorized by the movie studios.  The colors were slightly off or looked to be colors that really did not exist in the real world. As things became deeper, the colors became brighter and more real.
Nothing is ever explained about how this happened or why this was happening, but those answers were unnecessary.  The film just was and it was good enough that way.
Obviously, there are all kinds of metaphors in the story.  There are painfully apparent ones such as the discrimination of the "colored" people by those black and white people.  Segregation was dealt with as was the rights of women to be more than just a housewife.  Another theme included is how important it is for life to continue to change or else you become stagnant.  The film may actually have more themes than what it should have.  None of them are subtle and can hit like a hammer.
The performances are strong and you can see the charm of Tobey Maguire here.  I enjoyed his gradual discovery of the world and what he should be doing.  He had a neat relationship in the movie with Jeff Daniels, one of the highlights.
Not sure how the ending worked or why Pleasantville did not stone him as a witch, but the movie is certainly fun and filled with many messages.