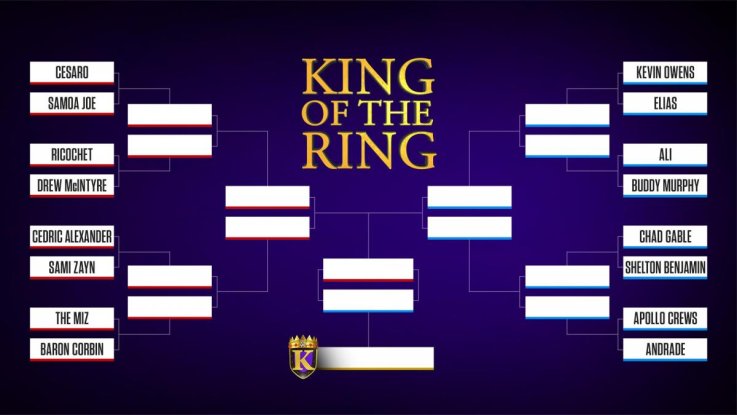 Brackets for the King of the Ring tournament that begins on Monday Night RAW tomorrow night came out and there are some wild matchups.  Some very unexpected matchups too.
Let's predict.
On the RAW side, this is what I think…
Cesaro vs. Samoa Joe.  I so want Cesaro to win this.  What a match it could be.  I think Joe wins however.
Ricochet vs. Drew McIntyre.  Another great match.  Another one that could go any way.  I think Drew wins this, but I would not be shocked if Ricochet pulled it out.
Cedric Alexander vs. Sami Zayn.  This is the only gimme on this side of the bracket.  Cedric wins.  Sami has not won much of anything since he returned form injury.
The Miz vs. Baron Corbin.  I hate Baron Corbin, but I think he wins here.
Second round would be Joe vs. Drew M and I have Drew.  Cedric vs. Baron and I'll take Cedric.
Drew defeats Cedric to make the finals.
On the Smackdown side…
Kevin Owens vs. Elias.  KO gets screwed over and Elias moves on.  Hope I am wrong.
Ali vs Buddy Murphy.  This could be the match of round one.  I give it to Ali.
Chad Gable vs. Sheldon Benjamin.  This is round one sleeper.  Chad Gable wins.
Apollo Crews vs. Andrade.  This is Smackdown's no-brainer. Andrade is the winner.
Round two has Elias vs. Ali with Ali getting the duke.
Chad Gable vs. Andrade with Andrade winning.
Semi finals Ali vs. Andrade.  I'll go with Ali because of who I picked on the other side.
Finals Drew McIntyre defeats Ali to become the new King of the Ring.
I would love to have Cesaro win this tournament, but I don't think he will.  Some of the matches that we could get are insane (Ricochet vs. Cedric Alexander?  Cesaro vs. Drew McIntyre? )
The tournament runs across WWE TV until the Clash of Champions on WWE Network on September 15th.