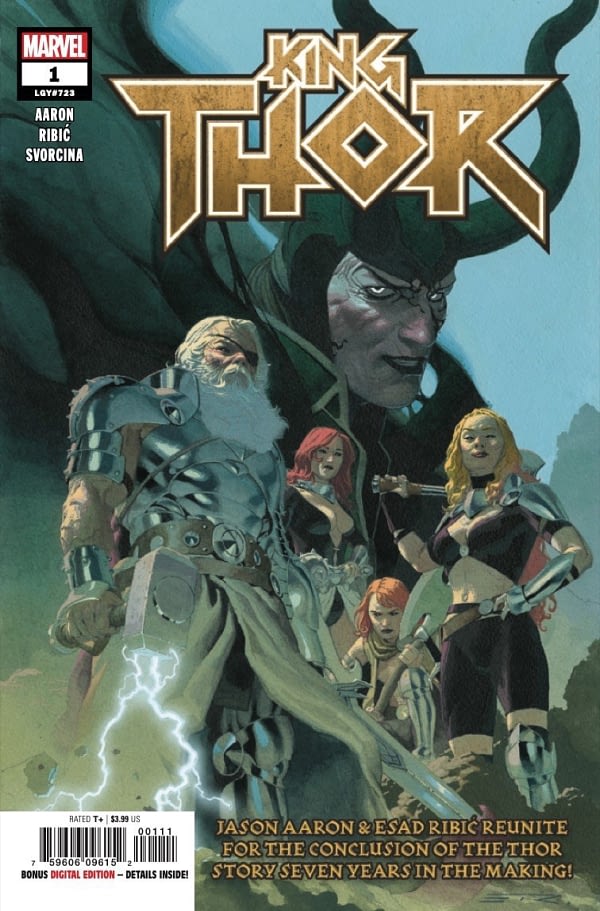 King Thor #1
"Chapter One:  Twilight of the Thunder God"
Writer:  Jason Aaron
Artist: Esad Ribic
Cover Art:  Esad Ribic
The final run of Jason Aaron's Thor arc of nearly seven years is starting with the new issue of King Thor#1 (although this is technically not a new series.  It's legacy number is #723 so it is considered the continuation of Thor, which is not currently being created).
Not only is this Aaron's final run, but he is reunited with Esad Ribic, who worked with Aaron in the early parts of the epic run.
We are now in the future and we are featuring a knock down, drag out battle between the older King Thor and Loki the All-Butcher, in the way the brothers are destined to go.
However, I have to say, that I am so loving the new Loki series written by Daniel Kibblesmith, that I was having a hard time seeing Loki in this futuristic manner, and that was a problem with the book for me.  Still, I am able to get past that because this version of Loki feels different than the one in Kibblesmith's book.
The story also features the Girls of Thunder, returning from their roles in the previous storyline involving King Thor.  It's funny that these ladies are involved at the Hall of All-Knowing, and so was Loki in the new Loki#3 issue out this same week.  Coincidence?
The King Thor-Loki battle had a bunch of twists and turns and ends with a final page that is just epic if you have followed Jason Aaron's Thor run.
I have a feeling this may be some of the best Thor we have seen in a while and I am looking forward to seeing how Aaron wraps this whole thing up.