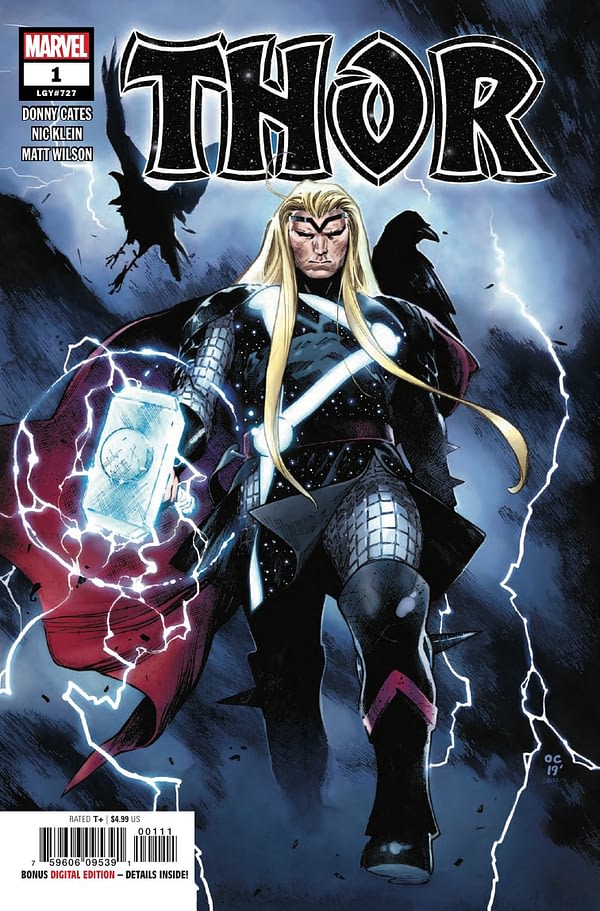 Thor #1
"The Devourer King"
Writer:  Donny Cates
Artist:  Nic Klein
Cover Art: Olivier Coipel & Laura Martin
Thor has started his next incarnation of the character in Donny Cates' Thor#1.  The God of Thunder gets a new look and a new purpose.
It would be difficult to talk about this issue without spoiling it and I came into it fresh and unspoiled and I feel that not knowing the general path of the story really enhanced my enjoyment of what I saw.  I actually gasped once in the book.  So I am not going to spoil anything for anyone here.
The story is well written and the beats of it work very well. Each guest star fits into the narrative and spurs the story along.
The art is nicely done and there is one specific splash page that it just amazing.  I have not had a lot of exposure to Nic Klein's artwork, but I found it really leaping from the page with the designs of the characters.
And without spoiling it, there is an extremely funny cameo from Tony Stark at the beginning of the book.
I like where this book has started and I will be looking forward to see where the narrative goes from here.