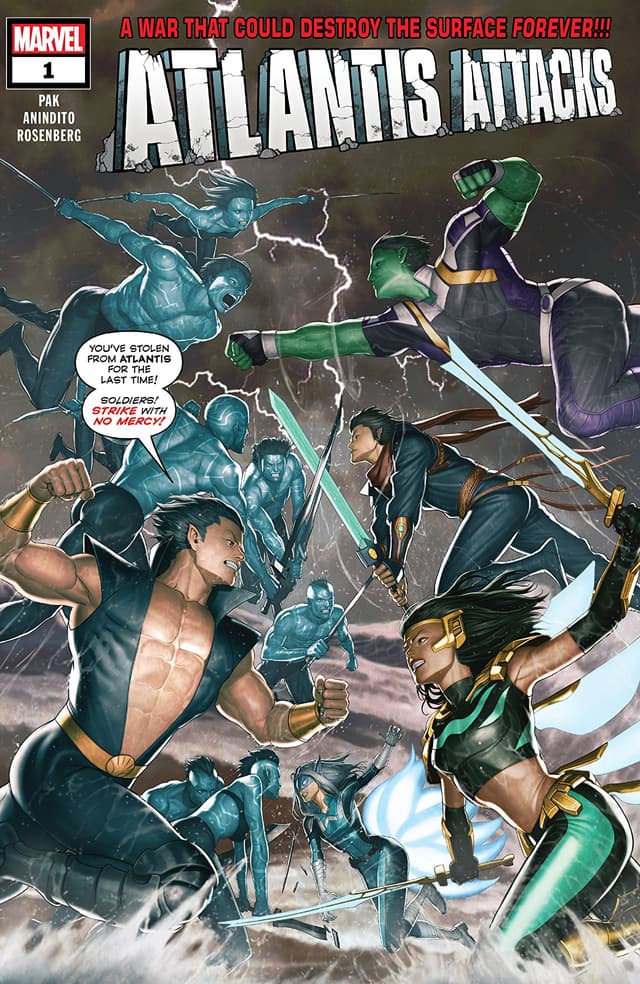 Atlantis Attacks #1
"The Serpent in the Tower Part 1"
Writer:  Greg Pak
Artist:  Ario Anindito
Cover Art:  Rock-He Kim
I had been enjoying the Agents of Atlas series that was recently ended by Marvel Comics with the intention of moving the team into the pages of the new mini-series called Atlantis Attacks.
Namor has been pretty active lately in the Marvel Universe.  He was front and center behind the Invaders series, where he was both with and against his old teammates.  Now with Namor being what looks to be one of the primary antagonist in this series, it is interesting how he has become such a force again.  Could it be that the rumors of him being the villain in the MCU's Black Panther 2 is true and Marvel is trying to up his face time?
I love the group of the Agents of Atlas too.  Amadeus Cho is a great character that I remember enjoying way back in the Incredible Hercules series.  That, too, was written by Greg Pak, who clearly has a strong take on this character.
There are other cool newer heroes in the Agents of Atlas that, though did not have a lot of book time in this issue, are strong enough to bring the goods as the series continues.
The fight between Atlantis and the portal city of Pan is not just black and white either.  One could argue that Namor has the right to do what he is doing.  That makes the narrative all the more engaging.
This is a fantastic start to the mini-series and I can't wait to see where they take it and what the Agents of Atlas plan on doing with their shades of grey problem involving the dragon.  This could be very exciting.