Night Two of the event that was "so big it had to be two nights" is in the books.  Wrestlemania 36 Sunday had high expectations because Saturday night was so strong.  Would night two be able to stand up to what we saw before?
Honestly, there are so many strong points that I would say the answer to that question is "yes."
The one thing that really stood out on Sunday was the bizarre Firefly Funhouse Match.
Before I hit on that, let's hit the other matches.
Pre-show match had Liv Morgan defeating Natalya.
Charlotte Flair defeated Rhea Ripley in a stiff opening match.  I noticed that all of these matches seem to be having the wrestlers hit each other harder than normal.  I assume that is to cover from the lack of crowd sounds.  Charlotte became the new NXT Women's Champion, by the way.
Aleister Black defeated Bobby Lashley with the black mass out of nowhere.  Lashley and Lana had some dissension teased.
Otis wound up with the girl after Mandy Rose showed up, gave Dolph Ziggler a low blow and Otis pinned the 2-time former World Champ.  Otis and Mandy shared a kiss in a great Wrestlemania moment.
Edge defeated Randy Orton in a Last Man Standing Match which was dramatic as could be, but went probably ten to fifteen minutes too long.  The ending sequences was truly excellent though.
The Street Profits defended their RAW Tag Team titles against Austin Theory and Angel Garza.  After the match, Bianca Belair showed up to rescue her husband Montez Ford.  Curious to see if this is Bianca's RAW call up.
Bayley retained her Smackdown Women's Championship in a fatal five way match.  An already eliminated Sasha Banks returned and helped Bayley finish off Lacey Evans.  More dissension was teased between Bayley and Sasha.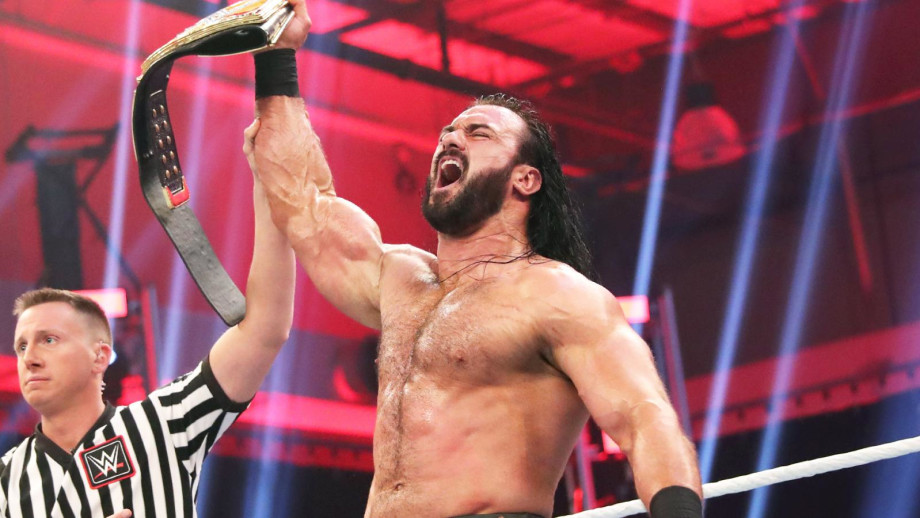 Drew McIntyre defeated Brock Lesnar for the WWE Championship in a match that was, basically, a repeat from the Saturday night Universal Championship Match with Braun and Goldberg.  This was easily the match that suffered the most from the lack of a crowd.  This was quite a disappointment of a match and I would have liked to see a better struggle for Drew before he took the title.  Still, I am happy he is the new champion and I am curious to see what happens next for the Scottish Psychopath.
Okay, let's get into it.  Certainly, what is going to divide the wrestling fan the most was the presentation of the Bray Wyatt vs. John Cena Firefly Funhouse Match.  Again, much like the Boneyard Match from Saturday night, to call this a match would be inaccurate.  This was bonkers and confusing to watch, but you have to give it to the WWE and the talents involved for giving us this cinematic experience and making it totally different than the Boneyard Match.
John Cena and Bray Wyatt wind up in the Firefly Funhouse dimension, going back and looking at the history of both characters.  It gave me a distinct "Black and White Lodge" feeling from Twin Peaks.  Funhouse Bray narrated most of the "match" and we looked at Cena's past mistakes, such as the arrival with the "ruthless aggression" promo with Kurt Angle to the Dr. of Thuganomics to the Wrestlemania 30 match with Bray.
We also got comparisons of John Cena to Hulk Hogan, and a look at what could have happened had Cena gone heel after Wrestlemania 30.
This was as meta as you have ever seen from the WWE.  There was a line that talked about how Cena was just a "body with muscles" bit no talent.  I cannot imagine how this got receives an approval from one Vincent Kennedy McMahon.
The concept of the entire piece was a deconstruction of the character of John Cena and how his selfishness and bullying tactics affected Bray Wyatt.  John Cena could have been considered the villain of this piece, even after the Fiend finally dispatched Cena with the mandible claw.
There were flashbacks that featured significant performers from the past including Eric Bischoff, Kurt Angle, CM Punk, among others.  All of the Funhouse puppets were here too, with Evil Vince delivering the funniest line of the performance with a "That's good shit."
Both Cena and, particularly, Wyatt played their roles to perfection and both were remarkable with their acting skills.  Bray Wyatt could be the best actor in the WWE right now.  Cena's willingness to dive back into his "Prototype" outfit or the old Yankees jersey speaks a great deal about the character of this man, even as they are devastating the WWE character.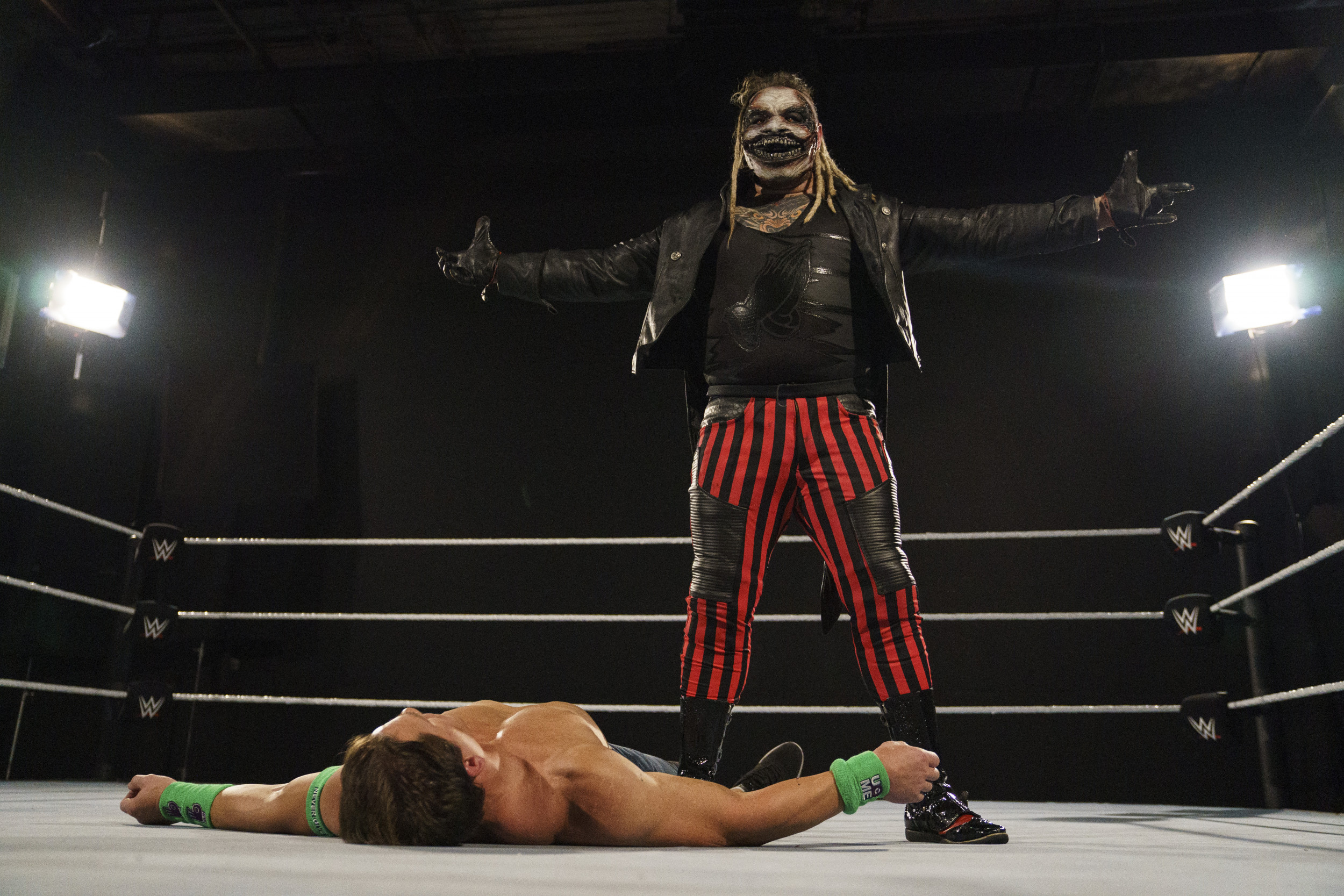 In the end, the Fiend did pin Cena, as Funhouse Bray counted his shoulders down.  Then, Cena disappeared from the ring that they were in.  Totally vanished.  I assume this is a way to write off John Cena for the foreseeable future, if not for good.  I picture him trapped in the dimension of the Firefly Funhouse much like Agent Cooper was trapped in the White Lodge at the end of the season two of Twin Peaks.
My second viewing of the match really helped as, after the live viewing, I felt very much like Titus O'Neil and his perplexed comment which directly followed the presentation.  I have seen reactions to this match anywhere from "total crap" to "art."  It took a direction that was remarkably creative and risky.  I wonder how much of this came from the mind of Bray Wyatt and where he goes from here.
You could say the same thing about the WWE.  Will they take some time off and stay at home or will they try to continue with original programming during the uncertain times facing the world?  Hard to say (though they did show a promo for Money in the Bank PPV on May 10th), but the WWE and, specifically the wrestlers, should be commended on their work on Wrestlemania 36.  They could have easily phones this in, but they did not and they provided two nights of entertainment for all of us quarantined viewers.