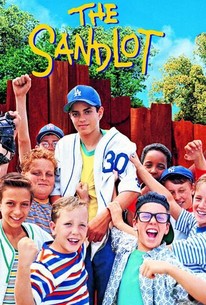 This weekend was the 25th anniversary release of The Sandlot, one of the great baseball films made during the 1990s.  Much like Stand By Me, the Sandlot has a group of young boys whose bond s strengthened by a common mission.  In the Sandlot, that mission is baseball.
The coming of age story can be over-the-top and fantastical at times, but the heart is clearly there and the feelings of nostalgia is obvious.
Scotty Smalls (Tom Guiry) moves into a new neighborhood which is tough as the young boy does not make friends easily.  He spends most of his time inside playing with his constructor kit.  His mom (Karen Allen) tries to get him to go outside and meet friends.  He wants to join a group of boys who play baseball, but there is a problem.  Smalls has no idea how to play.
With the help of the best player among the kids, Benny (Mike Vitar), the others eventually accept Smalls and he blends in with the group.  But when a baseball is hit from the sandlot, over the fence into the next door junkyard, the legend of The Beast is revealed.
The Sandlot is a lot of fun.  The kids do a great job with what they have to do.  Admittedly, there is not any real heavy lifting to do acting wise with the exception of Tom Guiry and Mike Vitar, but the other boys are engaging and funny.
There are some good laughs in the movie too.  The scene at the pool in particular with Wendy Peffercorn (Marley Shelton) as the object of Squints' (Chauncey Leopardi) affection is wonderful.  As are the myriad of attempts to retrieve the Babe Ruth baseball from the clutches of The Beast.
It may not be the most perfect film ever made, but there is no denying that there is a lot of fun to be had while watching this movie.
"You're killing me, Smalls!"