Hey all.
This week's topic for John and Matt were Top 10 Young Adult Books into Movies in honor of this weekend's release of The House with a Clock in Its Walls. The first thought I had was …heck, how many Harry Potter movies will have to be on this dang list?  The horrible YA movies started flooding my head such as Twilight, The Host, Divergent, The Giver, Mortal Instruments, that last one that was more X-Men like than anything else.  I was not hopeful.
However, after listening to the show and doing my own research, I realized there was a plethora of awesome choices.  So many so that I had to make some real choices of which ones to cut from my list.  That number ten spot could have gone to several films and I would not have missed a beat.
It is also interesting that five of my top ten are films that were not mentioned today by either Matt or John.
#10.  Love, Simon.  This was a wonderful film from this year that told the story of a young gay teen and his path to coming out via an e-mail relationship that he was having with an anonymous students from his school.  Love, Simon was so sweet and heart warming that you did not even realize how much of an important jump forward making a film like this was.  The ending might have been a bit weaker than the rest of the film, but Love, Simon was so good before the end that it did not falter after the end.  It was a wonderful film.
#9.  A Monster Calls.  Another heart-wrenching film that has a beautiful performance from the young actor Lewis MacDougall.  It is the sweet story of a boy and his gigantic tree.  Actually, it is a story of survival and grief and overcoming the pain of loss.  Liam Neeson provided the voice of the monster and never once delivered the line "I am Groot."  Bring your tissues to this one.
#8.  Mrs. Doubtfire.  Robin Williams classic that I had no idea was based on a young adult book until John Rocha brought it up on the show.  Daniel is only trying to spend time with his children, but that pesky judge and court system was preventing him from doing so he took it into his own hands and became an elderly British woman.  Mrs. Doubtfire is one of the best and most consistent comedic performances Robin Williams ever gave, and that is saying something.
#7.  Me and Earl and the Dying Girl.  Another one that I did not expect, but it was so great and emotional that I think I may have even given it five stars.  It was so creative with the story telling and the characters that I hadn't seen anything like it before.  It is another film that requires a hanky to watch.  There were amazing performances from the three main actors and they gripped your emotions and completely messed with then.  And it was FUNNY!
#6.  Mary Poppins.  One of the most iconic Disney classics of all time featuring an amazing musical performance from the entire cast and an unbelievable dance from the master himself, Dick Van Dyke.  Mary Poppins was full of great music that we sing yet today.  I absolutely love Chim Chim Cher-ee.  In fact, Disney is preparing to continue the saga of Mary Poppins with a sequel this Christmas with a brand new Mary Poppins. We'll see if Emily Blunt can come anywhere close to Julie Andrews.
#5.  Harry Potter and the Prisoner of Azkaban.  The lone Harry Potter movie in the top ten, this really is the first time that the crew of Harry, Hermione and Ron faced something that would bring serious stakes.  It introduced a series of new and wonderful characters to the world of Harry Potter as well, including Gary Oldman's Sirius Black.  Plus, the film actually started to introduce some darkness into the series, a necessary evil for the series to grow and thrive.  This was the first Harry Potter film directed by filmmaker Alfonso Cuaron and he does a tremendous job movie the third installment of this series ahead.
#4.  The Two Towers.  Matt mentioned this one on the Top 10 and I hadn't thought about it, but I agreed that the J.R.R. Tolkien series of books were read by plenty of young adults and high school students.  I also agree with Matt that this is my favorite entry in the series.  It just seemed as if every time the film switched from story to story, it was the perfect time for me.  I remember sitting in the theater and thinking, "I wonder what the hobbits are doing?" and then the film would go to the hobbits.  Plus, Gollum and Treebeard.  Epic.
#3. The Wizard of Oz.  One of the greatest, most magical movies of all time.  This was one of my childhood favorite films.  I loved the Wizard of Oz and I looked forward to its appearance on television so I could watch it every year.  I have several of the songs on my phone right now.  Judy Garland was great as Dorothy, even though her little dog really was a bad little dog and did bite that poor woman.  Somebody find me the Pink Floyd Dark Side of the Moon CD!  It's so trippy.
#2.  Willy Wonka and the Chocolate Factory.  Roald Dahl's classic story (Charlie and the Chocolate Factory) was adapted brilliantly int this film and Gene Wilder was just perfect in every step of this film. He was funny, dramatic, sinister all in the same scene.  He sang like a bird and tortured those little brat children to no end.  Plus, the Oompa-Loompas were charming as could be.  I don't blame Veronica Salt for wanting some.
#1. The Princes Bride.  I had never considered this film until Matt brought it up on his list.  My mouth dropped open when he said it, because I could not believe that I had not thought of it immediately.  The Princess Bride is my favorite movie of all time and I could not love this movie any more.  It is the most quotable movie of all time.  It is such a treat, focused on the fact that true love can overcome any obstacle.  "Death cannot stop true love…all it can do is delay it for a while."  An amazing cast featuring some of my favorite people ever in Andre the Giant, Billy Crystal and Christopher Guest.  The fresh faced Robin Wright was note perfect as Buttercup.  I absolutely loved the fencing contest between Westley and Inigo.  The Dread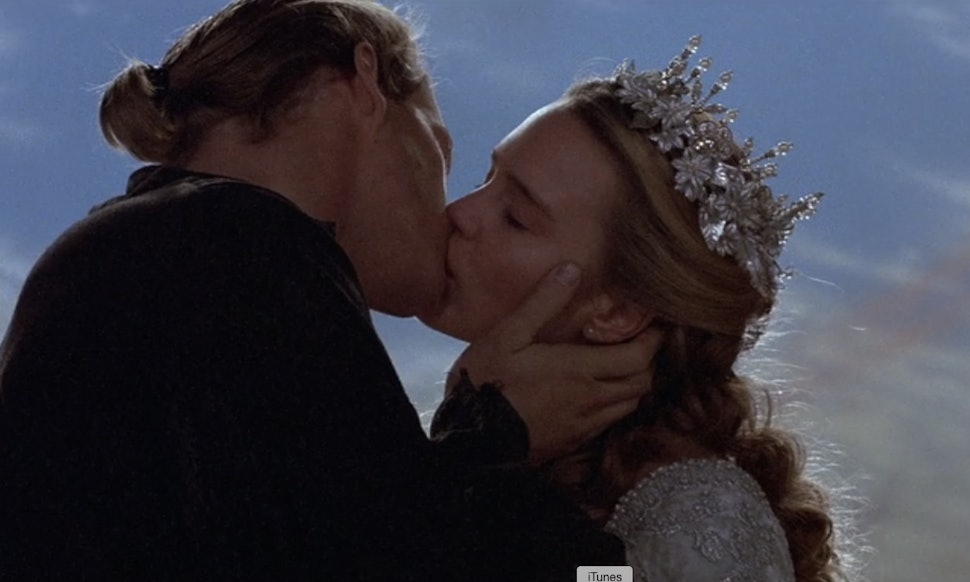 Pirate Roberts could not be anyone else but Cary Elwes.  The fact that this gets to be my number one on this list on the eve of Talk Like a Pirate Day is the perfect synchronicity.  This film is laugh out loud funny no matter how many times you see it.  I laugh time Westley gets attacked by the R.O.U.S mere seconds (in perfect comedic timing) after he had said that "I don't believe they exist."  I could go on an don about this movie, but it just may be time to storm the castle.  And I did this whole bit without saying "Hello, my name is Inigo Montoya.  You killed my father.  Prepare to die."  That is certainly inconceivable!!! (By the
way, is there a better stand up and cheer, goose bumps moment in movies than when Inigo says "I want my father back you son of  a bitch"?)
I just love this movie.  Can you come back tomorrow and read it to me again?  As you wish.
Honorable mention:  So many!  These movies competed for the number ten spot.  Hunger Games.  I couldn't believe I wound up cutting this one, but there were films I just liked better.  Charlotte's Web.  I loved this animated film as a child.  I almost put it at ten just because of how much I loved it as a child.  The Apple Dumpling Gang almost made the list, because it was also a childhood favorite.  Harry Potter and the Goblet of Fire was just about here too, but I went with Prisoner instead.  Amazing that I only had to do one Harry Potter film.  The Mighty is a film based on the awesome book Freak the Mighty and it is very entertaining.  Coraline was a great film and so was Hugo.  I considered To Kill a Mockingbird as well.  The first Maze Runner wasn't bad, but it really did not have much chance of making this list and neither did Percy Jackson.  One that I was sure was making it until it faded after I started expanding this list was A Series of Unfortunate Events with Lemony Snicket.  I have not seen The Perks of Being a Wallflower.