It is another week where I am late with this list.  This week, the topic for the Top 10 Show was Top 10 Music Biopics.  This was another week where the list was not as extensive as possible.  In fact, I was having trouble finding ten that I have seen.  The Top 5 of the show's combined list were ones that I had not seen.  I did watch one of them for this list.
Then the old school episode was late so I was unable to do it until just now.
However, I decided to do a mixed list this week.  I have a top 5 of the music biopics and a top ten Halloween movies (which was the old school episode with guests Cobbster and Cody Hall).
Top 5 Music Biopics.
#5.  Straight Outta Compton.  I am not a fan of rap music, but the story of this movie with NWA was really a strong story.  Now the end of the movie was too nicey-nice for the group and there were some things that had been left out, but there were some really great performances.
#4.  Love & Mercy.  This is the story of Beach Boys leader Brian Wilson and his struggle with mental illness.  Two actors played the same character, Paul Dano and John Cusack, and they were both tremendous as Wilson.  Love & Mercy was a film that kind of slipped past the audience, but it was very well done.
#3.  The Doors.  This is the first one that popped into my mind when I heard the topic.  I enjoyed the Doors and their music and that is always helpful.  Who knew that Val Kilmer was such a lookalike to Jim Morrison?  Oliver Stone created a great film around the sixties rock band.
#2.  Amadeus.  This is the one that I watched for this list.  Matt and John raved about Amadeus (it is their co-number one).  This story is told in such a creative way, with F. Murray Abraham playing one of Mozart's rival composers.  This movie won a ton of Oscars and it was very deserving.  I did not like it as much as the Top 10 guys, but there is no denying the fact that Amadeus was a great film.
#1.  Bohemian Rhapsody.  Ironically, since I had to push the list back to get a chance to see some films, I saw Bohemian Rhapsody on Thursday night in IMAX.  And I loved it.  I have seen enough negative reviews that made me wonder if I would like this, but the awesome Queen music and a transcendent performance from Rami Malek as Freddie Mercury brought this film to this spot.   I found myself extremely moved by the film and the story of Freddie Mercury.  The music is perfectly used.  I loved this movie, one of the best of the year.
Honorable mentions with music biopics.  There were two categories of films here. One, the films I have not seen and two the films that I saw but are not quite good enough to be in a top 10.  So I have not seen Ray, Walk the Line, 8 Mile, What's Love Got to Do With It, Coal Miner's Daughter.  Those that I did not like enough to make a top ten list included Get on Up, The Buddy Holly Story, La Bamba, I Saw the Light.
Top 10 Halloween movies.
Now this is not necessarily Halloween based movies, but movies that you like to watch at Halloween time.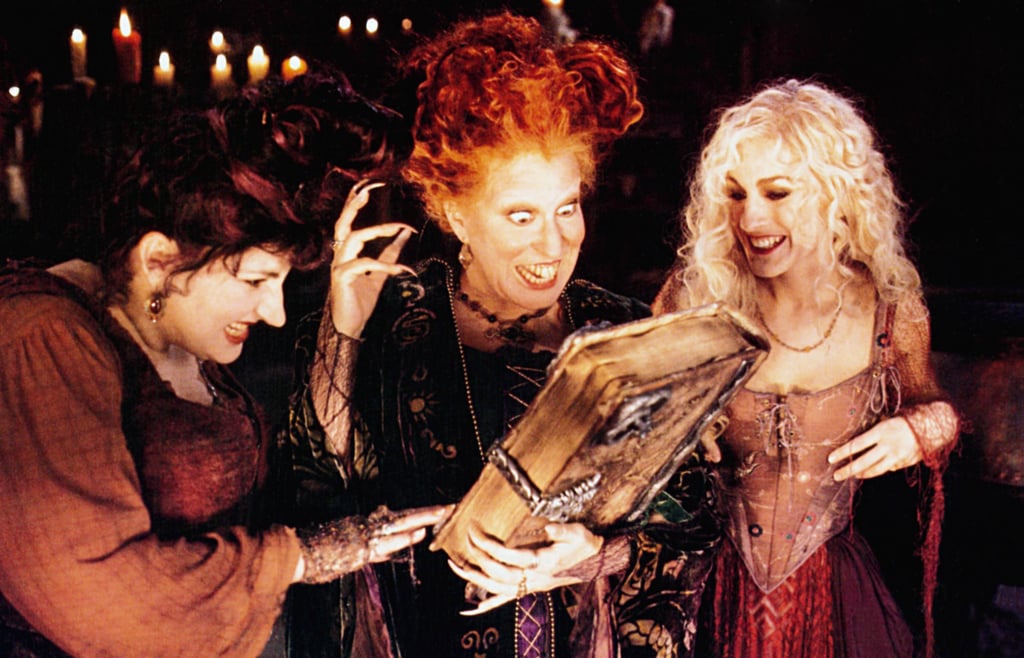 #10.  Hocus Pocus.  I always liked this.  I came to this as a fan of Omri Katz, who plays the lead kid Max.  Katz was from a show I liked on Saturday morning called Eerie, Indiana.  Then, the line "Amuck, amuck, amuck" was one of my favorites.  However, I must say that I just recently revisited this and I found it not as good as I remembered.
#9.  Abbot and Costello Meets Frankenstein.  I grew up as a huge fan of Abbot and Costello and when were showing an Abbot and Costello movie, I was always hoping that it would be this one, where the pair found themselves facing off against the Universal monsters.  Ironically, this was also one of the best uses of these Universal monster outside of their original films.
#8.  The Creature from the Black Lagoon.  Another of my favorite Universal monsters films, the Gill man was more interesting because I did not know as much about him as I did Frankenstein's Monster, Dracula and the Wold man.  There is a real horror here as this creature is one that could really be under the sea.  There are so many species under the sea that we do not know about and who knows when it might happen.
#7.  The Conjuring.  A great horror movie that has tripped off a franchise.  Most of the franchise films are hit and miss, but the Conjuring itself is a great, horror-filled film with great performances from Vera Farmiga and Patrick Wilson as the real life demon hunters, The Warrens.
#6.  Monster Squad.  One of my favorite guilty pleasures from my childhood, Monster Squad was so awesome.  I identified with it as being a kid who loved the idea of being able to fight monsters.  There was surprising depth at times, especially with the Scary German Guy and the numbers tattooed on his arm, which I did not know was a reference to the Concentration camp until later in my life.  Plus, never forget that Wolfman has nards.
#5.  A Quiet Place.  A great movie from this year that takes tone and makes it practically unbearable.  The use of noise or silence in this movie created such a vicious mood in the theater that I was at, it was unlike any movie going experience that I can remember. The film was tense and torturous as well.  It is in my top ten for the year so far.
#4.  Young Frankenstein.  Gene Wilder is great.  His role as Dr. Frederick Frankenstein (fraunk-en-steen) brought this epic comedy to life.  The cast is amazing including the creepy Marty Feldman as Igor (Eye-gore), Peter Boyle as the Monster, Terri Garr as Inga and Madeline Kahn as Elizabeth.  Then there is Cloris Leachman Frau Blücher (Whiiiiiiiinneeeyyy)
#3.  Ghostbusters.  The classic action/comedy from the 1980s is a great Halloween movie.  I play the song every Halloween.  Ghostbusters is one of the greatest quotable films ever and is Bill Murray at the height of his powers.  I actually get goosebumps every time the Ghostbusters crawl out of the ground just before heading into Spook Central- with "Saving the Day" playing away and the New York crowd cheering them on.  They have never been able to capture the magic of this first film in any other medium.  This Ghostbusters is classic.
#2.  Scream.  The movie that kicked off my October Fear Fest watch this year was the meta horror movie Scream.  Scream really helped to revitalize the genre of slasher films after they had become cliched.  Scream took those rules used in horror movies and turned them onto their ears.  The film had a lot of humor in it, but was still dramatic and frightening.  And it had one of the great twists in horror movie history.  The three following Scream movies were all good in their way, but the first one is the film that really made it cool to be meta.
#1.  Halloween (1978).  Yeah, this had to be it.  Michael Myers, the Shape, arrives and just starts killing people. No reason.  No explanation.  He just started his killing by stabbing his sister to death and then he went on a rampage against babysitters.  John Carpenter's film was inspiring to many horror aficionados and it inspired plenty of other slasher films.   Jamie Lee Curtis became a genre trope after her survival of the attack.  Nothing else could possibly top a list of Top 10 Halloween movies than the one with the name in the title.
Honorable mentions:  Bunch of them.  Dracula, Frankenstein, Rocky Horror Picture Show, Little Shop of Horrors, The Invisible Man, The Birds, Psycho, Jaws, Harry Potter series, Get Out, Whatever Happened to Baby Jane.