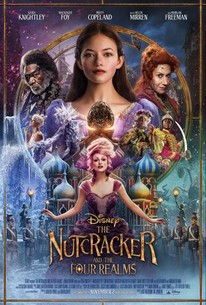 Boring.
Boring.
I did not enjoy this movie at all.
Honestly, as soon as it started up, I thought to myself that it was totally CGI and that it looked more like a cartoon than a real place.  Even the real world part was all CGI and I am not sure that was needed.
The movie features a young girl Clara (Mackenzie Foy) whose mother has dies and Clara finds her way into a strange and magical land that her mother was the Queen of ( I guess) and has to help save it from within.
This magical land is not Narnia.  It is not Wonderland.  It is not Oz.  It is a land of four realms and there are problems.
Yawn.
The Nutcracker (Jayden Fowora-Knight) is the last Nutcracker around, but he goes by Captain.  His name is Phillip. He reminds me physically of John Boyega in Star Wars without the charisma.
Helen Mirren is here too.  I usually love her, but she seems as if she is going through the motion as the mysterious Mother Ginger.
There is so much of nothing going on here and I was so bored.  Every once in a while I noticed some recognizable music that told me this was the Nutcracker, but those moments were few and far between.
I just did not like this film and the tons of children in the theater I was in did not help the movie going experience.
1.3 stars