Re-List…re…re…re…re-list!  Buzz Buzz Buzz Buzz
Hey!  We have another Re-List from the Top 10 Show and this week's is one that I have been hoping that John and Matt would do for quite a while now.  Top 10 Musicals.  Now, I know that Matt is not a big fan of musicals and he would have some problems making a top 10 list of them.  He explained it on the show that there would not be a lot he could contribute because he might have only seen some of these once.  It makes sense, so I was happy to hear the topic on the Re-List!
Now, the Patreons involved was Topic selected:  Tyler Spotts and two lists from Robert Haley and Jeremy Metz.  Tyler laid down the ground rules that regular musicals, Broadway adaptations, originals, or music biopics could be included.  However, I am not going to do that.  I am not including anything that does not fit into the regular category of musicals.  No music biopics.  So I am eliminating  Bohemian Rhapsody, This is Spinal Tap, Walk the Line etc.
I am also leaving off the animated movies which includes Lion King, Aladdin, Beauty and the Beast which all probably makes this list if included.
Okay…here we go.
#10.  Evita.  This one is a movie that is not well liked, but I loved completely.  I was never a huge Madonna fan, but I thought her performance as Eva Perón was spot on.  I also loved the work in this film from Antonio Banderas as Che.    I wore out the CD of the songs as I listened to it constantly.
#9.  Rocky Horror Picture Show.  It's astounding.  Time is fleeting.  Madness takes its toll.  Rocky Horror Picture Show is a cult classic and I will always remember the first time I saw it, in the theater in Iowa City late on a Friday night.  I had already knew the songs and the parts you were supposed to shout so I did not seem like a Rocky Horror "virgin."  Another soundtrack that I love and listen to all the time.  Everything from Science Fiction Double Feature through to I'm Coming Home.  EYG Hall of Famer Tim Curry is iconic in his role as Dr. Frank N Furter.
#8.  Grease.  It is the word.  John Travolta and Olivia Newton-John are fabulous here with some of the catchiest movie music you'll find anywhere.  Sure, the message of the film is one that you do not want your kids following, and it may not hold up as well in today's society, but Grease is still one of the all time greats.
#7.  Mary Poppins.  The original starring Julie Andrews.  This is such a fantastic movie with some of the greatest Disney songs ever. Songs such as Chim Chim Cheree, A Spoonfull of Sugar and Supercalifragilisticexpialidocious are magical.  Magic is the key to the film and Julie Andrews, along with the marvelous Dick Van Dyke, really bring the magic out of the movie.
#6.  Willy Wonka and the Chocolate Factory.  Love this movie, even though Willy Wonka is most likely the villain of the film and did terrible things to a group of mean-spirited children.  He does it with a ton of charm and what more could you want?  Gene Wilder is a master and the film is one of the greats.  Not as many great songs in the film though with Pure Imagination being the best.
#5.  The Wizard of Oz.  Neither of the Re-List fellows included this, which I found shocking.  The Wizard of Oz is one of the great movies made and the music from it is unbelievable.  From the beautiful Somewhere Over the Rainbow to the If I Only Had A Brain/Heart/Nerve.  We're off to see the Wizard, the wonderful Wizard of Oz!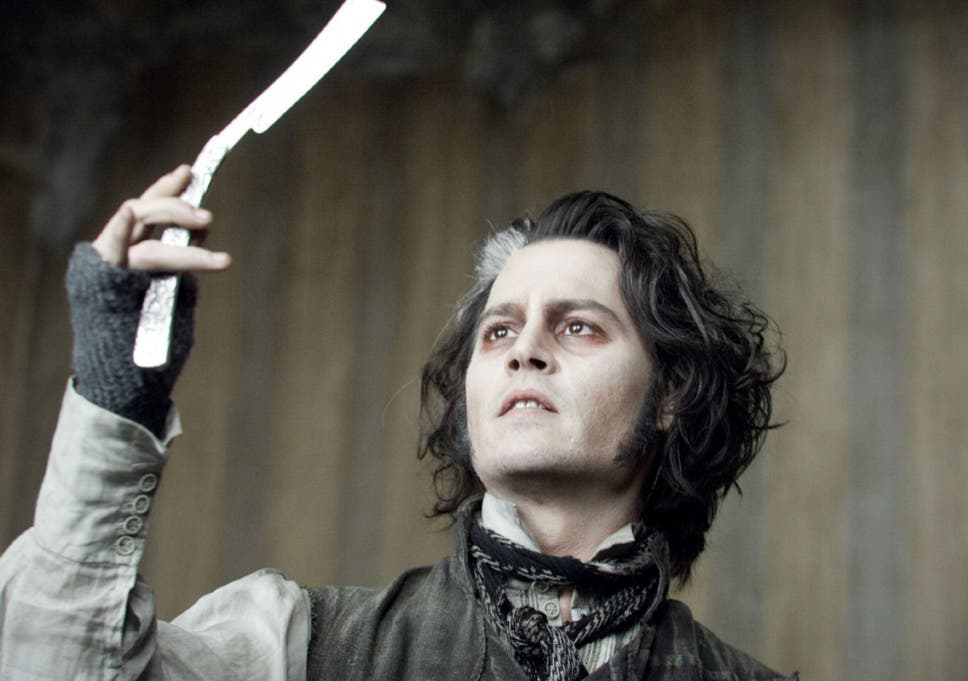 #4.  Sweeney Todd: The Demon Barber of Fleet Street.  Easily the bloodiest musical of all-time.  Johnny Depp does a magnificent job as Sweeney Todd, the barber who returned to London to exact his revenge on the people who sent him to prison for a crime he did not commit and ruined his life with his beloved wife, Lucy.  Along the way, Todd wound up killing a bunch of Londoners so his co-conspirator Mrs. Lovett (Helena Bonham Carter) could improve the taste of her meat pies.  Dark, moody and funny, Sweeney Todd is an epic musical unlike any others on this list.
#3.  Little Shop of Horrors.  Another one that did not make anyone's list on the Re-List but is one of my personal favorites.  The Frank Oz directed classic featured the arrival of Audrey II, a gigantic Venus Flytrap-like plant (in reality an alien) that survives on blood, preferably fresh blood.  he is one mean, green mother from outer space, and he's bad.  Rick Moranis stars as Seymour, the geeky little loser who finds the plant and names it after the woman he has had a crush on, Audrey ( played by Ellen Green, who also played Audrey in the stage play).  The original ending is considerably darker than the theatrically released one, but I may like it more.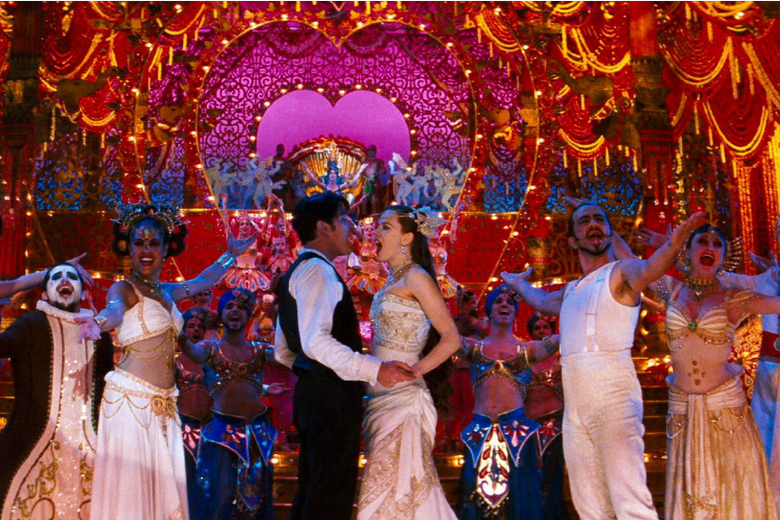 #2.  Moulin Rogue.  Above all else, this is a story about love.  Or so tells us our protagonist, the young writer who arrives in Paris looking to write the greatest Bohemian play only to fall in love with the courtesan Satine.  The film is considered a "jukebox musical" because there are lots of songs from different areas in the film.  The film uses songs from Kiss, Elton John, The Beatles, among others to weave together its music.  There is also a brilliant song called "Come What May" which is performed by the lead actors, Nicole Kidman and Ewan McGregor.  This is a film that never fails to bring out the emotions.
#1.  Singin' in the Rain.  Yes, I had thought I had seen this movie as a kid, but I did not because I watched it this morning for this list and the Doc's Classic Movies Reviewed section of EYG and I realized that I had only ever seen the iconic rain scene with Gene Kelly and the lamppost.  I was so enthralled by the film that it flew right up into the number one slot on this list.  I loved the music, the dancing was breath-taking and the performances were something special.  The fact that this was created in 1952 blows my mind.  It is so fantastic.
Honorable Mentions:  There are actually quite a few here, but not very many of them actually had a real possibility of breaking the Top 10.  Chicago almost was there, but it got bumped when I found Rocky Horror.  The new film about Elton John called Rocketman is a magical musical for sure.  Lots of people love or lots of people hate La La Land.  I thought it was fine.  The original Annie with Carol Burnett was fun.  Mary Poppins Returns was better than it should have been.  The same with the new live action Aladdin.  Les Miserables was good too.
Interestingly enough, this was the second time I did a list of top 10 musicals.  This was prior to the Top 10 Show posts that I have done.  I did not look at this list until I was done with the Re-List.  Here is that list for comparison sake:
 Moulin Rogue
Willy Wonka and the Chocolate Factory
Mary Poppins
Sweeney Todd
Little Shop of Horrors
The Wizard of Oz
The Muppets
Evita
Rocky Horror Picture Show
Grease
Fascinating.  Willy Wonka dropped to #6 and Mary Poppins slipped to #7.  I had forgotten about The Muppets, but maybe they go into the animated category (kind of).  Rocky Horror stayed at #9.  Singin' in the Rain is the only new film on the list.  The first film I mention in the honorable mention category is also Chicago. Pretty consistent I'd say.