This week's Top 10 Show is in honor of Dory and the Lost City of Gold, which makes the topic is Treasure Hunt Movies.
Just to prepare you, there were quite a few big name movies in this topic that I have not seen.  I will list these during the honorary mentions section.
I tried to only put one film from each franchise, but broke that rule big time as I compiled the list.
#10.  City Slickers II: The Legend of Curly's Gold.  Yeah, I know this is not a great movie and it pales in comparison to the original City Slickers, but I remember liking this film when I was younger and I was happy to revisit the group of characters from the first film.  I have always been a fan of Billy Crystal and this series of films really highlighted his strength as a comedic actor.  Bringing in Jon Lovitz was a mistake, in my opinion, but the return of Jack Palance was welcomed.  I am sure that if I would rewatch this now with my critic's eye, it may not hold up, but my nostalgic memory helps.
#9.  Romancing the Stone.  Another one that I have not seen in a long time, but hold fond memories for.   Michael Douglas and Kathleen Turner were an 80s iconic pairing and they were at their best here.  Danny DeVito is great as the antagonist.  There are a ton of twists and turns and the film fits nicely into the action/adventure/comedy genre that so many 80s films tried to find.  Again, if I saw this today, maybe my opinion would be different, but for now, it is number nine.
#8.  Pirates of the Caribbean: Curse of the Black Pearl.  This is the best of the Pirates franchise and the best performance of Johnny Depp as Captain Jack Sparrow.   There was some debate on the Top 10 Show about whether or not this works as a treasure hunt film because they were only going after one coin, but I certainly think it fits.  There were many other coins in the film and every source I looked at included it as a choice.  You are never quite sure if Jack Sparrow is the good guy.  He seems to be doing things for a certain reason, but you can never be 100% convinced that it is not some selfish choice.  That is part of the fun of the film.
#7.  The Rundown.  I hadn't considered this as a treasure hunt movie until, doing research, I found it on several other lists.  However, looking it up, there is a treasure at the center of the film that Seann William Scott is searching for and that makes this a treasure hunt movie.  That made me happy because I get a chance to include this excellent Dwayne Johnson movie.  This was one of the first films where The Rock showed that he could be more than just another pro wrestler in a movie.  Where the Scorpion King failed, The Rundown was a great success.
#6.  Aladdin.  This is another that might be a bit of a cheat, and, while I absolutely love this movie, it is lower on this list because the treasure may not be the main driving force of the plot.  Still, Jafar has been searching for ways into the Cave of Wonders for a long time and there is a massive treasure at the heart of that.  Of course, the real treasure in the film is the Genie, voiced by Robin Williams.  This may be my favorite Disney animated movie of all time and Robin Williams is a huge reason why.
#5.  Monty Python and the Holy Grail.  This is the first film on the list where the treasure being hunted for is the Holy Grail, the cup of Christ.  This is one of the funniest movies of all time.  It is totally quotable.  Moments such as "I feel much better now" and "It's only a flesh wound" are lines that I have used in real life.  And you must be careful to know what your favorite color is if you hope for safe passage.  This is Monty Python at the height of their powers.
#4.  The Goonies.  A classic 80s iconic movie, The Goonies is fun, filled with adventure and ridiculous action.  Goonies never say die!  With the great cast of characters heading out to try and find the location of One-Eyed Willie's rich stuff, the film has a ton of heart and showed the relationships between a group of friends and what they were willing to do to save their Goondocks from being sold.  Data was awesome with his James Bond type gadgets (Pinchers of Power etc.)  There were actually many emotional moments here too, which make the film more than just a fun adventure.  It is a coming of age film as well.  I have fond memories of seeing The Goonies in the theater and I have to disagree with John on this one.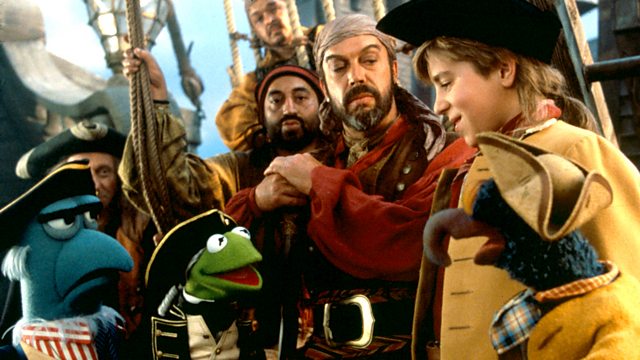 #3.  Muppet Treasure Island.  This was the first film that popped into my head when the topic came up and I knew it would be on this list somewhere.  I am a massive Muppets fan and this adaptation of Robert Louis Stevenson's classic novel is one of the best out there.  Kermit as Captain Smollett.  Miss Piggy as Benjamina Gunn.  Fozzie Bear was Squire Trelawney.  Sam the Eagle was Mr. Arrow.  Then, to bring the gravitas to the film, we got the classic Tim Curry as Long John Silver.  The songs were great.  The villainous crew were awesome.  Dead Pete especially was a great gag.  This is a fairly faithful adaptation, all things considered.  The Muppets have that special flare for doing these and I wish they had done more of them.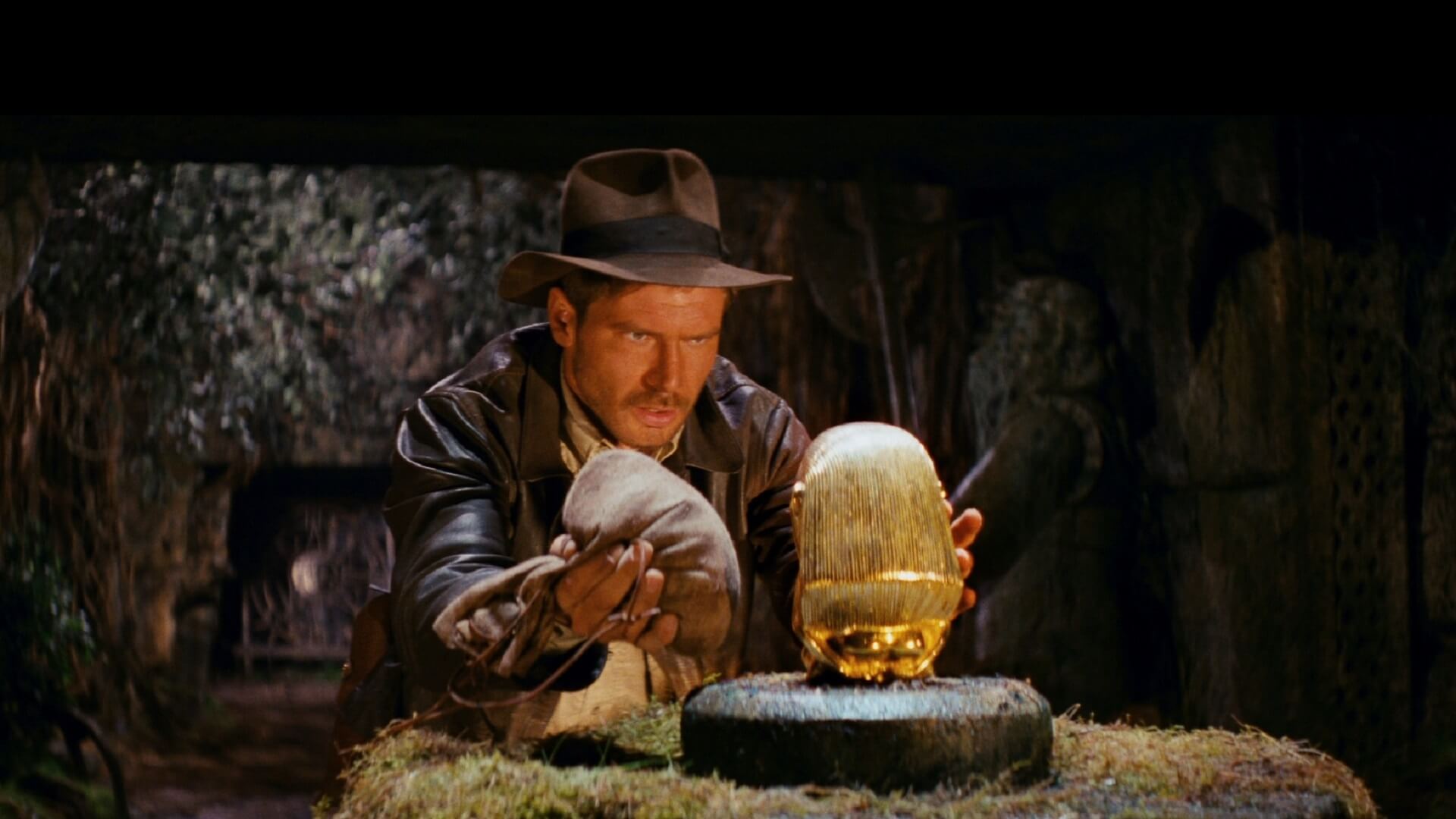 #2.  Raiders of the Lost Ark.  The first appearance of the classic character Indiana Jones, played perfectly by Harrison Ford.  Raiders was a throwback to the olden days with continued serials that featured pulp heroes in swashbuckling fun.  Raiders placed Indiana Jones on a quest to find the Arc of the Covenant before the Nazis could.  There is such a joy in the movie that comes across in every moment.  When looking at the treasure hunting genre, you can look no further than Indiana Jones.
#1.  Indiana Jones and the Last Crusade.  This is why I could not just stick to one film per franchise.  I love this movie and I could not eliminate Raiders of the Lost Ark from the list because of it.  This is my favorite of the Indiana Jones franchise, as Indy and crew raced against the Nazis a second time… this time for the Holy Grail (the second appearance of the Holy Grail on this list).  The inclusion of Sean Connery as Indy's father, Dr. Henry Jones was genius.  Harrison Ford and Sean Connery were the perfect pairing and made a great father/son (despite them not being that far apart in age).  The banter between the two of them was amazing and the tenderness, admittedly hidden beneath personal issue, was there in spades.  When Indy was apparently killed in the tank, Henry breaking down was one of the most emotional moments of the film and showcased how much these men loved each other.  I am with Matt Knost putting this as my number one.
Honorable mention:  I did not have a lot of other films to include here that I have actually seen.  The Mummy was one I considered.  It was number ten for a while but got bumped.  I tried to make the argument that Avengers: Infinity War was a treasure hunt, with Thanos searching for the Infinity stones, but I eliminated that eventually.  Treasure Planet and Atlantis were two animated films that I considered.  Then there was a bunch of films that I had not seen that made the Top 10 Show's list.  They include The Treasure of the Sierra Madre, The Good, The Bad and the Ugly, O Brother, Where Art Thou and Three Kings.  Just never saw them.