Welcome back to EYG Top 10 lists.  This week, John and Matt did the Top 10 Brad Pitt Movies.  They are bigger Brad Pitt fans than I am, but there were plenty of possible films to consider.  It was in honor of the release of Ad Astra this weekend, which looks as if it could crack this list.
Jump right in…
#10.  Megamind.  Animated film where Brad Pitt was the voice of the heroic Metro Man and the movie plays with the idea of how the hero and villain are connected, how that without one of them, there is nothing for the other.  It is an early idea of the Dark Knight concept with the Batman/Joker being two sides of the same coin.  This animated film surprised me and I was very pleased with it.
#9.  Killing Them Softly.  I had completely forgot about this movie when Matt brought it up on his list today.  With each explanation, I kept thinking… I've seen that.  I have only seen it the once, but I remember liking it (at least after Matt reminded me.)
#8.  The Big Short.  A small role but a really great movie.  The way this film covered the bank crisis and made a subject that was nearly impossible to understand and made it easier to understand was fantastic.  There is an amazing ensemble cast of this film and, despite, Pitt having a small role, this film will make my list because it is so good.  It was down a bit because of the part, but The Big Short was great.
#7.  World War Z.  The zombie movie that everybody claimed was going to be a total mess and flop hard turned out to be really pretty solid, surprising everyone.  There have been rumors of a sequel for years, and, if they ever finalize the film, I will not doubt it at all.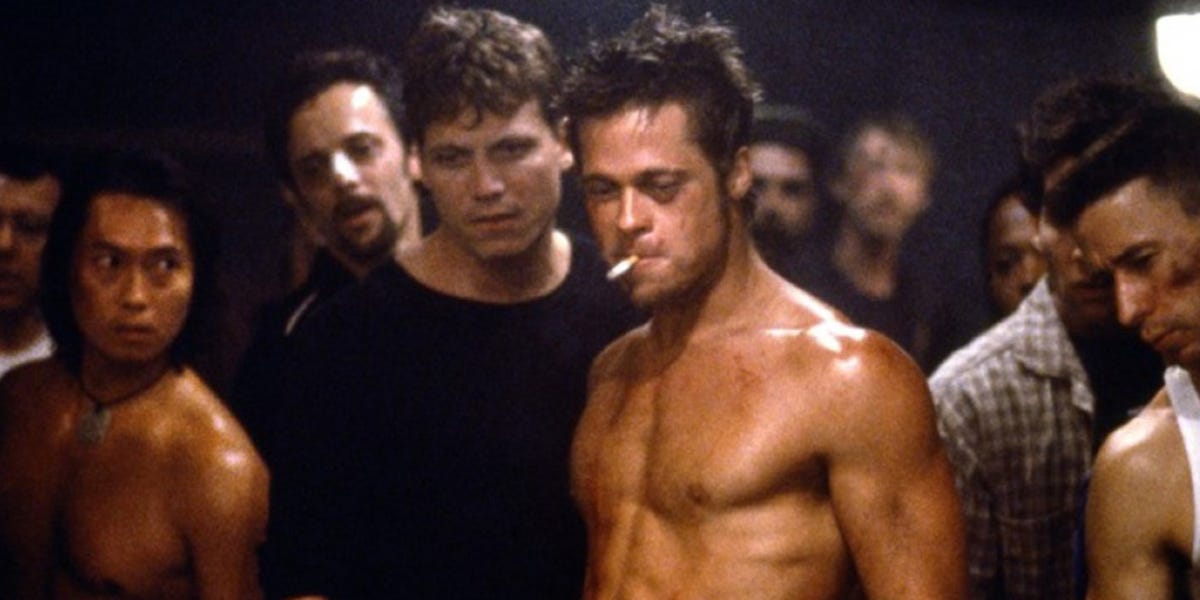 #6.  Fight Club.  I had not seen this movie for years.  It was only recently that I attended a screening of the film by Fandom and I saw what most people had already seen.  This was a great movie but the twist seemed less powerful because I had seen it so many times before.  However, that is because so many other films took the twist from Fight Club.  It is one of David Fincher's classics and is certainly worth the consideration as a classic.
#5.  Moneyball.  The story of Oakland A's general manager, Billy Beane and his use of sabermetrics to try to field a competitive team with a small budget against the heavyweights such as the Yankees and the Red Sox.  The story of Moneyball changed the way Major League Baseball did business for the rest of time and, though Oakland never won that elusive championship, Moneyball changed the game.
#4.  Inglourious Basterds.  "Bon Jour-No!"  I have not laughed so hard at a single line in a movie in a long time when Brad Pitt's character, Lt. Aldo Raine, was trying to go undercover in Italy and he was his unit's choice because he can speak Italian.  I took two years of Italian in college and when he broke out this big ole American accent and said, in his booming voice, proud and loud, bon-jour-no… I howled.
#3.  Twelve Monkeys.  One of those weird time travel films that really make you think and challenges your thoughts.  Then, everything you thought was happening gets all messed up and goes in a different direction.  Brad Pitt was just tremendous as the crazy Jeffrey Goines, who may or may not hold the key to the release of a deadly virus that would sent humanity underground.  Bruce Willis is sent back to take care of Jeffrey, but things get mucked up.  I enjoyed this film from Terry Gilliam.
#2.  Seven.  This was another movie that I did not love that much on first viewing.  I did not like Seven when I saw it in the theater, but I revisited it within the last year or two and I have found a much more deeper appreciation for the film.  The anguish that Pitt gives at the end as Fincher revealed his big reveal was just palpable.  Pitt and Morgan Freeman were great together and Gwyneth Paltrow was also very wonderful as the wife of Pitt.  This film is dark and deeply disturbing.  I am glad I went back to see it a second time so I could readjust my thoughts.
#1.  The Assassination of Jesse James by the Coward Robert Ford.  That is a mouthful of a title and a fantastic movie.  This is another movie that I first heard about thanks to John and Matt on the Top 10 Show and I finally watched it this past summer.  I just found it completely compelling and fully engaging.  Brad Pitt was perfect as the outlaw Jesse James and just how mythical he was.  Some might claim the film is slow, but I found every moment engrossing and I would not change a thing.  I did not expect this one to end up at the top of my list, but here it is.
Honorable Mentions:  I don't have a ton more.  Just a couple of mentions.  Fury was good.  Allied was a film that really went under the radar.  I was not as much of a fan of Once Upon a Time…in Hollywood as many people, but Pitt's performance was the standout performance in the film.  I was underwhelmed.  The Devil's Own with Harrison Ford was okay.  He had an epic cameo in Deadpool 2 of course.