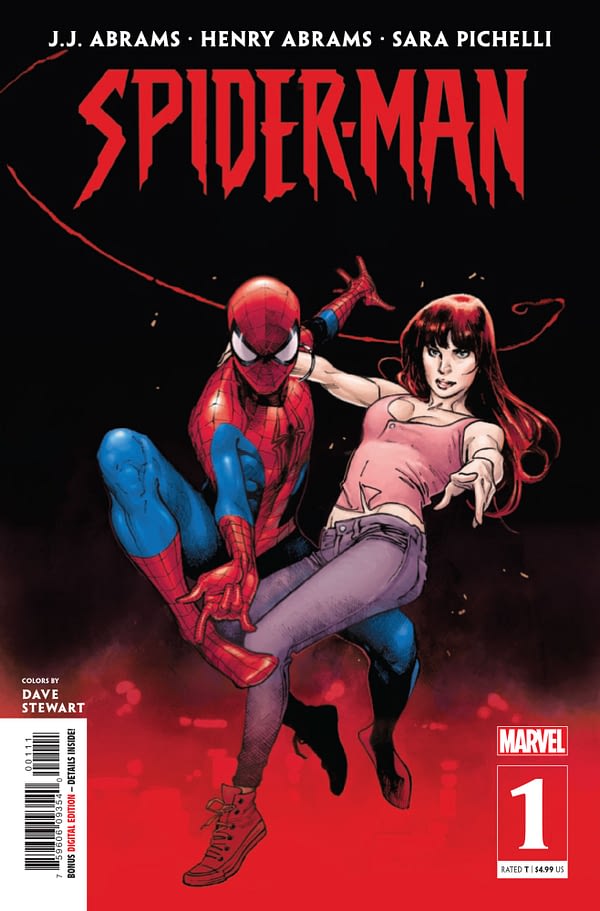 Spider-Man#1
"Bloodline"
Writer:  JJ Abrams & Henry Abrams
Artist:  Sara Pichelli
Cover Art:  Dave Stewart
Being a huge fan of LOST, I was very excited when I found out that J.J Abrams would be writing a limited series featuring Spider-Man.  Seeing it on the stands today was quite the thrill.  I love Spider-Man and I could not wait to see what JJ had in mind.
As I started to read the book, I realized that this would be a story involving a possible future.  An Elsewhere type book that looks at Spider-Man after a tragic event in his life.
My enthusiasm is dampened.
While I love Spider-Man, I am never much of a fan of alternate histories.  I like my Spider-Man stories to take place in continuity of the Marvel Universe.  And this is certainly not in continuity.
I don't want to spoil anything, but I continued to read the book with my expectations now lowered considerably.
I will say that I did like the book as I read it even if I dismissed it as nothing more than just another Spider-verse story of an alternate reality Spidey with little stakes.  I enjoyed where the story went and I am looking forward to reading the rest.
I will say, one of the more intriguing aspects of the story was what had happened to Peter Parker and how he seemed lost.  I had several questions about him.
There is also a brand new villain called Cadaverous (though that name leaves a bit to be desired).  I do like the touch that we get from Cadaverous and I do want to know more about him.
The art fit the story very well, as Sarah Pichelli provides some real memorable scenes.
Overall, I enjoyed this book even though it is not something that will matter in the long run.  I hope the series will maintain the excellence it started with.