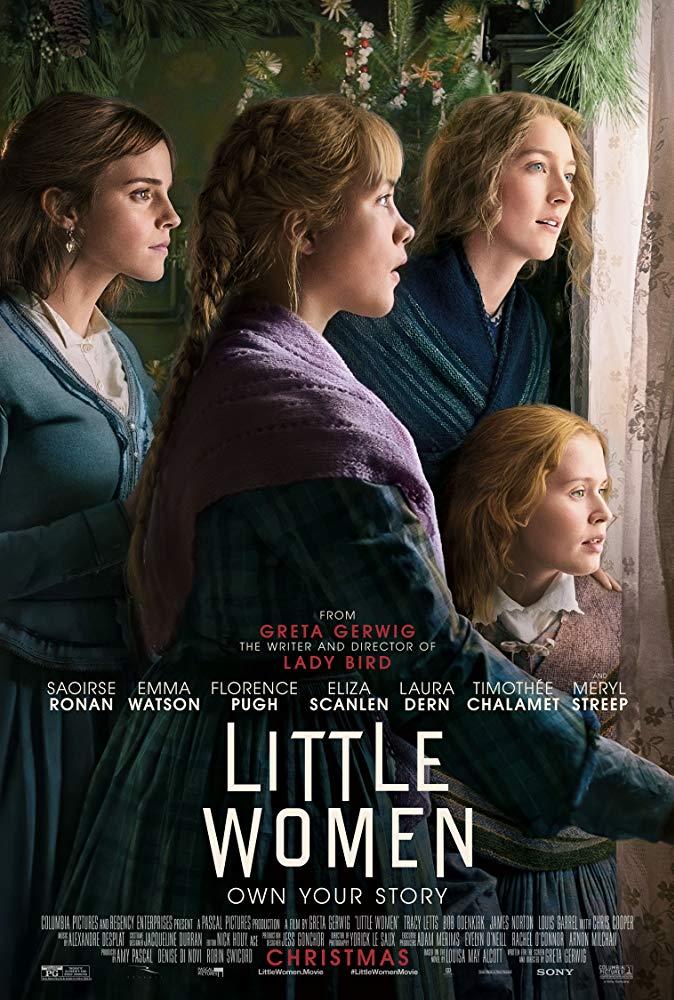 Louisa May Alcott wrote one of the most beloved novels in American literature and it seems as if Hollywood wants to keep making it into a movie.  Greta Gerwig is the third director to put Little Women on the big screen and she does a excellent job in the translation.
Much of the success of this movie would need to be the excellent ensemble cast put together by Gerwig.  Saoirse Ronan, Emma Watson, Florence Pugh and Eliza Scanlen play Jo, Meg, Amy and Beth March respectively.  Throw in Timothée Chalamet, Bob Odenkirk, James Norton, Meryl Streep, Chris Cooper and Laura Dern and you have quite the acting entourage.
The film follows the lives of the four March sisters as they grow into adulthood and deal with the trials and tribulations of life during the aftermath of the Civil War in America.  The story was told in a non-sequential order, jumping around in time.  There were a few times where I thought that type of storytelling did not work as well as a more typical storytelling technique, but most of the time it was fine.
Saoirse Ronan delivered perhaps the standout performance of the film with her portrayal of Jo March, the feisty, non-conventional writer who did not believe she would ever marry.  Ronan delivered the quirkiness of the character beautifully.  Florence Pugh, who has had a great year with Fighting with my Family and Midsommar, was able to bring layers to the bratty Amy, showing how she grew from a little child into a strong woman.
The film does seem too sweet at times.  There could have been more conflict shown which could have deepened the characters even more.  However, I certainly believed that these four sisters were connected and loved one another.
Greta Gerwig have some wonderful shots in the film and does a fine job bringing the classic tale to life in a lively way.  The performances elevates the film even more.  I had never read the book nor seen the other versions (though I did know a couple of plot points just because they are well known) but I still enjoyed what I saw.
3.8 stars