The Re-List returned today with a very interesting topic:  Top 10 Movies featuring a Witch/Warlock.  I liked this idea which was submitted by patreon Billy Guilliams.  The lists were compiled by Keith Fitzgerald and J Scotty St. Clair.  I am very jealous!
They did an excellent job too.  Spoiler alert, they gave full list of Top 10's to Matt and John without having any duplicates, which I think is a Re-List first, if I am not wrong.  They also made suggestions that I had not considered until they mentioned them.  As soon as they listed a couple of their choices, that film went immediately on my own list.  There was some semantics for why I had left some off originally and when Matt and John let them go on the show, I was happy to include them.  The "sorcerer" vs. "Warlock/witch" argument being one major one.
I have a bunch of honorable mentions and, during research, I found a bunch that I had not seen.  Some, like The Witch, was not a film I loved.  I know it was pretty popular when it came out, but I did not find the appeal of it.
So.. The Re-List top 10…
#10.  The Kid Who Would Be King.  Mentioned on the show as a film to give some love was awesome. This film did not receive enough credit as being a very solid show when it was released.  It was a clever re-imagining of the King Arthur story and it brought us a fun version of Merlin.  This was a great adventure involving young people and really deserved a better fate.  It included another good performance from Patrick Stewart.
#9.  The Blair Witch Project.  This appeared just last week on the Top 10 Show list for One Hit Wonder Directors and now it returns for a new list.  This thing was frightening, especially because, at the time, we thought it might have been real.  It is shot like a documentary and created such a buzz.  It brought us an entire genre of films as well with the "found footage" genre.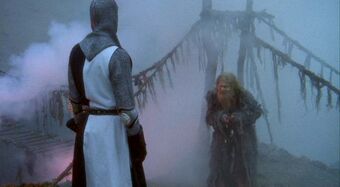 #8.  Monty Python and the Holy Grail.  This was one that I initially had eliminated from my research until it showed up on one of the guy's lists.  Though I love this movie, the fact that the witch/warlock is not a vital piece of the film kind of dropped it down some for me.  Still, I just love this movie and find it completely quotable.  The scene on the bridge is just epic as all get out.
#7.  Harry Potter and the Prisoner of Azkaban.  I limited myself to one Harry Potter film on my list and I chose Azkaban as that film.  I found it to be the most interesting of all of the them and I loved the performance of Gary Oldman as Sirius Black.  The film played with your head throughout and kept you wondering what was actually happening.  It was really the start of the movement to a darker world in the Harry Potter series.  I could see the argument for several other Potter films, this is the one that I go back to when the topic comes up.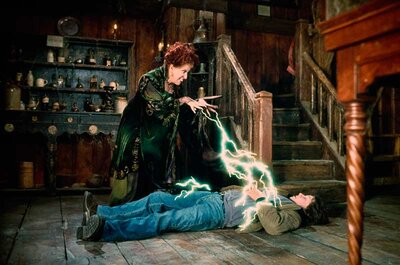 #6.  Hocus Pocus.  One of my favorite films from my younger days.  I can remember it was the last film I saw at our local drive-in theater (not a fan of drive-ins).  There is a great cast, including the young lead Omri Katz, who I loved on the short lived TV show Eerie, Indiana.  The witches were amazing, including Bette Midler, Kathy Najimy and Sarah Jessica Parker.  I still use the line "Amok, amok, amok."
#5.  Dr. Strange.  This was another one that I never considered because he was a "sorcerer" and not a warlock.  As I mentioned earlier, semantics.  Still, I supposed I could see the argument and so, when Matt and John okayed it, it immediately went on my list.  I really loved the conclusion to this film because it was something that I had never seen before in a MCU film.  The whole "Dormammu, I have come to bargain" bit was pure genius.
#4.  Lord of the Rings: The Two Towers.  I decided on only one of the LoR trilogy on my list as well and my favorite of those three movies were definitely the Two Towers.  I can remember the first time seeing this movie, I was completely engaged by the storytelling.  Every time they switched to a different story, they would stay long enough for me to wonder what was happening to another of the group, and then it would switch and I would be excited.  This featured Gollum, who I loved, and Treebeard, who I loved.  And the Battle of Helm's Deep was just totally thrilling and perfectly executed.  Easily my favorite of the Middle Earth movies.
#3.  The Wizard of Oz.  One of the greatest movies of all-time.  I can remember loving watching this every year when it came on and then, when I went to college, my roommate telling me that his mother never let him watch it because of the scary winged monkeys.  I was flabbergasted that someone had not seen The Wizard of Oz.  Looking back, there are definitely scenes that are very scary and I can understand monitoring it for children's consumption.  The Wicked Witch of the West was just a frightening villain and her desire to kill that little dog too was just a lot.  Her death scene was just as horrifying.  Such classic work.
#2.  Avengers: Infinity War.  This was another one that I had not considered until it was mentioned on the Re-List.  I chose this one over Endgame because Dr. Strange and Scarlet Witch have more to do in this film instead of just being in the huge fight at the end.  Mind you, they were both exceptional in the Endgame conclusion (especially Wanda who just kicks Thanos's butt), but they drove story in Infinity War.  Wanda's desperately pain-filled rush to destroy the mind stone and thus destroy Vision was heart-breaking, as was the fact that it was all for naught.  Dr. Strange told us that there was one chance in 14,000,605 to defeat Thanos.  While i love Endgame more, this one is right on its heels.
#1. The Princess Bride.  Have fun storming the castle!  Any time I have a chance to put The Princess Bride on my list, I am going to do it.  It is my favorite movie (actually tied now with Endgame) of all time.  Miracle Max, played by Billy Crystal, brings the film to this list. Again, you could make an argument that he is not a warlock (the film called him a miracle man) but he does make a magic pill that has a chocolate coating to make it go down easier.  Again, as soon as Matt and John allowed this to make the list, I knew what my number one was going to be.  I am going to do a special watch when The Princess Bride debuts on Disney + on May 1st.  Until then, as you wish!
Honorable mention:  There's a ton of these.  Of course, you have to remember Harry Potter movies such as The Death Hallows Part 1 and 2, The Order of the Phoenix, and The Half-Blood Prince.  They tend to run together however.  There is also the Fellowship of the Ring and The Return of the  King.  Then the Jack Nicholson film The Witches of Eastwick nearly sneaked on in the number 10 spot.  Fantasia was considered to with Sorcerer Mickey.  I always enjoyed as a child the Escape to Witch Mountain series of films.  I saw some online consideration during research for The Conjuring, although I did not remember there being a witch in that.  It may have made the list if I could.  Rosemary's Baby was listed online as well, but that was more Satan worshiping and demons than witches/warlocks.  The Dark Crystal was never one of my favorites, even though I am a huge fan of Jim Henson.  The Sorcerer's Apprentice with Nic Cage was fine.  Scary Stories to Tell in the Dark was good too.