Last year was the introduction of the new De-Aging award. Fact is, however, that there was not much along the line of de-aging this year. While there were several in 2019, 2020 did not use the technology much. For example, the Spike Lee film Da 5 Bloods, which was prime to use de-aging, chose a different path. In my research, I found a couple of choices.
Then, something big happened, and it led me to expand this award a tad to include the deepfake. Deepfake is, according to Wikipedia, "synthetic media  in which a person in an existing image or video is replaced with someone else's likeness." It is a technique that has been used effectively for the last few years, and, while it may not always present the most impressive CGI feel to it, it can lead to a massive moment in a film or series.
And this year's winner absolutely falls into that category.
By the way… do not read any further because there are SPOILERS for the finale of The Mandalorian included.
Last year's winners are listed below too.
The Kurt Russell EGO De-Aging Award
Previous Winners:  Robert DeNiro (The Irishman)
Let's also talk about the two runners-up before we head into the winner, just to give a little more space fromt he top of this article. I do not want anyone spoiled (although by now the word may be out).
Runners-Up: Keanu Reeves and Alex Winter from Bill & Ted Face the Music. This was a fun film and the iconic pair go everywhere in time. And Tenet's Kenneth Branagh who played the character Sator during a flashback.
Honestly, though, I did not remember either of these. The winner though I believe will be an impact for quite some time.
Winner:
Mark Hamill (Luke Skywalker) in Mandalorian Season 2 Episode 8 finale, "The Rescue"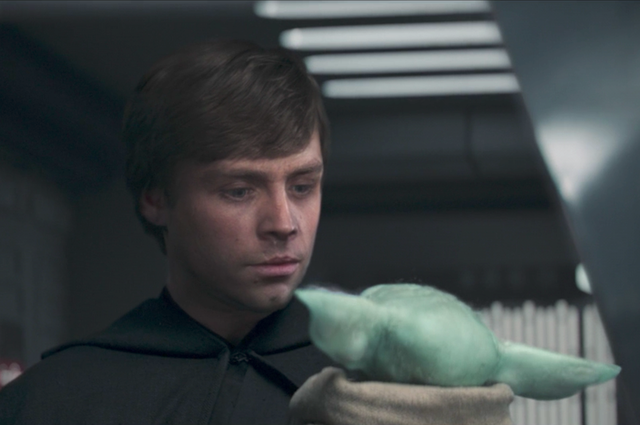 Yes, the look of Luke is a tad off, but his arrival, cutting through the Dark Troopers on his path to find Grogu, was jaw dropping and thrilling. Played by actor Max Lloyd Jones, Disney used the CGI face (and voice) of Mark Hamill to bring the Jedi to the screen. It was a shocking twist that punctuated one of the best seasons of Star Wars television yet.
"This is the way."