Welcome back after a week and a day.  This week's Top 10 Show featured the Top 10 Spike Lee Movies in honor of the BlacKkKlansman out this weekend.  When I looked at the upcoming movies, I was worried that they were going to do the Spike Lee topic, because I just have not seen very many Spike Lee films.  Outside of Malcolm X (which I haven't seen in years) and Inside Man, there are not much for me to list.  I was hoping something like Monster Movies in honor of The Meg.  Unfortunately, that was not to be the case.  Spike Lee it was.
That meant that I had to tap out of this week's list.  However, I decided that, since I am a patreon who is able to hear the past episodes from their original run, I would wait to see what topic was the replay and I would do that topic.
So, here will be the Top 10 Movie Remakes.  Course, I cannot provide a link for anyone since it is a Patreon reward.  Sorry.  Join the Top 10 Patreon and you can hear this episode too!
Some info:  This is not reboots.  This is a remake.  I did some research to make sure I understood the difference.  It may be subtle, but the remakes are basically the same (or very similar) characters and story with everything else new.
I did focus on remakes of MOVIES, which meant some choices such as Little Shop of Horrors and Sweeney Todd: The Demon Barber of Fleet Street (which I LOVE!!) are not on this list.
There are also some major remakes that did not make my list because I have not seen them.  Scarface is a film that has been on my Netflix queue for a long time, but I just have not found the time to watch it.
So… here is the Top 10 Movie Remakes
#10.  The Girl with the Dragon Tattoo.  The film starring Daniel Craig and Rooney Mara was a remake of a Swedish film of the same name.  I loved this remake (although I have not seen the original and I have heard it is better).  I found this such a tragic film with our vengeful lead character just trying to find her way in the world.  There was a cool mystery to the film and I found it underappreciated by the film community as a whole.
#9.  King Kong.  Peter Jackson's epic monster movie was definitely too long and had some missteps along the way, but other than that, I really enjoyed what we got.  Jack Black was certainly at his very best in this movie.  Naomi Watts is always excellent in whatever project she is involved in and this is no exception.  This classic story was well told and the special effects gave this version of the giant ape that extra oomph.
#8.  True Grit.  This remake of the John Wayne classic starred Jeff Bridges in the iconic role of Rooster Cogburn and the film saw the debut of young Hailee Steinfeld, who steals the film from the veteran actors.  This film, directed by the Coen Brothers, also starred Brad Pitt, Josh Brolin, and Domhnall Gleeson.
#7.  12 Monkeys.  Terry Gilliam's weird futuristic dystopian world starred Bruce Willis who came from the future to try and stop the outbreak of a plague that nearly devastates the human race and forces them to live below ground.  12 Monkeys is the remake of a French short film called La Jetée.  The remake's best work comes from Brad Pitt, who played a man from a mental institution who Willis believes had something to do with the 12 Monkeys.  Pitt is amazing with his crazy actions and really takes the film to another level.
#6.  The Thing.  John Carpenter's classic horror movie was a remake of a film from 1951 called The Thing from Another World.    The group of characters stranded in a remote base in Antarctica already made this a tense and stressful movie, but the addition of a monster that could become any of the people that it has killed makes this even more anxiety filled.  Kurt Russell is awesome here as one of the stranded characters desperately trying to figure out whom he could trust, before it is too late.  The film is very claustrophobic and, while most of the special effects show their age, the use of the creatures are used effectively.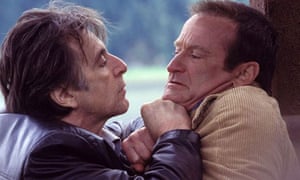 #5.  Insomnia.  A great film starring Robin Williams and Al Pacino is a remake of a 1997 Norwegian film of the same title.  Al Pacino is a police officer who is responding to a call from help in Alaska in order to escape possible charges behind him.   Once in Alaska, he can not fall asleep with the long sunlight happening.  Pacino was accompanied by another police detective who informed him that he was turning evidence against him. Unfortunately, that guy wound up dead during the course of the investigation.  Robin Williams played a creepy stalker type who knew what Pacino did and kept him on a leash.  This was a great change of pace for Robin Williams.
#4.  The Jungle Book.  Disney's "live action" remake of the animated Jungle Book was a marvel of technology.  Everything in the movie, except the boy who played Mowgli, was animated/CGI.  However, the animals and the setting was so realistic and life like that you would never be able to tell if you were not aware of it before.  Jon Favreau directed the film and really brought the animated film to a new level of brilliance.  There were also tremendous voice acting going on including Bill Murray as Baloo, Idris Elba as Shere Khan, Scarlett Johansson as Kaa, and Christopher Walken as King Louis.
#3.  The Fly.  This was frightening.  Taking the film from the 1950s starring Vincent Price and added some more tragedy to it and made it even more disgusting, The Fly became a fantastic remake.  Jeff Goldblum brought the tragic character to life as Geena Davis could do nothing but watch his continual descent into monstrosity.  There are some really gross scenes here that are fun to watch.
#2.  Cape Fear.  The remake of the 1962 film by Martin Scorsese starred Nick Nolte and Jessica Lange who are hunted by a murderer played by Robert DeNiro.  DeNiro is amazing as Max Cady.  Nolte was a public defender who messed up Max's case and was a reason why Max spent time in prison.  There was so many tense and suspenseful moments in this flick that you are on the edge of your seat.  You never know what is going to happen and it is a great movie.
#1.  The Birdcage.  The remake of the 1978 Franco-Italian film La Cage aux Folles featuring Robin Williams and Nathan Lane as a homosexual couple who run and perform at a drag club in Florida.  Williams plays Armand and his son (he had with a woman before he had come out) Val returns with his fiance who happens to be the daughter of a senator who expounds family values.  And surprise!  The Senator and his wife are coming for dinner.  This film goes way past the gay stereotypes and shows these characters with a realism and a humanity that had not been seen much before.  The relationship between Armand and Nathan Lane's Albert was more than just a gay couple.  They were two people in love and who were comfortable enough with one another to show that side to everyone.   Gene Hackman appears as the Senator who is in for some shocks and some unwelcome realizations.  The Birdcage is very funny, poignant and fun.
Honorable Mention:  Oceans 11, Invasion of the Body Snatchers, Three Men and a Baby, Casino Royale, Cinderella, Beauty and the Beast