We are up to The Strangelove, the award we give for Best Actor.  It is, of course, in honor of EYG Hall of Famer Peter Sellers, who played three roles in the Kubrick film Dr. Strangelove or: How I Learned to Stop Worrying and Love the Bomb.
Previous Winners:  James McAvoy (Split), Denzel Washington (Fences), Bryan Cranston (Trumbo), Michael Keaton (Birdman), Tom Hanks (Captain Phillips), Daniel Day-Lewis (Lincoln), Ryan Gosling (Drive), Rami Malek (Bohemian Rhapsody)
#10.  Anthony Hopkins (The Two Popes).  Hopkins played the stuck-in-his-ways pope, Pope Benedict, who abdicated the papacy because he knew the Catholic Church needed a more progressive path and he was unable to do that.  Strong performance from Sir Anthony here.
#9.  Robert DeNiro (The Irishman).  De-aging him, DeNiro gave a strong performance… one of his better performances in recent years.  Still, he did not do a whole lot that he hasn't done before.
#8.  Mark Ruffalo (Dark Waters).  Ruffalo played real life lawyer Rob Bilott, who took on the business giant DuPont over said company's pollution with toxic waste.  Gripping film and Ruffalo handled himself perfectly.
#7.  Christian Bale (Ford v. Ferrari).  Another true story, Bale played race car driver/mechanic Ken Miles, who helped Ford defeat Ferrari in the 24 Hours of Le Mans in France in 1966.
#6.  Shia LaBeouf (Peanut Butter Falcon).  I almost put him here for Honey Boy, but that performance was too supportive for me.  In Peanut Butter Falcon, Shia helped a runaway boy with Down's Syndrome attempt to achieve his dream to become a pro wrestler.
#5.  Jonathan Pryce (The Two Popes).  Pryce played Pope Francis in this Netflix film.  The film focused on the dialogue and relationship between Francis and Benedict and the film was elevated by two great performances.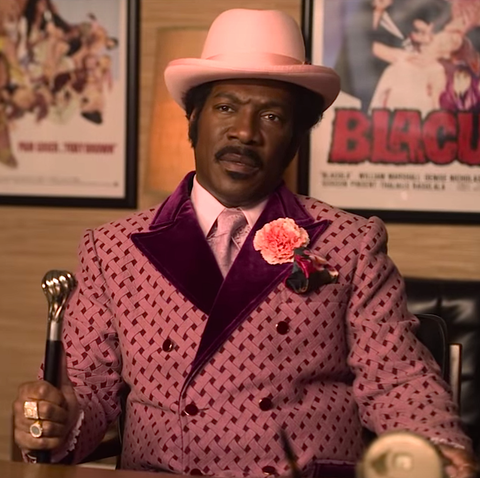 #4.  Eddie Murphy (Dolemite is My Name).  Eddie Murphy returned to the movies with this great performance, becoming the iconic blaxploitation actor, Rudy Ray Moore.  Murphy is clearly having a ball in this movie and brings us back to the great past performances in his career.
#3.  Adam Sandler (Uncut Gems).  Yeah, I can't believe it either.  I never would have believed that Adam Sandler would make my top 10 actors list in any capacity outside of the worst lists or the Batman and Robins Awards.  Yet here he is.  And he deserves it because he is simply astounding in this movie.  Raw.  Powerful.  Pained.  I want more of this Adam Sandler.
#2.  Adam Driver (Marriage Story).  Marriage Story has two great performances and one absolutely epic scene where Adam Driver kills it.  He is great throughout but that scene is on another level.  By the way, we have five performances on this list from Netflix movies.  Tides are switching.
#1.  Joaquin Phoenix (Joker).  He was transcendent as this sad comedian named Arthur slowly slipping into insanity.  The performance is downright disturbing on many levels and is just an amazing transformation for an actor who always gives us amazing work.