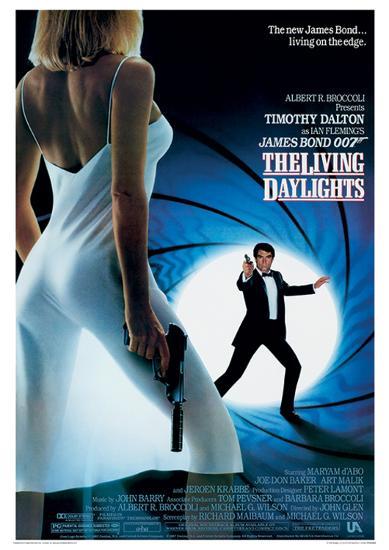 A new Bond.  A new direction.  Still diffusing bombs. Still skiing.
The Living Daylights marked the first new James Bond since Roger Moore took over the character in 1973.  Timothy Dalton became the fourth Bond on film (fifth if you count David Niven) following Moore, Sean Connery and George Lazenby.
James Bond fond himself inside a plot where the KGB was trying to assassinate all enemy spies, but he discovered that there is more to the story than that.  When Bond chooses to ignore orders and not kill am apparent Russian sniper Kara (Maryam d'Abo), he joined up with her to search for Russian defector Koskov (Jeroen Krabbé) who was taken back to Russia.  The situation led to the doorstep of arms dealer Brad Whitaker (Joe Don Baker).
This was a refreshing change of pace for the Bond franchise.  There was a more realistic feel, a grittier tone for the super spy while still maintaining the fun gadgets that have been one of 007's calling cards over the years.  There seemed to be a bit of a backlash to this movie not being as "fun" as some of the other Bond films, and I, for one, was grateful for that.  I thought this was a really great action movie and it was not being weighed down by some of the foolishness that had been so intertwined with the Roger Moore years.
Timothy Dalton jumped into the character immediately and he made a very strong Bond.  We had a less of the playboy Bond than in past movies perhaps because of the world that this film was released within.  He brought a serious tone that has been lacking in Bond for quite a long time.
There is a good performance from John Rhys-Davies in this movie as a Russian General Pushkin.  Maryam d'Abo was solid as the cello-playing Bond girl, Kara.
I liked the way this franchise flipped into more serious nature from the jokey-jokey aspect from previous years.  There was less humor, but, for me, when the one liners came, they were really funny and worked more.