This took some time to develop this list.  First, there was a problem with the link to YouTube for the Top 10 Show.  When I clicked on the video, it played a Topic Thunder episode instead of the Top 10 Jack Nicholson Movies.  I tweeted to Matt and he fixed it!  Then, I went through the list of his films and I was shocked with how few Nicholson films that I would include.  It meant that I had to watch a couple of the more well known films on his IMDB page that I had not seen to fill out the list.
In fact, I still did not see The Departed or Terms of Endearment so they will not make this list either.  I do not have an honorable mentions section because it took me to watch other movies just to get to 10.
#10.  Wolf.  Not my favorite film, but Nicholson was having fun as the werewolf.  This is a good example of a movie that probably would not have made this list except that I needed a spot.  I enjoyed monster movies and Jack is good here.
#9.  The Witches of Eastwick.  Nicholson gets to play around as a demon/devil and gets to have his fun with Michelle Pfeiffer, Susan Sarandon and Cher.  And with the witches getting their revenge on him in the film, it gives the women power message.
#8.  The Bucket List.  The best part of the Bucket List, which is an under rated emotional film, is the connection between Jack Nicholson and Morgan Freeman.  They are clearly the reason why The Bucket List is worth seeing. This movie became iconic with that term "bucket list."
#7. As Good as it Gets.  This is actually one that I would have had higher, but I watched it recently and I had some issues with the relationship with Nicholson and Helen Hunt.  I just did not buy their connection as shown in the movie.  Yes, there are some great moments with them and the line "You make me want to be a better man" is fantastic, but I just feel as if it is more of a feel of an abusive relationship.  I do not believe it will last.  However, Nicholson and Greg Kinnear's relationship is outstanding, easily the best part of the film, and the dog is cute.
#6.  Chinatown.  Here is one that I just watched for this list.  It is great that I was then able to check off one of the classic boxes as well. Chinatown is a great noir film with Nicholson as a private detective.  It might have been higher on my list but I am not sure how I felt about the tragic ending of the film.  Nicholson is exceptional in the role of J.J. Gettis and he carries everything involving this movie.
#5.  About Schmidt.  Here is another film that I just watched (today actually) for this list.  I really loved this movie with Nicholson as the widower trying to find himself after his wife of 42 years dies.  This is the type of film that I most likely would not have given much of a chance had it not been so high on both Matt and John's lists on the Top 10.  I am very glad I got a chance to watch it and it does make my top 5 on this list.
#4.  A Few Good Men.  I love this movie and it might be ahead of some of the films above it on this list except the Nicholson role is more supporting than anything else.  It may be a lesser screen time role, but it is as impactful of a role as you are going to find.  His monologue in the court facing off with Tom Cruise is magnificent.
#3.  Batman.  I just rewatched this movie a couple of days ago when the Michael Keaton news came out and I am amazed how much the Joker role worked with Nicholson in it.  He is clearly having a blast acting out as the Joker and he perfectly plays the line between unhinged psycho and criminal mastermind.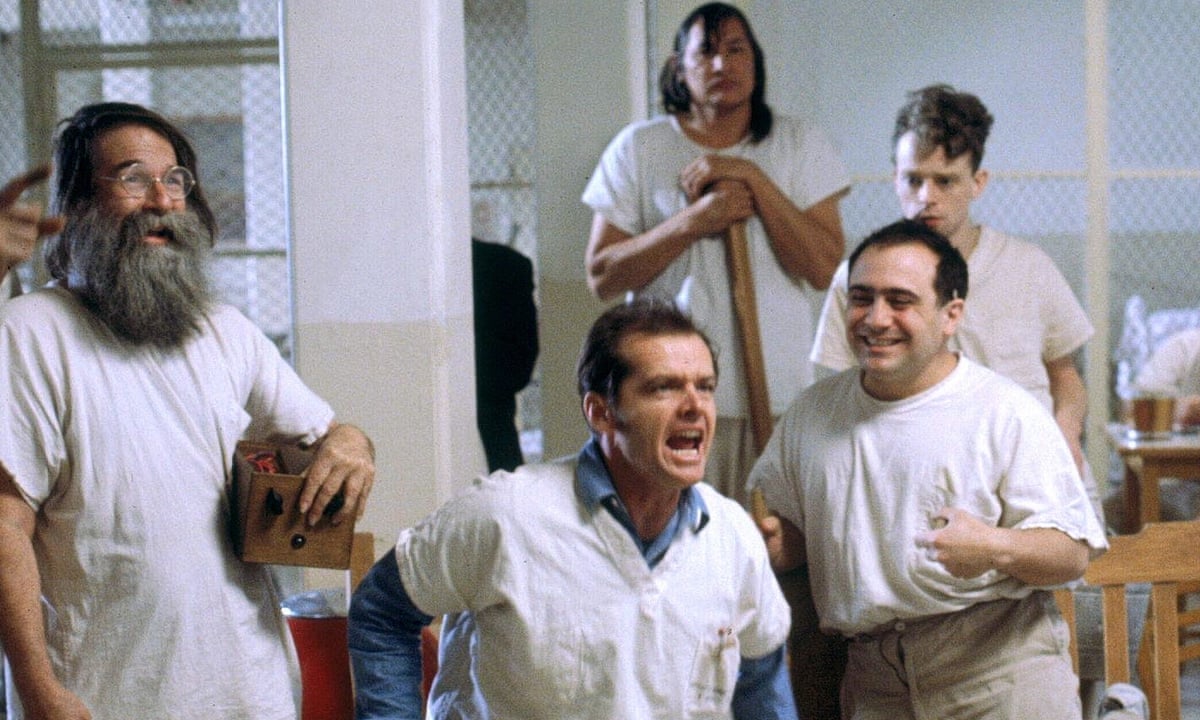 #2.  One Flew Over the Cuckoo's Nest.  A great performance from Jack in the mental institution.  Cuckoo's Nest is one of the best films in the 1970's and it had a lot to say about the state of asylums in the country.  Fantastic ensemble cast, especially with Nurse Ratched, Louise Fletcher.  Nicholson, Fletcher, and Milos Foreman all won Oscars for One Flew Over the Cuckoo's Nest, which also won an Oscar for the Best Motion Picture.
#1.  The Shining.  I have to agree with Matt (sorry John).  This is the greatest movie with Jack Nicholson in it.  The Shining was adapted from a book by Stephen King (who was notably disappointed with the film version).  Stanley Kubrick brought this version to the big screen and created a masterpiece that is iconic as can be.  The "Here's Johnny" scene is known by everyone, even if they are not aware of The Shining.  It is a scary film too as we see this man slip quickly into insanity.  Nicholson brought everything to this role and was totally believe as a crazed killer.